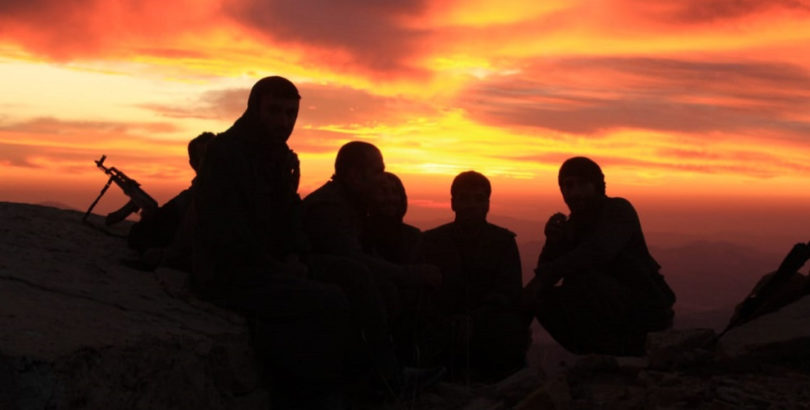 Meşa Bi Heyvê Re
Di gerdûnê de roj bi ronahiya rojê ve tê nasîn, tarîtiya şevê jî bi teysandina heyvê ve. Di nava jiyana min de her dem tîrêjên rojê û ronahiya heyvê ji bo min bûne heval. Pêwîste ev yek were zanîn, mirov di nava jiyana xwe de qet bê ronahî namîne, lê tenê deriyê dilê xwe ji hevaltiya wan re veke. Pêwîst nake, mirov li bendê bimîne da ku tîrêjên rojê her sihar were û li deriyê dilê mirovan bide. Rêwîtiya şevê her çiqas dirêj be jî mirov xwe bi tenê hîs nake, ji ber ku di wan deman de rêhevalê herî nêzî mirov tava heyv bi xwe ye. Ji bo min meşa di bin tava heyvê de her weke xewnekî şevan bû, çawa min xeyalên cuda cuda ji xwe re ava dikir bi heman şêweyî rêwîtiya şevên tarî ya bi hevaltiya heyva çardeh jî ji xwe re xeyal dikir.
Êdî ew dem hatibû, dema di tarîtiya şevê de û bi hevaltiya heyva çardeh re dest bi rêwîtiya xwe yê bê dawî bikim. Bi rastî jî, ew rêwîtiya ku qet dawiya wê nîne keyfa mirovan gelek jê re tê. Şevên dirêj her dem li pey xwe rojên xweş û ronak dihêlin. Ji ber vê yekê, ti zagonên ku bihêle rêwîyên azadiyê dawî li rêwîtiya xwe bînin tuneye, berê xwe bidinê di nava zagonên gerdûnê de tiştekî ku dawî lê hatî û wisa di cihê xwe de maye tuneye. Teqez di gerdûnê de her tiştek ya veguheriye tiştek din ya jî cihê xwe tiştek din re hiştiye. Gelek cara jî li şûna xwe hêvî, hezkirin û zindîbûn avakir û ji tevahî mirovahiyê re jî kir mîrasekî dewlemend.
Gava min yekem car bihîst ku emê di tarîtiya şevê de meşa dirêj bikin, ev yek ji min re gelek tirs dihat û her tiştên di derdorê min de ji min re ecêb dihatin. Dar, ber, hevalên kêleka min û heta ew tava heyvê ya ku min li jorê qala wê kiribu. Heval ketin ferqa hestên ku ez dijîm, ji ber vê yekê hevalên kêleka min kêliyekê jî ez bi tenê ne hiştim, ji bo ku ez tirs û heycana xwe derbas bikim tevahî heval jî gelek bi baldar tevdigeriyan û kêliyên min zehmetî dikşand jî ez bi ti awayî tenê ne mam. Yek ji wan hevalên ku herê zêde xwe nêzî min dikir jî heval Amed bû. Ez, heval Amed û hevalê Reşo ji herêma Afrînê bûn. Ji ber vê me hîn zêdetir xwe nêzî hev dikir. Di hêla çand de, ziman de û gelek taybetmendî de em nêzî hev bûn, cardin em di her aliyan de hêjî nû bûn. Ya rastî jî di heval Amed û heval Reşo de taybetmendiyê berpirsiyartiyê pir pêş de bû. Ji xwe ez û heval Amed em li Helebê rastî hev hatin. Bi dîtina min re xwîna rêheval Amed gelek ji min re germ hat. Min xwe nêzî wê hîs kir, ji xwe di dilê min de wisa derbas dibû ku weke heval Amed navçeya ku ez jê dayîk bûme ew jî ji wê derê ye. Ji bo wê jî min xwe ne girt û hema min bidest pirsan kir; "heval tu ji kuderêy?… Ji ber cihê ku em lê bûn ne guncaw bû ji ber wê heval Amed her bi riya tevgerên dest û rûyê xwe dixwast ji min re bibêje ev der ne guncave van pirsan ji min neke. Lê min ji heycan û mereqan de qet fêm ne dikir dixwaze çi bibêje. Di kêliye kê de di rûyê wê de acizbûnek ne diyar xwe da der. Wê demê min fêm kir ku ne demekê guncave ez van pirsan dikim, hema yekser ez bêdeng bûm.
Dema ku em ji wir derbasî cihekê din bûn û li benda rê bûn da ku em biçin wê demê heval Amed ji min re îzahata çima bersiva pirsên min ne daye kir. Heval Amed bersivên pirsên min da, me qederek bi hevre nîqaş kir. Ji xwe wê demê rêwîtiya me ya pîroz û hevaltiya me destpêkir. Biştê ji wir em derbasî cihekê din bûn, di wê cihê de me heval Reşo nas kir û dît. Heval Reşo jî beşdarê rêwîtiya me bû. Gava çavên min heval Reşo ket weke ku min di berêde dîtibe, hîssiyatek bi wê awayî di min de avabû. Lê min qet ne dîtibû, rûkenî, xwîn germ û heskirina wê ya hevaltiyê di mirovan de ew nêrînê pêşdixist. Ji xwe me li hember wê qet biyanîbûyîn jiyan nekir.
Me bidest meşa xwe ya pîroz kir û em hêdî hêdî nêzî sînorê Başûrê Kurdistanê dibûn. Em roj ne diketin tevgerê de tevahî tevgerên me şev destpê dikir. Beriya em destpêbikin hevalê ku me bîne quralên meşê ji me re gotibû me jî li gor wê tevdigeriya. Hema bêje em çend cihan re derbas bûn di her cihekê de yek du hevalên xort beşdarê meşa me dibûn. Êdî hevalên dawî jî tevlê koma me bûbûn. Diyar dibû ku gelek li benda me mabûn. Lê gava me wan dîti di wan de heycan û germahiyek cuda xwe dida der. Me silav da hev, nêzî çen durdeman em li wê cihê man. Piştê wê meşa me destpêkir, di me hemûyan de heycan û hestên ne diyar hebû. Ji ber min di meşê de zehmetî jiyan dikir ji ber wê heval Amed her tim li benda min dima. Ji xwe di wê komê de tenê hevala jin ez bûm. Heval Amed zehmetiyê ku ez dijîm didît û ji min re digot, "çi dibe bila bibe tu destê min bernede û gavek jî be ji min dur nekeve." Rêheval Amed dizanî ev meşa min ya cara ewile di gerîlatiya min de, ji ber wê zehmetiyan dikşînim. Di wan deman de min nêzîkatiyên heval Amed yên raber dikirin, hestiyarbûyîna wê li hember hevaltiyê zêde fêm nedikir. Lê, jiyan kirina min bi hevaltiyê re ez ketim zanabûyîna hevaltiyê û nêzîkatiyên heval Amed yên di wê demê de.
Kêliya ku me dest bi meşa xwe kir, hema yekser rêheval Amed beriya her tiştê çenteyê min ji min girt û got; "heval Şîlan, riya me gelek dirêje ez dizanim ev meşate ya yekemîne, ji ber wê tuyê zehmetiyan bikşînî çenteyê xwe bide min, di başdejî destê min bigre da ku em bi lez bigihijîn cihê xwe. Ya rastî min qet dengê xwe dernedixist, hema heval Amed ji min re çi bigotina min pêktanî. Bi vê awayî me dest bi meşa xwe ya kelecan û pîroz kir, ne tenê meş her tişt ji bo min gelek nû bû. Min di wan deman de xwe weke zarokekê ku nû hatiye dinyayê hîs dikir, çawa her tiştek jê re nûye û her tişt jê re xerîbe.
Ev meşa me di bihara sala 2012'an destpêkir. Wê demê hewa hêja sar bû, di wê şevê de ji derveyê deştê me tu tiştekê ne dît. Lê gava em di meşiyan car carna lingê me gunî, kevîr û daran diket. Ev yek jî di me de kêfxweşiyek avadikir, ji ber me dizanî ku em gavekê din nêzî azadiyê dibin. Di nava grubê de tenê hevala jin ez bûm ev yek jî bi xwe re zehmetî dida avakirin. Her çiqasî mirov hevalê hevbe jî, ji bo heman dozê têbikoşe jî lê hemcinsê mirov tiştek gelek cuda ye. Ya rastî hewldanên hevalên xurt ew bû ku ez xwe bi tenê hîs nekim, ji bo wê jî gelekî bi min re eleqedar dibûn. Hevalekî me yê ku li ser grubê disekinî jî her tim ji min re qala bîranînên xwe dikir, xweşiya jiyana gerîla dikir. Ji xwe heval Reşo jî gelek qala bîranînên xwe dikir. Ji xwe gava dikete nava bîranînên xwe mirov digot qey fîlmekî pêşkêşî mirovan dike, ji bo wê jî yek heval jî ji şêwaz û ûslubê wî aciz nedibûn. Belê, her çû riya me dirêj bû êdî ji meraqan de em bêzar bûn, mereqa me ew bu ku em zû bigihijin hevalan da ku cil û bergên gerîla ango yê hevalan li xwe bikin. Her yek ji me di her deqê de me ji hevalê qurye pirs dikir, ka riya me çiqas ma ye, emê kengê bigihijin hevalan. Hevalên qurye jî bersivê wan qet ne diguherî her tim di gotin; "meraq nekin, tenê deh deqe mane ku em bigihîjin cihê xwe." Her em di meşiyan ev deh deqeyên hevalan xilas nedibû. Wê demê em ketin ferqa deh deqeyê hevalan de.
Ew qederek bû em di meşiyan, ji nişkave me cihekê navber dayê, di me hemû hevalan de meraqek pêşket çima me ji nişkave navber dayê. Hêja em di wan fikaran de bûn, çavên min li girekê ket min dît di wê girê de çar heval çekê wan destê wan de, bejn û bala wan wisa xemilî, teva heyva çarde rojî jî li bişta wan de xuya dike, şewqa xwe dide hevalan, heval jî bi şewqa heyva çarde rojî û bi şewqa xwe re her deverê ronî kirine. Bi dîtina hevalan re kêfxweşî, heycan, hestiyarî tevahî hestan min nava hevde jiyan kir. Gava ew heval tevahî îhtîşamê xwe ve berbi meve dihatin mirov her dixwast ji xwe re temaşeyê bejn û bala wan kiriba. Gava gihiştin gel me û silav dan, xêrhatina me kirin. Ew dem min got; "temam em hatin warên azad û warê xwe."
Hevalên milîs me teslîmê wan hevalan kirin. Bi wan hevalan re jî em meşiyan lê birastî jî min qet westandin û zorî hîsnekir weke ku ez bi salane di van warên pîroz de dimeşim. Ji xwe di berbanga siharê re em gihiştin kampa hevalan. Wir komek mezin hevalên jin û hevalên xort hebûn. Ewqasî kêfxweşî û germ me pêşwazî kirin, me tevahî westandin û zoriyên xwe ji bîrkirin, weke ku me qet jiyan ne kiriye û ew meşa zehmet jî ne dîtiye. Ji xwe gava me tevgerên hevalan dît, ruyê wan, kenê wan, bejn û bala wan, jiyana wan, rêzdariya wan ya li hember hev û hwd.wê demê min ji xwe re got; "Şîlan tu dizanî evder bihûşte, ango bihûşta ser rûyê cîhanê." Erê rastî jî bihûşt bû, ango bihûşta ku ez lê digeriyam.
Şîlan Efrîn