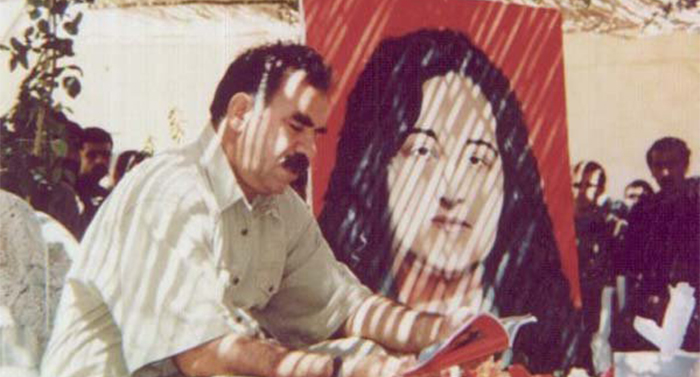 Zîlan Manifestoya Me Ya Jiyanê Ye
Tê zanîn ku heta niha me ji hezkirinê zêde fêm nekiriye û evînek nejiyaye. Di Mem û Zîna Ehmedê Xanî de jî ji kêleka evînê jî nehatiye derbas bûn. Gotineke ku li şûna evînê tê gotin heye. Dawiya wê jî Zîneke ku zimanê wê jî nîne û nikare rabe ser xwe, dîsa Memê ku nikare du gavan biavêje ango ti hêzeke xwe jî nîne. Di vê destana klasîk a evînê de jî ji kêleka evînê re derbas nabin. Dema em sêsêd salên pişt re tînin pêş çavên xwe, êdî gotina evînê jî nayê kirin. Ti kes nikare bi yek gotinê li ser hezkirineke xweşik tiştekî binivisîne. Di vir de niha me evîn çiqasî afirandiye yan jî ne afirandiye ewqasî girîng nîne. Lê belê îdîayek û çalakiyeke me heye. Em dixwazin vê bi jinê re bikin. Ji vê re kî çi navî lê dike bila lê bike ne girîng e. Min xwe danî holê. Rêhevalên me, jinên me yên em pê bandor bûne û me bandor kiriye li holê ne. Bêguman dibe ku ev ji min hîn zêdetirê wê hêvî bikin, lê belê ya ku di me de pêk hatiye ewqas e. Min xwest ku ez bibim mirovekî ku weke ew dixwazin heta bibim zilamekî wiha û vê jî bi vê wesîleyê bînim ziman.
Gotineke ku ez vê salê gelekî bi kar tînim jî "kuştina zilam" bû. Wateya kuştina zilam, kuştina zilamê ku li hemberî jinê ji rewşeke ku ji zilamekî, ji zordestekî, ji yekî ku tune dike, ji rewşeke her alî ve kirêt de wêdetir nîne ye. Her zilamek taybetî zilamên di nava me de neçare ku vê bizanibe. Gelo ma ez ê rewşa zilamên wiha yên li hemberî jinê çi bikim? Ev zilamtî jî jixwe zilamtiyeke ku ti tişt ji destên wî nayê ye. Nikare rast û durist şerekî bide, nikare rast û durist teqtîkekê jî derbasî jiyanê bike. Zelal e ku ev zilam di keçeke Kurd û jineke Kurd ku hişê wê şiyar dibe de tiştekî rave nake. Li hemberî mezinbûneke weke Zîlan zilamtiya klasîk zelal e, pênc qirûşan nake.
Divê her kes bizanibe ku êdî dema bi ajoyên zayendî yên çors ve çûyîna ser jinê derbas bûye. Divê êdî were zanîn ku bûyera jê re jin jiyanî ye û çalakî ye tê gotin, ji ber wê jî bi qasî ku hindekî din gotin vekirîbûnê, xwe anîna asteke nêzîkî wekhevî û azadiyê jî girîng e. Weke din bi jinê re hevdîtin û hevpeyvîn ne gengaz e. Ger rêzdarî, mezinbûn û bi biryardarî hebe, ger zilamên me pêwîstiyên vê bi cih bînin, dikarin jinekê bibînin. Gelo jin ji bo çi ewqasî bi me ve girêdayî ne? Di giştî de zilamên me hesûd in, ji bo min girêdaniyên ewqasî mezin jî qet pirsgirêk nîn in. Hûn nikarin bi qelen –ku di civakê de ev wiha ye- di me de jî bi xwe spartina rade û bi nîşandana hêza xwe ya wiha ve jinekê bi dest bixin. Rêya qezenckirina jinekê bi rengê ku Zîlanê bi xwe nirxandiye dibe.
Ger hûn balê lê bikişînin, bi vê rêhevala me ya jin re tu naskirineke min nîne. Lê belê dikare girêdaniya xwe ya herî mezin deyne holê. Ev xal gelekî girîng e. Dixwaze deyne holê ku divê zilamek ji bo jinekê çawa be? Ger hûn hindekî wiha bin li holê ye ku jinek dikare çawa were girêdan, tenê bi girêdanê namîne çawa dikare bibe qehreman. Ger hûn vê fêm nekin misogere ku hûn nikarin ji xwe re bibêjin zilam. Dibe ku li cihekî din, li derveyî me hûn  dikarin vê yekê bibêjin, lê belê di rastiya me bi xwe de –ez hêvî dikim em ê vê di nava hemû gelê me de jî pêk bînin- ne gengaz e ku ji vî kesayetî re weke din rêza me hebe.
Weke din ev jî têr nake. Ango datîne holê ku kesayeta mirovê nû ji bo jinekê çiqasî girîng e. Ger wijdana we û hindekî hêza we hebe, divê hûn ji xwe bipirsin tenê jina li gor fermanên min û ferzkirinên min e, gelo divê ez ê li gor jinê çawa bim? Pêwîste vê gavê ev pirs hîn sotînertir be. Gelo ji bo çi jin ji her alî ve li gor te be? Gelo ji bo çi jinek tenê li gor te be? Gelo ji ber ku hindek pereyên te, mal û milkê te heye ye? Gelo ji ber ku hindekî hêza te ya çors heye? Zelal e ku bi van ti hezkirin û evînek nayê bidestxistin. Kesayetên wiha dê bixwazin bi çewisandinê, jinê bi sedan salan bi xwe ve girê bidin. Vaye li hemberî vê serîhildaneke mezin heye. Ez ji bo vê rêzdar im û ji ber ku ez rêbertiya vê dikim kêfxweş im. Ji ber ku ez Rêberê jinên wiha me, hêzeke mezin hîs dikim. Ti şermeke bi wan re wiha jiyînê nîn e. Ez ji ber ku piştgirekî herî mezin ê artêşbûneke jinê ya wiha me kêfxweş im. Gelo ji bo çi ev bi gotinên erzan ve tê nirxandin ku bûyîna alîkarê artêşa jinên wiha egît, gelo ji bo çi ber bi paşbêjiyekê ve dibe? Ev jin in ku her yek ji wan tên asta qehremaniyeke mezin. Ger ji ber ku pîrekên we nînin û hûn  dihesidin, ew pirsgirêkeke cuda ye. Hûn jî mêrxasiyê bikin, hûn jî kesayetekî ku jin dixwazin nîşan bidin ku, ev jin bila bibin rêheval û sozdarên we. Lê belê ger hûn nikarin vê hêzê nîşan bidin, bêguman dê di vî welatî de ji bo we jin nebe.
Ezê li ser vê bingehê hêza xwe zêdetir bi kar bînim. Ez tolhildêrek im. Hûn ê qet xwedî li welatê xwe dernekevin, ji bo azadiyê ti tiştî nekin, ti girêdaniyê di navbera gotin û pratîkê de ava nekin, pişt re jî hûn ê ji min re bibêjin "dilê min jinê dixwaze, jiyanê dixwaze." Ev nayê qebûlkirin. Ev di kesayeta Zîlanê de bi erdê re bûyê yek. Bi taybet her kesekî di nava refên partiya me de bizanibe ku ev gotin vala nehatine gotin. Ger pêwîst bike ez ê zilambûneke ku hemû jin dikarin pê ve girêdayî bin pêk bînim. Ez ê bi qasî ku ew di aliyê manewî de hêz bin û girêdayîbûna ti zilamekî hîs nekin, balkêş bim û dibim jî. Jin vî tiştî bi coşeke mezin pêşwazî dikin, lê belê ev bi tena serê xwe têr nake. Dil dixwaze ku hemû zilamên me li ser vê bingehê hest û hizrên rêhevalên xwe yên jin, kêm zêde di kesayetên xwe de rast temsîl bikin.
Ya herî girîng jî jiyaneke bêwelat, bêazadî, bêşer û bêserkeftin nabe. Ji ber wê jin jî nabe. Ger ev yek neyê fêmkirin, hûn nikarin Zîlanê ji ber wê jina milîtan a azad jî fêm bikin. Ez ji hemû zilamên me yan jî rêhevalên me yên di nava partiyê de dipirsim, gelo yê ku dixwazin bi jinê re bijîn hene? Xweziya we bikaribaya ji jinekê hez bikiraya, xwezî di vê wateyê de hindekî dilê we û wijdana we hebûya ku kesayeta we hindekî zindî biba! Ez dixwazim rêya vê vebikim, li şûna ku bi gotinên erzan vir de wir de bê axaftin, li şûna ku di derbarê me de nirxandinên wisa û wiha werin kirin divê were fêmkirin ku tê xwestin rêya vê were fêmkirin.
Jin zindiyeke ku bi rengekî bişeref û pîroz, bi nirxên mezin ve divê bi hev re were jiyîn e. Ez dixwazim wateya vê bidim. Gelo piştgiriyeke jiyanê ya ji vê binirxtir çêdibe? Min xwest di vî alî de hest û hizrên bi vî rengî bi pêş bixim. Em bi gotina şer, di eniya derve de me ewqas serkeftin pêk anî ve pesnê xwe nadin. Di rastiyê de em ji van xemgîn jî dibin, me ti caran şer bi sadîstî negirtiye dest. Em gotina leşker û xayinan dikûjin kêfxweş nabin. Ji ber ku ew li pêşiya jiyanê weke astengiyekê disekinin, ji ber ku ew dixwazin me kêlî bi kêlî tune bikin em şer dikin. Nexwe di vê dinyayê de yekî ku herî zehmet şer bike hebe ew jî ez im. Lê belê rêyeke din a jiyanê nîne. Her roj ez di vê mijarê de bangawaziyê dikim, dibêjim "werin em bi rêbazên mirovî ango bêlêdan, bêyî ku bişkînin û hilweşînin, bêyî ku bikûjin hin pirsgirêkên vî gelî yên ku hene nîqaş bikin û çareser bikin." Lê belê dilê van nîne. Bêwijdanên mezin in. Mafê gelekî çi ye, hêviya mirovên di bin zextê de ne çi ne? Naxwazin qet fêm jî bikin. Xwedî feraseteke di bin navê "yekîtî û hevgirtina netewî" de bila gelek tune bibe, hemû mirov li derveyî jiyanê werin hiştin in. Ev ji bo wan qaşo şeref e. Em vê şerefê gelekî baş dinasin. Mînakê vê di dîrokê de gelek in.
Em ji bo ku xwe ji hêzên wiha zalim ên ku neheq, gelekî kor, ji hilweşandin û tunekirinê zêdetir armancên xwe nînin, biparêzin vî şerî didin. Lê belê şerên me yên bingehîn ji bo wateyekê bidin tunebûna jiyana xwe, ev enî herî kêm bi qasî eniya şer girîng e. Em bawer dikin ku jiyaneke were qebûlkirin, were hezkirin û rêzgirtin bi asta ku divê di têkîliyên jin û zilam de were bidestxistin ve dê çêbibe. Ez dihizirim ku jinê bi rengekî ku bikaribe bi xwe biryarê bide, nîqaşê bike, weke di kesayeta Zîlanê de tê dîtin, bikaribe kûrbûna wate û hest bi dest bixe pêş bixim. Di vê mijarê de ez kar dikim ku tiştê pêwîst bikim. Ev a rastir e, taybetî ji bo civaka me erkeke herî pîroz a ku divê were bicihanîn e.
Ez dikarim vî tiştî di serî de ji bo gelê me yê rêzdar û dostên me yê ku dixwazin di mijara jiyana nava partiyê de kûrbûneke diyar bi dest bixin re diyar dikim ku; dijwar be jî heta ji şer zehmetir be jî berovajî gelek kevneşopan nirxên me yên em pê ve girêdayîne, yên olî yan jî exlaqî û coş be jî ez neçar im rêya jiyana nû wiha vebikim. Dibe ku were gotin "ol, exlaq û kevneşopî wisa dibêjin." Ev ji bo min ne girîng in. Ji ber ku welatê me, jiyan, jin û zilam dane wendakirin. Ez ne di wê mebestê de me ku jiyana erzan û hêsan berdewam bikim. Weke ku li vir hatiye diyarkirin, ez bi rêgeza "îdîa û jiyan dê mezin be" ve girêdayî me. Ji bo vê rêgezê çi pêwîst e ew ê bê kirin. Şerekî ewqasî mezin, tu endamê olekî nikarin nîşan bidin. Lê belê di PKK'ê de jineke ciwan ev hêz nîşan daye. Vê hezkirinê û wijdanê ti exlaq û kevneşopiyên din de dîtin, ne gengaz e. Vaye ev di exlaqê azadî û armancên azadiyê de hatiye nîşandan.
Hemû gelê me, dostên me, hemû milîtanên jin û zilamên di nava partiya me de!
Divê mirov di ferqa Rêbertiyê de be ku di mijara jiyanê de pêşveçûnek heye. Bi jinê re rast jiyîn û bi ferasetbûyîn dê gelekî hêzê bide şer jî. Ev weke tê bawerkirin, nabe ezeziyetê. Kê dibêje dê bibe ezeziyetê ew di şaşiyê de ye. Bûyîna bi jinê re sedemeke şer e, divê her kes fêm bike ku ger ez di salên dawiyê de çiqasî bi jinê re bûme, ewqasî min zanîbûye ez bibim şervanekî dijwar. Dema ku zilamê kevin bi jinekê re bû, dema xwe bide dê yekcar şerê were qezenckirin re wê xiyanetê bike. Ev zilam ji bo min zilamekî herî bênamûs e. Dibe ku ev kesayet jin be jî. Lê belê ez ti caran nahizirim ku ti jinên li gel min, min li derveyî şer bihêlin. Jixwe Zîlan bi xwe li rastê ye. Bûyîna bi Zîlanê re, bûyîna bi çalakiya şer a herî mezin re ye. Ma hûn  dixwazin bi jinê re bin, wê demê hûn ê bibin şervanê herî mezin ên Zîlanê. Hûn ê bi welatparêziya mezin û azadiya mezin ve bi hev re bin. Dîsa ma jin dixwaze bi zilam re be, dê bi mirovên nû ku di şexsê min de ava dibe re be, ango dê weke rêhevala Zîlan be. Raveyeke vê ya din nîne. Bûyera ku em dibêjin pîroz e, hevpeymana ku em di dilê xwe de, di mêjiyê xwe de heta dawiyê pê ve hatine girêdan ev e.
Min ji bo vê got manîfestoya jiyanê. Ji vir û pê ve di vî welatî de, di nava vî gelî de jiyana di navbera jin û zilam de dê li gor vê manîfestoyê çêbibe. Ez dixwazim milîtanên jin ên hîn xwedî nirx derbixim holê û vê hindekî din bipeyitînim. Min jinên egîd xiste çavên zilaman, dema pêwîst kir min ji wan zêdetir kire şervan û ger gengaz be min ew rakirin, hindekî min xwest ku hindekî wijdan û şer nîşanî wan bidim. Dîsa ji bo ku bi azweriyeke mezin ve bi jiyanê ve werin girêdan min xwest wate û girîngiya jinê deynim holê. Pêşketin bi sînor in, lê belê li gor min balkêş in. Weke gelek bawer dikin, ev jiyan bêyî ku kûrbûneke zanebûnê û giyaneke mezin çêbibe, nehatiye afirandin. Şehîdên jin ên PKK'ê li gor vê manîfestoyê bi pêş dikevin û dîsa zilamên mêrxas jî li gor vê manîfestoyê derdikevine holê. Min dixwest ku serkeftina van a tam pêk bînin. Ji bo ku hêza min têra vê bike ez kar dikim ku her tiştî bi dînîtî bînim cih. Lê belê dibe ku ev yek têr neke, her kesekî ku soza girêdaniya bi şehîdan re daye, ger gengaz be, bila jiyana xwe ya rojane bi îdîa û çalakiyeke mezin ava bikin. Li gor min yekî ji rêzê be jî ger bi îdîa û çalakiya mezin be, dikare him bibe nûnerê jiyanê him jî bi qasî hewce dike bibe şervanê wê, dikare serkeftinê jî misoger bike. Bi wesîleya yekemîn salvegera şehadeta wê û çalakiya wê ya mezin a vejînê ez van tînim ziman.
Rêhevala me ya Zîlan di gotinên xwe de heta dawiyê mafdar e. Îdîa û azweriya wê ya jiyanê heta dawiyê pîroz e. Me ji bo ku ji vê re rê vekir li gel ku kêfxweş in, ji bo ku me nekarî serkeftina wê ya tam pêk bînin jî em hîn di nava perçiqandin û metirsiyê de ne. Lê belê ji bo derbaskirina vê jî em misoger hewldanên xwe yên dijwar berdewam dikin. Weke ku wê bi xwe jî diyar kiriye, evê bibe serkeftinê. Di vê wateyê de bi tenê xeta serkeftinê ya şer ne, kesayeta serkeftinê ya jiyanê jî misogere ku di manîfestoya Zîlanê de wateya xwe dîtiye. Ji vir û pê ve jiyan di bin vê manîfesto û sondê de dê wateyê bibîne. Rexmî hemû qisûr, kêmasî û şaşitiyên xwe ve me xwest em hindekî pêwîstiyên vê bi cih bînin. Ez bawer dikim ku ji vir û pê ve weke mirovên wêrektir û hîn nêzîkî rastiyan, zanetir him jî gelekî şiyar û hestyar em ê pêwîstiyên jiyanê jî bi cih bînin û bi qasî ya şer em ê serkeftina jiyanê jî misoger bikin.
Rêber APO
30 Pûşper 1997