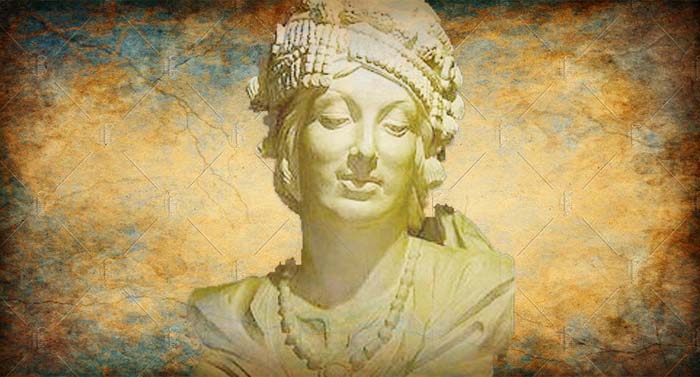 Yekemîn Dîroknasê Jin A Kurd
Bi salan dorê peykerek baz didî, dikenî, digrî û dileyzî. Peykerê ew jin ji te re pir balkêş tê, lê tû carî pirsek nîne, pir xweşik e lê kes napirsê ew jin kê ye? Ne pirs heye şayed jî demek were ku êdî kesek ku bizanibe bersiv bide nînbe. Çîroka keçikêk ku bi salan derdorê peykerek ku weke xwedevedek bû û lîstina ew zarok weke îbadetek bû, wiha destpê dike…
Di nav welatê çand û hûner, di nav bajerê ku mîrê Erdelanê jiyan dikir, di nav malbatê terêqetê Qaderî de di sala 1805'an de li bajarê SINE keçikek hat dinê û navê wî bû Mahşeref.
Sal derbas bûn û terêqetê Qaderî kokê xwe domand û di sala 2000'an de keçikek bê ku terêqeta xwe nas bike bi navê Kewê çavê xwe bi rûyê bajarê ku dîsa mirov dikarî tê de şopa çand û hûner bibîne ji dayîk bû.
Kewê di nav malbatek de mezin dibû ku ji ziman û cil û bergê Kurdî pir hesdikirin. Kewê her diçû mezintir dibû. Mala wan di taxa kevin ku berê cihê rûniştinê mîrê Sine bûye bû. Malên wê taxê piranî yek qatman bû hewşê wan hebû. Di nav hewşa piranî malan de darên mezin hene, omrê wan şahîdê serketin heya biketinê xandaneke.
Sehera dema jiyanê bajar dest pêdikir, dayîka Kewê berya her tiştekî bi av dannê hewşa malê, çîçekan û daran ji xew ra dikir. Kewê herê zêde ji bo wê ji vî mal û mahale hesdikir. Dema seheran bi bihina xweşa ax û çîçekan ji xew ra dibû xwe di nav parçekî ji bihişt hîsdikir. Kewê her seher bi enerjiyekî zêde rew rew diçû nav hewş û bi heskirinek ku tenê hesta zarokek dikarê wê tarîf bike, desta xwe li ser dilopên avên ku li ser pelê daran bûn dikişand. Bi eşqekî bê davî gûlên mûhemedî bihin dikir û bi kena xwe roj destpê dikir.
Bê ku dest û rûyê xwe bişû, rew rew ber bi firinê ve baz dida. Kewê bê ku di sirê de biseknê diçû cem nanpêj û kîjan nan hesdikir ji xwe re digirt. Kewê di nav mahalê de zarokek bû ku her kes ji wî hesdikir û her kesî pîr û ciwan wî nas dikir. Jin û zilamê pîrê ew mahale zêde bûn, lê dîsa jî Kewê ji ber wan kesan, insanên xweş dil bûn ji wana pir hes dikir.
Ew mahale bi kolanên xwe yên pen, darên çinarên bilind ya dîrokî, hewşên mezin, gelê xwe ku bi çavên xwe çîrokên tekê wan dîwaran û serpêhtiyên wan ji te re digotin dibû sebep ku Kewê ji wê mahale pir hezbike. Derwayê her tiştekî dû tişt dihêşt Kewê tu carî wê mahale ji dilê wê dernekeve. Malê ku herê zêde Kewê ji hesdikir malekî mezin yan jî ew emaretek bû ku mirov dikarî bibêje weke qûtîka bîranînên mahelekî, bajarekî û gelekî ye. Dema Kewê bi bejna xwe ya biçûk hemberê deriyê mezinê emaret ku ji dar bû disekinî heybet, tirs, meraq, xweşikbûn û hîsekî pir cûda ku nedikarî navek lê bike hûndirê wî tijî dikir.
Her roj pir kesan ji bo dîtina emaret dihatin lê kesê ku tu carî ji gerîn û meyzandinê emaret nediwestiya Kewê bû. Piştî ew deriyê mezin bi derbaskirina qolîdorekî biçûk mirov digihêhişt emaret. Hewş ewqas mezin bû ku tê de hewzek bi şiklê artî di nav de bû. Derdorê emaret hemû ode ne lê cihê ku hakimiyet û mîrbûnê Erdelanan nişan dide emereta esasî bi xwe ye ku dema tu li balkona wê bisekinî hemû emaret û mahale di bin lingên te ne. Dema tu li balkon disekinî tu tenê îktidar hîs nakî ew xweşikbûna daran û sakînbûna mahale dihêle ku tu bê ku bi xwe bihesî bi seatan li vir bimînî. Emaret çiqasî jî xweşik e. Lê dema tû ji derdikevî cokek avê heye ku di dawî de tu digihîne peykera jinek, jinek ku sembola hest û helbest, wêje û dîroke… Kewê pir ji wê peyker hesdikir, ne tenê Kewê, her kes dema ber peyker de derbas dibû bi kenê ser lêvên xwe silav didan wê. Zarokên wê mahale her tim derdora ew peyker dilîstin, weke ku ew peyker mîna dayîkêke û bi pirtûka desta xwe  helbesta jiyan ji wan re dixwîne. Kewê bi hezaran caran derdor peykerê lîst, lê carek nepirsî tu kî?
Yekemîn qûtbûna ku Kewê jiyan kir ji wê mahale derketina mala wan bû. Kewê nedikarî bawer bike ku êdî nikare her roj biçe ber deriya emaret û bejna xwe bipîve, edî nikare her sihar bi hemû cîranan silav bide, edî nikare bi havalên xwe derdora ew peykerê bilîzin. Kewê çend rojên dawî beriya ku malên wan biçe tenê diçû nav balkona emaret û têra dilê xwe mahale, emeret û peykera ew jinê mêze dikir cûda ji her tiştek dema Kewê diket fikra nedîtina peyker zêdetir xemgîn dibû.
Roj, meh û sal derbas bû… lê hezkirina ew mehele û ew peyker ji nav dilê Kewê derneketibû. Ruxmê ewqas heskirin, Kewê tû carî nezivirî nav ew mehele, dîsa neçû hûndirê ew emaret û heta dema ber ew peykerê derbas dibû berê xwe dide milekî din. Weke wiha acizbûna xwe ji malbata xwe nişan dide ku çima ji wê mahale çûne. Kewê nedizanî wisa dixwaze xwe ceza bike ku çima ji tiştên ku ewqas girêdayê wan bû çawa karî ewqas sal ji wan dûr bikevê, yan jî şerm dikir ku çima dîsa nezivirî cem bîranînên xwe yên zarokatî.
Dema di refa heştan de bû, di nav pirtûka wêjeyî de di goşeyekî debi xetekî biçûk nivîsandibûn 'Mestûre Erdelan yekemîn jinê dîroknivîsa Kurd e'. Bi dîtina resma ew peyker dîsa di kêliyekî de hemû zarokatiya wî hat ber çavên vê. Bi xilasbûna mekteb Kewê meşiya, meşiya heya gihişt ber peykerê ku niha dizanî navê wê Mestûre Edelan e.
Mahşeref Qadirî yan jî Mstûre Erdelan ku piştre bi vê navê bi nav û deng bû keçikek li malbata Qadiriye ku bi mîrê Erdelanan, Xesroxan ê Erdelan re dizewce. Mestûre helbestwanekî mezin e ku bi zimanê Kurdî û Farsî helbest nivîsandiye. Mestûre li ser mijarên olî de jî lêkolîn kiriye û di vî derbarê de jî pirtûk nivîsandiye. Mestûre ne tenê helbestwan û nivîskarek mezin e, yekemîn jina dîroknivîs a Kurd di nav Rojhilata Navîne ku dîroka Mîjuya Erdelan nivîsandiye. Mestûre piştî binketina Xesroxan ji bajarê Sine diçin û derbasî Silemaniye dibin. Mestûre Erdelan sala 1848' an de vefat dike û mezelê wê li Girê Sêwan e.
Dibe ku Mastûre mecbur be ku ji bajara xwe çûbe lê ew emaret, ew peyker û ya herî girîng pirtûk û karên ku weke jinek kiriye nahêle ku Mestûre di nav dil, mêjî û dîrokê de winda bibe. Kewê piştî naskirina ew peyker, weteyekî pir cûdatir ji bîranînên wê ya zarokatî ji re hebû. Kewê heya 18 saliya xwe jî her tim diçû emaret û di nav de digeriya. Di nav ew emaretê de hîsekî pir xweş digirt. Difkirî ku çima roxmê ew qas heskirin çima lêpirsîn nebû, çima meraq nebû, çima dîrokek wê carê bi destê jinekî hetiye nivîsandin nexwendiye, çima ewqas lîstok lîstin lê kesekî helbesta Mahşeref nebîhîst…
Pirsên weke çima zêde bûn lê çimayê girîng ji bo Kewê ew bû ku ji bo çi peykera Mastûre ne di nav emaretê wê daye? Ger tenê ji ber ev bê ku her kes ew peyker bibîne, her kesî dibe ew peyker di nav ew emaret bibîne ji ber ku heybet, mezinbûn û esaletê ew emaret bi cihgirtina ew peyker di nav wê malê de wate digre. Ew peyker dibe tenê sembolek be di rastî de Kewê difkrî ku dibe rojekî ev emaret bibe cihê hemû jinên helbestwan, nivîskar û strananbêjan. Hemû wan jinan dibe li wir bi hev re kom bibin, rûhê Mesture Erdelan di nav bajar û mala wê de zindî bikin û ji bo hemû zarokan çîroka Mesture û jiyana wê ji wan re bibêjin.
Roja Awiyer