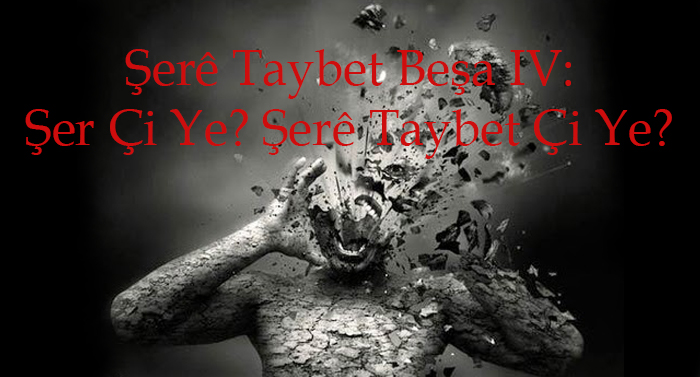 Şer Çi Ye? Şerê Taybet Çi Ye?
Li Hemberî Metodên Hatine Rûpeşkirin Ê Serweriya Zilam, Sekna Jina Azad
Şer çî ye?                                   
Çînayetiya ku em bi navê avahiya navendiya hegemonîk îfade dikin, şaristaniya bajarbûn û dewletbûn, berhevkirina rêbazên desthilatdarî û hêz di nava pêşveçûnên dîrokî de dewlemend bûne. Tê zanîn ku ev desthilatdarî li hember gelan, jin, çand û baweriya ji Sumeran heya niha di nava êrişekê de polîtîkayên xwe jî li ser bingeha hikimkirinê pêk tîne. Gava mirov pergalên hegemonîk ya navendî digre dest pêwîste pêvajoyan ji hev qût negre dest, weke ku yekî ya din tune dike neyê dest girtin û ev hêzên nîveng weke domandina hevdû heya roja me ya îro cewher û teşe qezenç dike. Bi vê awayî kiryarên şerê taybet hem di hêla hişmendî de hem jî di hêla pêkanîna rêbazan de û di hêla amorên xwe de domdarî û danahev qezenç kiriye. Ev domdarî û danehev, ji bo desthilatdarên roja me îro di pêkanînên şerê taybet de weke mîrasekê girîng yê dîrokî lê xwedî derketina wê çêbûye. Mînak, hêzekê hegemonîk yê ku dixwaze hêz û otorîte qezenç bike, ji bo zafera xwe ya teqez îlan bike argûmanên xwe yên birdozî pêkaniye û her wiha bikaranîna rêbazên xwe yên tundî û zor jî îhmal nekiriye.
Şer li gor xwezayî ya xwe xîzmetê hêzekê desthilat dike. Cihê ku şer lê hebe çînek serwer û civatek her tim heye. Ev civat dixwazî şêweyê xudayê kral dibe, xanedan, împaratortî û netew-dewlet dibe gengaze ku li ser bingeha xîzmet kirina desthilatdariyekê xwe rêxistin kiriye. Di nava ev avahiya rêxistinbûyînê de hêza leşkerî û rêxistinbûyîna wê amorekê girînge. Rêxistinbûna hêza leşkerî li gor qerekterê desthilatdariyê teşe digre. Armanc domandina desthilatdariya xwe ye. Desthilatdarî pala xwe dide bê edaletbûyînê, newekheviyê, koletî û mêtîgeriyê bi gengaz wê kirêt û bêmaf dike, ji bo astengî li hember serî rakirina civakê ya li hember vê yekê bike her tim pêdiviyê xwe yê bikar anîna amorên zorê dibîne. Ji bo tevahî desthilatdaran zor û tundîtî, weke amorekê bingehîn yê rêxistinbûyînê yêgane unsûrê jêveneger e.
Desthilatdariya ku hêza wê ya leşkerî nebe, pergala xwe ya atêşê ava neke dizane ku wê temenê wê kin be ji bo vê yekê te tedbîran digre. Ji ber vê yekê ye şer karekterî desthilatdaran yê ku dest jê naberdin. Împaratortiya tirs li ser belavkirina sehmê û hovitiyê hatiye avakirin. Asuriyan bi serî mirovan kelhan avakirina wan, fîravun jî bi artêşa koleyan pîramîta çêkirin, Cengîz Han jî çûye kuderê wê ji nexşê derxistina wê, Osmaniyan jî kevir li ser kevir ne hiştin û serî li ser serî ne hiştin ev halê şênberbûyîna van tirsane ye û desthilatdariya xwe xistina sexlemtiyê de, encamên domandina polîtîkaya ne. Di civaka xwezayî de jî navbera qebîleyan de pevçûn rû dane. Lê ev pevçûna ne, li ser bingeha pêşwazî kirina pêkanîna pêwîstiyê qebîleyan a talan kirinê ye. cihê ku çûye bimîne, hikmê xwe li ser wê derê bike, bi şêwazê armancekê polîtîk yê dagir kirinê û mêtîngeriyê û perjewendiyê xwe nîne. Bi vê awayî tiştên ku bi rêya şer nikarin pêkbînin bi riya sepanên şerê taybet dixwazin serbêxin. Vê çawa sepandiye? Mînak; neyarên layen her tim aliyên hev yên bi hêz û lawaztî baş xwandine, li gor vê yekê şer û rêbazên ji derveyî şer xistine meriyetê. Agahiyên weke hêjmara leşkrên neyar, teknîka leşkerî ya di destê wan de çawaniya amoran, mûttefîkên stratejîk kîne, cardin nakokiya hêzên di nava civakê de berhev bûye, her wiha nakokî û pevçûna di navbera hêzan de sûd wergirtin, ji bo vê nirxandinê taqtîk û stratejî tê kirin. Di vê çerçoveyê de ji bo lawaztiya kurkirin hevdîtinên veşartî tê kirin, li ser bingeha wehd dayînê kêşandina aliyê xwe, bê bandor kirin rêbazekê tê bikaranîn, aliyê din de gefan li wê welatê û xelkê wê kirin, tirsandin, nûçeyên derew belav kirin, pêşxistina şewbên vegir, ji bo serhildan pêş bikeve bi riya birçîbûnê ambargo li ser derman û xwarin pêkanîn jî rêbazek cuda ye. bi rêbazen weke, rêya bazirganiyê dest xistin, bi awayekê lez cihên stratejîk dest xistinê re dixwazin bê ku şer û tundî pêkbînin radest bigrin. Gava yek ji vane jî encam negre, hêza xwe ya leşkerî heya dawî bikartîne û bi pêla tundî û êrişê re fetih kirin û dagirkirin hatiye pêşxistin.
B-Şerê taybet çî ye û çawa bi pergal dibe?
Dîrokekê şerê taybetî yê xwedî planekê di piştê de digihîje zilamê kurnaz yê di dema civaka xwezayî de ji civakê qut bûye, dirêjî rahîbên Sumeran dibe û di navbera sedsala 19.û 20.de bi pergal dibe, ev yek kur dibe, ji hêla gelek dewletan ve weke rejîmek hatiye sepandin.
Piştê şerê cîhanê yê duyemîn şûnde avabûna NATO-Peymana neşerkirinê ango Pakta Atlantîka Bakur di dema şerê sar de bi sepandina şerê taybet re hatiye rêxistin kirin. NATO ji 28 dewletan pêk tê. Ji derveyê DYA û Kanada tevahî welatên ku nava vê pekhateyê de digre welatên Awropî ye. rêxistinbûyîna şerê taybet bi pekhateya NATO re destpê dike. Şerê taybet tenê ne leşkerî ye. Bi pêvajoya şerê sar re şûna rêbazên şerê germ, sepandinên şerê taybet hatiye pêşxistin. Rêxistinekê leşkeriye lê, weke NATO ya ku nayê dîtin Gladîo hatiye biryar girtin ku di her welatê de rêxistin kirin û li gor pêdiviyan were navkirin. Ji derve hêzekê leşkerî, di hûndir û di jêrde jî rêxistina xwe ya binî erdê pêşdixe. Bi şaneyên razayî re li hember raperîn û serî rakirinê muhtemel di hûndir de derbe lê dide û li ser rêveberina parastina xwe avabûye. Ango rêxistinekê bi hêz yê milîsên veşartî ne. evne hêzên ku di her perwerdê re derbasbûne. Navê vê rêxistina veşartî ya Gladîo ye. Ev proje, projeyî ew kesê damezrînerê CÎA ye. ev rêxistin di hen welatan de, bi taybetî jî welatên weke Îtalya û Belçîka de gelek çalakin.
Weke peyv wateya Gladîo şûre. Gladyator jî yê ku şûr bikartîne. Ji xwe Gladîo bi xwe jî tê wateya hêza operasyonê. Du cihê esasî yê Gladîo heye. Yek li Amerîqa yê ye, ya din jî li Îngîltere ye. ji hêla Amerqayê ve tê koordîne kirin. piştê şerê cîhanê yê duyemîn, bi plana Marshall re tevahî welatên ku ji nava şer ji felaketê derketine qredî tê dayîn, weke hêza desthilatdar serweriya Amerîqa tê pejirandin. Di cewherê xwe de ev polîtîka operasyona şerê taybet ya li ser qada aboriyê kiriye.
Bi rêxistinên weke Komîteya Veşartî a Muttefîkên Ewropa (ACC), Fermandariya Muttefîkên bilind ên Ewropa (SACUER) şerê taybet bi sazî dibe. Komîteya Veşartî a Muttefîkên Ewropa (ACC), girêdayî navenda Gladîo ye. fermandariya vê saziyê her daîm Amerîkayî ye. girêdayî vê fermandariyê du biryargeh hene. Ev cihên DYA û Îngîltere ye. ev her du biryargeh operasyonên veşartî yê şerê taybet rêvedibin. Rêzîknameya welatan Gladîo ev ne amade dikin. Gelek xususên weke wê li hember kî û bi çi awayî şer bikin ev rêzikname diyar dike.
Tevahî welatên ku şerê taybet veşartî lê tê rêxistinkirin, malên xwecihî Gladîo rêxistin dike. Ev hez dibin weke hêzên ku şerên hundirîn amade dikin. Îtalya, Tirkiye û Alman jî weke hêzekê lêder yê dijberê civakê hatiye bikaranîn. Di nava dewletan de dewletên kûr avakirine. Organîzasyonên dewletan bi destê van rêxistinên veşartî zor li wan tê kirin. di nava civakê de dikeve nava reyên herê zirav de û xwe vedişêre. Ger pêwîst be civakê li hember desthilatdaran û polîtîkayên dewletan beralî dike. Ji ber dewlet hen mafên ku bi hiquq re sînordar kiriye digre navaxwe. Li Awropa hen welat vê rêxistina ku kural, zagon û hiyarerşiya dewletê nas nake, di fikre ku li hember otorîteya dewletê gefekî ciddiye qedexe dikin. Herê kêm bi awayekî fermî tê gotin me rakiriye. Ji ber ev rêxistina ne bûne xwedî hêz, rêxistin û derfetên destxistine ku bi tû awayî kural û qanuna nasnakin û xwe dixin şûna organîzasyonê dewletê de.
Stratejîya şerê taybet: Şerê taybet, şêwazê şerê veşartî û girtî ye. nava şer de şerekê dêndike. Bê qurale, ne bi nîzame. Qanunên ku dewlet datîne nas nake. Ji ber avahî û rêxistinekê li ser dewletê re ye. Di sepandinên xwe de hêzekê bê qanun û bê sînor xwe rêxistin dike. Hen hikûmet û rejîmên siyasî ji vê hêzê ditirse, li gor vê yekê gavên xwe tavê je. Modela rêxistinbûna bin erdê û ser erdê esas digre. Qandî hêzekê bi çeke lê şerê birdozî, çandî, civakî, mirovî û çîneyatî jî di meşîne. Stratejiya şerê taybet tevgera taybet, rejîma şerê taybet û bi rêbazên pêkanîna stratejiyan asta xwe ya rêxistinbûnê ji gelek hêlan ve pratîk kiriye. Bi vê re girêdayî şerê taybet weke stratejî bi sê sepandinan re û şerê ne bi nîzam, tevgera îstîqrar û bi şerê taybet polîtîkayên xwe pêşxistiye û belav kiriye.
Li gor vê yekê;
Şerê ne binîzam: Şerê bê nîzame. Amorekê ku derdikeve ji derveyî qanunên şêr yên dewletan pênase dike, sînoran diyar dike û şêwazê rêvebirinê. Ango ew huquqa ku armanca wê parastina dewletê ye û îtaet kirinê bi zorê dike bin garantiyê de sînorê vê yekê jî îhlal dike, ji bo dewlet suç bike qad ve dike. Ango şêwazê şerê dewletê ku hatiye rûpoş kirin. Taybetmendiya wê jî li hember civakê û kesên berxwe didin tê bikaranîn. Rêxistinekê qontra gerîlla ye. gerîlla di şopîne, şêwazê şerê gerîlla, şewazê jiyana wê û şêwe yê birdoziya wê lêkolîn dike, vane vedugehîrîne materyalan û yekineyên xwe perwerdeyan re derbas dike. Van perwerdeyên xwe veşartî dikin. Di nava artêşê de beşekê cuda dikin. Ev ne tên perwerde kirin û ji nû de di serî de nava artêşê de û dixin nava gelek avahiyan de. Kes nas nake û nizane. Navê wan yê veşartî heye. Peywîrê wan yê veşartî heye. Gava dema wê hat derdikevin. Zarokên sêwî, kesayetên ne civakî, di jiyana xwe de ne serkeftîne, ji bo ev rêxistina kontragerîlla tê hilbijartin. Dewlet ji bo vê rêxistinê çavkaniya avakirina mirovan rêxistin dike. Şêweyê perwerdeya van mirovan xwe dispêre bê hestiyariyê. Weke mirovan tê afyon kirin. çand, wîjdan û exlaqê civakê nizane. Di pêşketinê de kesên ku ji derveyî malbatan ma ye tê tercîh kirin. ji ber saziya malbatê dêndikê dewletê ye, yekem rêxistina têkiliya ferd-civak ê avadike. Di vê wateyê de têkiliyê di navber mirov û civakê de rola xelekê di leyze. Ji ber saziya malbatê bi taybetî jî beşa sereke ya dewletê ye, rêxistinbûyîna yekemîn ya têkiliya civak-ferd bûyînê avabûye. Di vê wateyê de di têkiliya mirova û civakê de rola xelekê di leyze. Ferdên weke kontregerîla tên hilbijartin bi sedemên trajediyên civakî ji kesên ku ji vane hemûyan biyanî tên mezin kirin û tên berhev kirin. dewlet van kesane di zewicîne û dîmenê malbatê dide, lê di rastiyê de ev kamuflaje. Jiyana malbatê, sosyalîteya wê rêbazê ku ji bo ev kamuflajê ser lêdan dikin. Armancê şêweyê wan ji bo tirs avakirinê ye. bi riya perwerdeyên ku tîpên weke Rambo, di çiya de û kesên ku xov avadikin, ji beriya wan siha wan civakê di tirsîne tên têşekirin. Tişta berçav weke ku perwerdeyên komando dibînin, lê di cewherê xwe de kontrgerîlane. Li ser tevahî textîkên gerîla perwerde dibînin û di pratîkê de hemûyan jî pêktînin.
Tevgera bi îstiqrar: Bi mudexeleyên leşkerî re pêkanîna derbeyê ye. li hember kesên ku ji xeta netew-dewlet derdikevin û dur dikevin bi derbeyên leşkerî mudexele tê kirin. Bi teşkîleta şerê taybet li hember desthilatdariyê nayê xwastin raperînên gelan û hêzên milîs yên veşartî re hilweşandina wan tê rojevê. Bi derbeyen derdor bê îstîqrar tê hiştin. Alozî û tevlêhevî tê avakirin. Li ser kaos û grîzê re weke xelasker derdikeve pêşberê civakê. Weke hêzekê ku wê pergalê bigihijîne aramî û îstîqrarê didin diyar kirin.
Şerê psîkolojî: Şerekê hatiye rêxistinkirin. Gelek cûreyên amûrên wê hene. Weke ragihandin, weşan, amûrên medya, partiyên siyasî, rêxistinên saziyên sivîl, sendîqa, navendên lêkolînên stratejîk, nivîskarên kunçika, werzîşvan, hûnermend, artîst û hwd.belavê gelek qadan bûye. Têgehan berevajî bikartînin û sepandina wan pêşdixin. Ruyê şerê taybet yê diyar û ne diyar heye. Rûyê diyar, demokrasî, mafên mirovan û li ser navê rêxistinên civaka mirovî rêve dibin. Bi qilifekê zagonî derbasî qadên xwe yê sepandinê dikin. Mînak; weke wezîrên ragihandininê û wezirên propaganda. Di vê mijarê de medya bi bandor tê bikaranîn. Piraniya partiyê dewletan xîzmetê vê stratejiyê dikin.
Di şerê psîkolojîk de propaganda girînge. Tevahî oparasyonên xwe li gor curên vê propagandayê dane rûniştandin. Vê yekê weke spî, reş û gewr bi navdikin. Propagandayê spî bi nûçeyên zêderoyî civakê manîpûle dike. Propagandayê gewr, bi çavkaniyên ne diyar re beralîkirin û rojevan re derdor tê şîlokirin û serî mirovan jî tevlîhev dikin. Hedefên wan ew e ku di serê mirovan de pirsan avabikin.
Armanca propagandayê reş jî, tevlêhevî derxistin û civak anîna xeleyanê ye. Mînak; nakokiyên navbera mezhepan pêşkaşî dike û pêvçûn ava dike, nasnameyên etnîk bi çavê neyar li hev meyze dikin, ji bo vê jî gefa neyarê hûndir û ji derve avadikin. Bi vê re destekê gel digrin û derdorê dewletê de kombûyîn çêdibe. Ji derveyê rêbazên propaganda di salên dawiyê de rêbazên cuda jî pêşxistine. Ji vane ya yekemîn; şerê psîkolojîk yê operasyonele. Li ser  mijarekê kom dibin, li ser wê heya encam digrin rêbazê heman tiştê di rojevê de hiştinê ye. Ji ber vê lokale. Ya duyemîn; tevgerên bi hêz yên psîkolojîk derdorên şerê taybet dibin navê xwe hêzkirinê de operasyonên ji bo morelê digre nava xwe. Argûmanên netewperestî bikartînin. Siyemîn; tevgera psîkolojî ya stratejî ye. Di vir de rêberên hêzên dijber û muxelîf digrin hedefê xwe, reş kirin û bêqîmetkirinê esas digrin. Ya çaremîn jî; doktrîna matmayî kirinê ye. Di salên dawî de rêbazê herê bi bandor yê şerê taybet ser lêdan dike. Bi vê rêbazê neyar gafîl tê girtin, ji sûd wergirtina valetiya û bi lêdanên anî bê bandor kirin tê hedefgirtin.
Weşanên Akademiya Şehîd Zîlan-Zeynep Kinaci
Dê berdewam bike: 'Beşa V: Asta Pêkanîna Şerê Taybet'