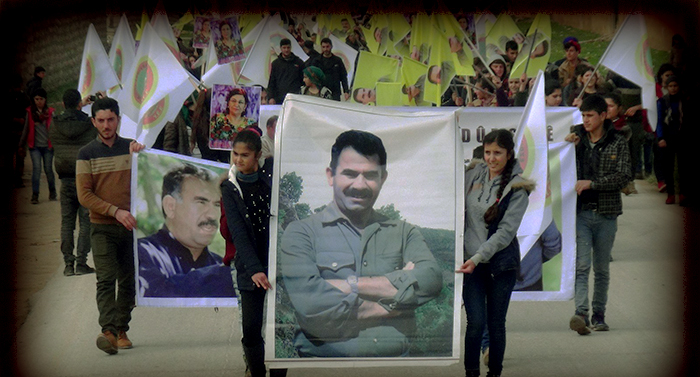 Komploya 9' ê Cotmehê Em Çawa Bixwînî?
Em li ku ne negiringe! Em çawa rewşe dixwînî û çawa wate didinê ew giring e. Wek mirov, wek netewa Demokratîk, wek zayendî çiqasî di ferqa berpirsyariye xwe de ne, ew giringe.
Gava ku em berê xwe didinê di dîrokê de komplo li diji kê? Û ji ber çi hatine li darxistin? Gelek şêweyên komplo hene û cûr bi cûr dimen tên li ber çavê me. Lê gava em di şebaka mirov û mirovahiyê de li dîroka komplogeran dimeyzênin, bûyera Hunbaba û komploya li beramberî wî tê ber çavê me. Hunbaba kî ye? Ji bo çi komploya yekemin li Hunbaba (bavê mezin) hatê kirin. Hunbaba di serdema mirovatiya destpêkê de jiyan dikir. Bi civaka xwe ya xwezayî û wek hêviya xwe bi jina xwedavand ya azad re, wek hev dijî û dida domandin. Bi xwezaye re dost, bi ajala ra heval, bi hemû zindiyan re di nava hevsengiyê de bû. Di heman demê de ew parazvanek yên  daristanên Zagrosan bû.
Hêzen komploger nikarin wî mirovî kedikirî Gilgameş û rêhevalî wî yên kedikirî Enkido di nav şewra bê ahlaqane de dest bi pilana dijbertiya Hunbaba kirin. Berê xwe dane wargehên azad û leşkeran kom kirin. Ji bo dagirkirina daristanên Zagrosan li dijî bav û kalên Hunbaba parasvanê daristanên Zagrosan erîş pek anin û bav kal dil hatin girtin. Civak hate hilwaşandin û daristan hamû tên jêkirin. Hêzen komploger yên xêrnexwez gotin: mirov û mirovatiyê em nasnakin ji bo berjewendiyen xwe yên serwerî û aborî ji wê rojê heya rojameye îro aqlê zilamtiya hegoman ya komploger li ser kare. Aqilê zilamtiya navendî bû weke pence sereke di singa mirovatiyê de. Peşverutî her tim bi rêbaza xêrnexwazî, hesûdî, fesadî û fitne civak birinkirin û nehiştin bigehêje nasnameya xwe ya civakbûnê. Di rojameye îro de jî hişmendiya serdestan li dijî tevahiya mirov û mirovatiyê dihûne û bi civaka ahlaqî-polîtik re mijûl dibe di xwaze jindar bike. Di hedefa van hezên xêrnexwaz de komploger yek ji van minaka jî wekî me di jor de jî diyar kir Hunbaba (bave mezin bû) îro ji Rêber Apo ye.
1998' li bajarê Şamê Rêberê rêberan, Rêberê mirovatiya peşverû Rêber Apo, hemû temenê xwe can baxşeyî mirovên azad û mirovatiya pêşverû kiriye. Bêy ku du diliyekê jiyan bike. Bey ku navberekê bide meşa xwe ya bê dawî. Hemû temenê xwe kiriye riya xilasiya gelê bindest û neqşeya riya azadiya mirov û mirovatiya peşverû.
Gava hêzên xêrnexwaz û yên xwin mij ev hewildanê hêja yên Rêber Apo dîtin, nikaribûn tahmul bikin. Dest bi komploya nav dewletî kirin li dijî Rêber Apo. Ta ku wî ji wekî Hunbaba (bavê mezin) bikujin û civak û xwezaya wî di nav xwe de par ve bikin. Xwastin gelê azad bê hêvî bihêlin û ketin nav liv û tevgerê ji bo ku Rêber Apo jî holê rabikin. Hemû cîhan ahlaqê xwe firotibûn û dabûne pey berjewendîyên xwe û bazirganiya xwe. Bê ahlaqane gef li serokê Suriye Hafiz Esad dixwarin. Ji bo radestkirina Rêber Apo. Yahudî rûyên xwe yên bê rahim dabû der û carekedin hiristana çarmixa Îsa ji birkiribûn. Bubûn hevkarê Yahudiya, mûslûmana. Muhammed li pazara difirotîn wekî mina Kerbelayê, tevrat, încîl, kuran bi hev re bubûn şîrîk li dijî Rêber Apo. Hêviya xilasiya gelê min kirin dorpêçê û destê xwe dane hev, hêzên dagirkeriyê. Taribûne xeleke ji naletî û teriqandin ji cîh û warê wî bi xeribiye xistin. Bere wî dane Roma reş, Yunana pust û Moskovaya, Namus firotî, dawijî berê Rêber Apo dane walate reşîka Kenyaya mirov xwar. Li ser serê Rêber Apo, Çi dibû? Çi diqewimî? Di qirnê 21' de li ser serê Rêber Apo. Ev çi deme? Çi bazare? Li ser serê Rêber Apo hemû bazirganê mirovatiyê di wan kêliyan de di bûn yek û mîna hovan erişî Rêberê Apo dikirin, wek gurê devê bixwîn.
Rêber Apo hêja jî baweriya wî bi dostaniya Esad hebû. Di şert û zurifên ku Rêber APO li Tirkiyê Rêbertî bike ne ewqasî hesan bû, bi taybetî jî qehremantiya dîrokî  bû li Tirkeye. Ji bo çareseriya pirsgirêka kûrd û Kûrdistanê. Ne jî kes ji bo mirovatiyê ked dabûn. Ew kesan jî xwe re digotin demokrat û hemû bibûn birokrat, hemû kesên ku ji xwe re digotin sosyalist hemû bûbûn reformist senaryoya 3'ê meymûna dilistin; Di gotin: min nedit, min nebihist û min nexwandiye. Ev dimen li beramberî rewşa Rêber Apor dihate jiyankirin.
Erd û azman bûne yek û qiriyan ji bo zilma li ser Rêber Apo tê kirin. Çawa Rêber Apo girtîn, destê wî kelepçekirin li bajarê rêşikan yê hov Kenya. Kenya bû Arena-Romayê. Ne Piremetous wek Rêber Apo êş kêşand, ne Halaci Mansur wek Rêber Apo zulum dît. Ne ji Îsa li qasî Rêber Apo hate tewanbarkirin. Hemû netew-devlet kombûn û bûne yek li ser serê Rêber Apo, kasa şarabê li hev dixîstin. Bazirganê mirovan hir-hira kenê wan bû, serkeftina xwe pîroz dikirin. Bi dil girtina Rêber Apo re ev çi dem û devrane? Kanê mirovatî, kanê vîjdan? Gelê mazlum Kûrd ji heft-salî heya heftê sali ji bo Rêber Apo li ser piyan bû û nalin û qirin digihişte azmana. Canê xwe ji bo Rêber Apo di şewîtandin. Bank dikirin kanî vîjdanê we, we Rêbere me bir zindanê. Me hiştin bê semyan.
Şervanê Rêber Apo efsaneya dinivîsandin li çiya, deşt û zozana. Rê nedidan dagirkeran û nalet li wan di barandin. Nezanin dê dayikên me xwe bikin mertal û gotin; Ji bo Apo em canfedane. Zarokê Rêber Apo bedendane ber agir li hemberî tarîtiyê. Ew findik û çirane. Ciwanê welate min natirsin ji taritî ye, can polane ji agir.
Ev bu 22 sali li diji komploya 9'ê Cotmehe be navber herder berxwedanê, serhildanê û tolhildanê. Li Heftenin, Gare, Metina, Avaşîn û Zap şervana diji komployê ala rengin hildanê. Neqşeya Rêber Apo nav-nîşanê dijminê. Rêber Apo be çare û ruxanê canga bilind nişane.
Kurdîstan Haftanin