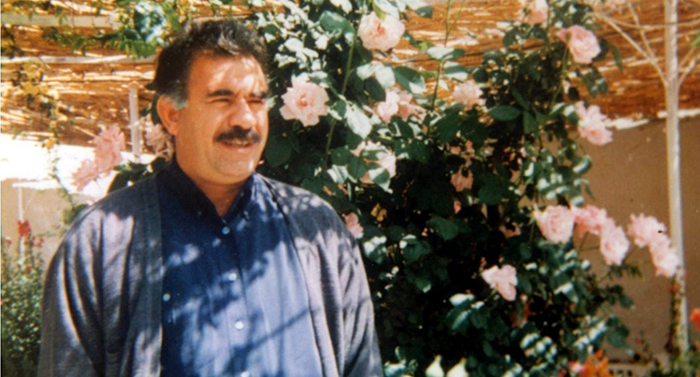 Jina Ku Xwe Birêxistin Kiriye, Dikare Her Zilamê Bîne Rê
Ger di wê hêza ku vê modelê xêz bike de bûya, ezê jî bi wan jinan re nêzîktir jiyîbama. Qet şerm nîne bi jineke xweşik re jiyîn, tiştekî xweşik e. Lê belê ev jî bi tenê bi şer ve tê afirandin. Ev jî bi şerê çors ve ne, di hest de, di hizirandinê de bi taybetî di rêxistinê de û heta di bûyerên estetîk huner de ji afirandina estetîk re derbas dibe.
Ez zilamê herî baş dibînim devê wî jî bêhn pêketiye, ji ajoyên wî wêdetir tu tişt nîne. Ez di jinê de hindek aliyên erênî dibînim. Jin li hemberî jiyanê hîn xwedî feraset e, hindekî din xwedî wijdan e. Di zilam de ev gelekî xirab ziwa bûye. Gelo hunê bi vî zilamî re çi bikin? Ger jixwe ne kole be, yek jineke ku ji malbata xwe gazindan neke nîne. Ez dihizirim ku ev dê bi tekoşînê çêbibe. Ez teoriya evînê vala nabêjim. Divê mirov van gotinan zêdetir fêm bike. Teoriya evînê teoriya şer e. Ger em kêm zêde pirtûka Ehmedê Xanî şîrove bikin, di wir de destana evînê tê nivîsandin. Lê belê encam şewat e. Wê ji devê wî gotina evînê derbikeve lê belê ev dê wî bişewitîne. Mem kurê begekî mezin e, lê belê di nava neçariyekê de ji weremê dimire û diçe. Ev nêrîneke ku divê biçûk neyê dîtin. Tiştê ku ji sêsed salî pê ve heye jî ji dest çû. Li şûna wê şêwazê moriyan, şêwazê jiyana cuceyan ma. Ez nikarim ji van re jî bibêjim jiyan.
Rêza min ji jiyanê re heye. Jixwe taybetmendiyeke me ya herî mezin ku me wenda nekiriye jî rêzdayîna jiyanê ye. Ez bi tenê dikarim vê yekê bikim. Divê ji min zêdetir tiştek neyê xwestin. Jin fedakariyên gelekî mezin dikin û girêdaniyeke di asta balkêş de nîşan didin. Dîsa fedayiyê herî mezin ji nava jinê derdikeve. Ew xwe çawa dişewitînin, bi xwe parastina me ve bi rengekî gelekî balkêş nîşan da. Dîsa yê ku herî kêm direvin jin in. Rexmî vê ev têr nakin. Ev girêdanî min jî gelekî tengav dike. Tiştê ku ez bikaribim bikim, bi şêwazekî rasteqînî jinê hindekî din bi hêzkirin e. Dema em dibêjin bihêzkirina jinê ez behsa ji aliyekî çekdayîna destan, ji aliyekî avakirina artêşa wê, ji aliyekê jî pêşxistina bîrdoziya wê dikim. Em rêxistina wê ya xweser pêş bixin jî ev hemû jî têr nakin. Em kêmasiya jinê derbas dikin. Heta ez dibêjim, em fîzîka wê jî bi pêş bixin.
Lê belê ev yek jî têr nake. Ez dibêjim dê zilam çi bibe, gelo em zilam çawa bi pêş bixin? Ev jî tê wateya belayeke duyemîn anîna serê xwe ye. Ev şer e, bûyera ku ez dibêjim evîn e jî ev e. Weke din em nikarin Kurd biafirînin. Ji ber ku Kurd hêjar e, herî axa û begê wî noker e û lêyîstok e. Qaşo zilamê herî baş bûrokratek e, yekî ku her tiştî bi pênc qirûşan difroşe ye. Yên li şûn dimînin, mirovên weke me ne. Ji me jî encax ev qas derdikeve. Ji bo Kurd jî ez tiştekî din nikarim peyda bikim.
Li Stembolê hindek jinan çalakî kirin. Dijmin jî êrîşî wan jinan kir. Di wir de xala ku were cihêkirin, jina ku radibe azadiyê dizane. Emê wateya weke taybet êrîşkirina wan a van jinan di vir de bi dest bixin. Em dizanin ku êrîşê wêrekiya jinan jî dikin. lê belê ev ji bo me ne tu tişt in. Îşkence ji bo me di plana duyemîn de ye. Evîn bi xwe tê wateya êşa herî mezin. Lê belê ev ji bo me divê zehmet jî pêwîst e ku hun vê bibînin.
Ji ber vê rojê di serî de jinên me yên di nava êşan de digevizin û di nava zehmetiyên mezin de ne û diyariya herî binirx ez bidim hemû jinên me deriyekî jiyanê ku hêza azadiyê ya di hemû dîroka xwe de wenda kirine bikaribe bide vekirin ango hêviya jiyanê bi azadî dayîn e. Di vê mijarê de pêwîst nake mirov zêde lez bike. Çawa ku hun jiyana xwe feda dikin û yekcar mirinê didin pêş çavên xwe divê hun bi heman rengî hêza berxwedanê ya di riya jiyaneke ku azadiyê gengaz dike de nîşan bidin. Dema em dibêjin, hêza berxwedanê ez nabêjim her roj bi zilam re şer bikin. Zimanekî vê, zimanekî vê yê hunerê heye. Zimanekî vê yê rêxistinî, zimanê kişandinê, zimanê kirêtiyên xwe binxistinê heye. Zimanê jinbûna xwe, xweşikbûna jinbûna xwe afirandinê heye. Dema ku jinekê xwe piralî, xweşik, birêxistin û bi plan kir, zilamekî ku ew neyne rê namîne.
Em dixwazin vê di asta YAJK ê de bi pêş bixin. Hêzeke YAJK ê ya du hezar û pênsed kesan, di serî de zilamên PKK'ê dê hemû zilamên di civakê de bîne rê. Ez bi vê bawer dikim û bi jinê bawer dikim. Weke rêhevalên xwe yên jin ez van bi pêş dixim. Hindek ketî îdîa dikin ku min "harem" ava kiriye. Bila ev ketî biteqin. Jinên ku herî zêde em jê hez dikin, li çiyê ne û gelek ji wan jî weke Zîlan gihiştine şahadetê. Ev jinên me ne. Lê belê bi rastî jî jinên egîd in. Emê bi van jinan re bijîn, weke din bi tu kesî re najîn. Ji ber ku em zilamê van jinan in. Ez ji ber vê rojê ji diyarkirina vê jî kêfxweş dibim: tenê yê jinekê ne, bûyîna zilamê jinên wiha bi rastî jî kêfxweşiyekê dide min. Jinên me, keçikên me, dayikên me, me wiha qebûl dikin, ev gelekî xwedî nirx e. Xweziya gelek zilam wiha bûna! Ger wiha bûna dibe îro jiyan bi temamî biba ya jinan. Ji vê re bi dijwarî pêdivî heye. Ez dilên dayikan, azwerî û hêviyên keçên me gelekî baş dizanim. Ji ber ku ez van dizanim, hetanî vî temenî min anî vê rewşê.
Dema em dibêjin, tevgereke dil a mezin divê hun vê yekê fêm bikin. Divê zilamên me jî hindekî vê fêm bikin. Ango ji ber ku hindekî hêz û erk kete dest, ji ber jin lewaz e, divê hestên xweşik ên jinan û heta fîzîka wan xirab nekin. Divê hindekî wate bidin jinê, heta jinê pêş bixin û wê biçûk nebînin. Gotina "sedî sed malê min e, ez bixwazim lê didim, bixwazim dijûnan jê re dikim" ne rast e. Herî tiştê baş tu bikî, jina te be jî tu çi qasî wê bi pêş dixî ye. Ez her dem vê dibêjim. Karê min, pêşxistina jinikê nîne, pêşxistina jina azad e.
Pêşxistina jina azad îbadetek e. Hindek Hz. Mihemed rexne dikin, lê belê li gorî min di wî de jî ziraviyeke girîng heye. Tê gotin Hz. Mihemed bi gelek jinan re zewiciye û sêzdeh cariyeyên wî hene. Ev yek tê wateya teng girtina dest a bûyerê. Di wan şertan de jin biçûk tê dîtin û zarokên keç zindî tênê binaxkirin. Pêşketineke Hz. Mihemed a ji aliyê hezkirina jinê ve heye. Dibe ku armancên wî yên siyasî jî hebin. Lê belê diyar e ku gelek qîmetê dide jinê jî. Ji ber ku emê wî wisa bikin ku bila kesek me tawanbar neke. Ez dixwazim diyar bikim tawanbariyên ne cih de jî bêwate ne. Piştre di Ebasiyan de, di Emewiyan de û di Osmaniyan de harem hatiye pêşxistin. Em wisa nînin, hemû jinên me weke tê dîtin, jinên şervan ên herî dijwar in. Ango di vê wateyê de jinên me qebûl nakin ku destê zilamekî jî li wan bikeve. Ango ger zilam zordest be, kirêt be û azadiya wî ne zelal be, jin wî zilamî qebûl nakin. Di PKK'ê de rastiya exlaq ev e. Ev dê me bibe jiyana nû, saziya malbatê ya nû ku tê qebûlkirin û xwe dispêre wekheviyê û azadiyê, şêwazê têkîliyê û feraseteke dinyayê ya hevpar. Ezê nebêjim, tenê saziya malbatê jî dê bibe ji nû ve rizgariyeke civakî. Ev gelekî pêwîst e û projeya jiyanê jî ev e.
Ji ber vê rojê divê em xwe tenê pîrozkirina jinê û bi tenê li ser wan axaftinê ve têr nebînin. Divê em vê rojê weke roja ku pêwist e em projeyan ava bikin, xeyal û evînên xwe yên jiyanê pêş bixin binirxînin. Lê belê divê em rasteqîn bin. Ji bo careke din ji bîr nekin vê bikin. Jinên me hindekî wiha ne. Jixwe em jî hindekî bi vê ve dijîn. Her zilam cureyekî dijî, ez jî hindekî wiha dijîm. Zilamekî din jî dê bibêje "bila jina min be, sedî sed a min be, encax ez bi wê re dijîm" ez jî dibêjim ku ger artêşa min a jina azad nebe ez nikarim bijîm. Ev azweriyek e, evînek e. Jina bihêz, egît, rêxistinkirî, xweşik a ku zimanê wê, vîna wê û şerê wê heye xwedî nirx e. Egîdî bi tenê di nava nêzîkbûneke wiha de çêdibe.
Ger zilamek bibêje "bila jin sedî sed a min be, ez li wê bidim, dijûnan jê re bikim" ev li gorî min bêexlaqiya herî mezin e. Ev li mafê mirovan jî êrîşeke mezin e. Jin ev qasî dibe ya te gelo tu ji bo çi ew qasî nabî ya wê? Ew ji sedî sed a te ye, lê belê tu ji sedî yek jî ne ya wê yî. Ger te zimanê wê jêkiribe, te vîna wê şikandibe, weke aborî bi te ve girêdayî be, di vir de zordestiyek, dîktatorî bi xwe heye. Gelo ezê zilamekî gelekî zordest, gelekî newekhev gelekî bêrêz çi bikim? Ez dibêjim vî zilamî qebûl nekin. Ev nêrîneke rast e. Ji ber vê rojê ji jinên me ev xwestin li gor min nêzîkbûneke baş e û divê em di vê de israr jî bikin. Weke din bihêzkirina jinê misoger ne gengaz e.
Heta ku jin bihêz nebe, jiyan rizgar nabe. Her dem tê gotin "ez xwedî hestên wisa me" belê, divê mirov xwedî hestan be, lê belê li hemberî kê hest, hestên çawa, dê kî parvebikin? Piştî wê hun nizanin, nikarin ber pozê xwe bibînin. Ez jî di nav de rastiya me ya zilam vekirî daynin holê. Em weke hun bawer dikin nînin. Em jî hîn ne gihiştine nasnameya wekhev û azad. Gelo ev yek bi çi gengaz dibe? Divê nîqaş hebe, heta dawiyê hun bikaribin zimanê xwe bi kar bînin, vîna xwe bihêz bikin û bîrdoziya xwe ava bikin. Ev yek mafê we ye. Ji ber ku bîrdoziya jinê di civaka komûnal a xwezayî de serdest û bihêz e. Di rastî de xwe dispêre hilberînê jî. Divê mirov niha jî vê yekê biceribîne.
Hindek ji bihêzbûna jinê ditirsin. Di rastî de ji jina bihêz tirs nabe. Berovajî mirov ji jina lewaz bitirse. Bi tenê jinên nexweş û hundirê wan vala ne, dikarin xeter bin û sîxur in. Ji vî alî ve divê mirov hemû jinên ku hundirê wan vala ne, sîxurê objektîf îlan bike. Ev hêzên çînên serdest, dagirker û nokeran ên sîxur in. Divê mirov li hemberî vê jinbûnê jî şerekî dijwar bide. Jineke ku hundirê wê vala ye, ji jineke ku xwe bi hestên xwe yên erzan ve derbas dike dê bibe sîxurekî xetertir. Ez behsa sîxuriya objektîf a pergalê dikim. Jinên wisa sîxuriya objektîf a pergalê temsîl dikin, bêguman ger jin şiyar nebin, xwe rêxistin nekin, evê bibe xeteriyeke mezin. Pêdîviya hemû jinên me bi vîneke diyar hilbijartina tekoşîneke diyar heye. Naxwe, dê ji dijmin xetertir bin.
Rêber APO