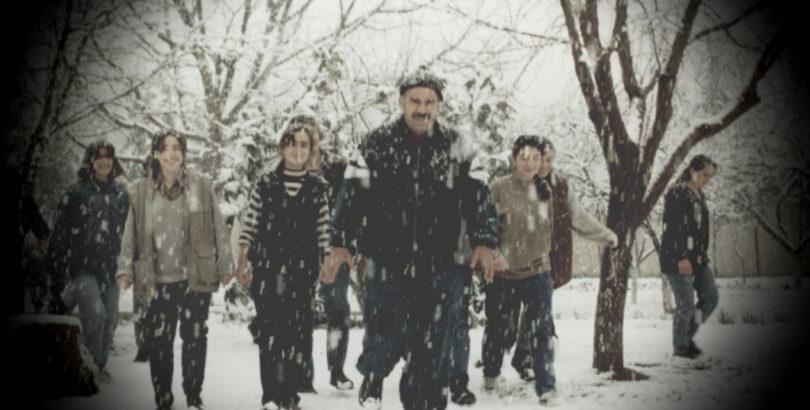 Hezkirinên Me Qasî Ku Piştgiriyê Bidin Rizgariya Gelê Me Xwedî Nirxin
Tiştê ku me di vê mijarê de bi ser xistiye ev e. Em jinê cidî digrin. Jin hindekî xwe fêm dike û xwe nas dike. Me nêzîkbûnên zilam ên kevneşop, çewisînêr û diperçiqîne asteng kir û sekinand. Tu caran êdî nikarin zextan pêk bînin. Her çi qasî di cewher de veguherîneke mezin nejîn jî, di nava jiyana partiyê ya bi rêpîvan de nêzîkbûnên taybet di nava civakê de derbas dibin nikarin bidomînin. Em nikarin vê gavê qezencên mezintir soz bidin. Ez rewşê zêde bêhêvî nîşan nadim. Ji bêhêvîtiyê wêdetir, ez bawer nakim ku ev zêde hatibe nepixandin jî. Bi taybet di vê pêvajoyê de çareseriyeke bingehîn nabe. Pêwîste ji bo jinê pênaseyeke rast were dayîn. Ango ji bo gavavêtina wê yekser nêvengeke azad were pêşkeşkirin. Bi heman rengî ve ji bo zilam jî pêwîste pênaseyek were dayîn. Pêwîste em wî jî ji bo çareseriyê daynin cihekî ewle.
Hezkirin rastiyek e ku her diçe mirovan mezin dike. Bûyera hezkirinê di mercên Kurdistanê de –ev heman tişt ji bo Tirkiyê jî derbasdar e- pewîste rast were bidestgirtin û were pêşxistin. Di vê mijarê de gelek karên ku werin kirin hene. Encameke girîng ku ji tiştên me diyarkirine derdikevin, kesayet hêza xwe ne ji bo hev û hevqezenckirinê ji bo ezeziyên xwe û azweriyên xwe têr bikin bi kar tînin. Li ser vê bingehê têkîlî tên pêşxistin. A rastîn, pêwîste ku em têkîliyan li hemberî erkên erênî yên bingehîn ku di cewherê wê de hene qezenc bikin. Tiştê li ser hemû têkîliyên me serdest e ev e. Bi taybetî pêwîste mirov cih bide bûyera hezkirina xwedî nirx. Ew rêhevalên ku dikarin vê bikin, dikarin bi ser bikevin û xwe bidin qebûlkirin. Li ser vê bingehê ji ber ku hem mamoste û hem jî şagirtên hev in, di xwedayîna qebûlkirinê de zehmetiyê nakişînin. Em jiyana baş ji vî alî ve qezenc bikin. Ger hun li ser vê bingehê hev qezenc bikin, partî bi we re ye, bi rastî pêwîste ku hun bawerbin ku we hev bi vî rengî qezenc kiriye. Ger hun wiha nebin partî we qebûl nake. Hun li ser vê bingehê qezenc bikin, dê partî qezenc bike, gel qezenc bike, ev yek jî qezenceke herî baş e.
Hezkirinên min, qasî ku piştgiriyê bide rizgariya gelê min xwedî nirx in. Azweriyên min, qasî hêzê bide partiyê xwedî nirx in. Ew azweriyên ku vî tiştî dixe zehmetiyê bila bimirin. Sempatiya ku vê dixe zehmetiyê bila tune bibe. Ez dibêjim, bila ev hemû ji min dûr bin. Helwesta exlaqî ev e. Hunê ji bo çi nekaribin vê helwestê nîşan bidin? Ji bo çi em xwe li ser vî bingehî perwerde nekin? Ma mêrxasî ne ev e? Gelo li ser vî bingehî hev ecibandin û qezenckirin ne riya herî bi namus e? Gelo ya rastî gotina, "min te ji bo xwe kire yar, ez çar bi çar serdest im" e? Kêfxweşiya di vir de çi ye? Di şûna bi vî rengî de, vê jiyanê qet nejîn hîna baştir e.
Em ji bo nêrînên PKK'ê yên di vê mijarê de hûrbûnê û berhemdariyê didin qezenckirin. Nêzîkbûneke partî ya gelekî diyarker derdikeve rastê. Pêwîste jiyaneke partiyê ku hun bi qasî jiyana xwe pê ve girêdayîbin hebe. Tevlîbûna we ya ji bo doza gelan, weke rêhevalekî helbet baş bûye. Jin xwe azad hîs bike û bide hîskirin, di nava refên me de tevlîbûnê çêbike baş e. Pêkanîna me ya vî tiştî biçûk nayê dîtin. Ev bêguman destpêkeke girîng e. Em bi hev re ne, lê belê her tişt nehatiye çareserkirin. Lê belê ger em hewldanên xwe kûr bikin, her dem hêman û armancê nêzîkbûnê ji bo pêşerojê bînin ber çavên xwe, emê di vê hevaltiya rê de kesayetên birûmet biafrînin û hev qezenc bikin. Ev piştgiriyeke ku gelê me pêwîstiya xwe gelekî pê heye. Ji bo çareseriya pirsgirêkên ku me diyar kiriye jî, ev bingehek e. Pêwîste ku hun baş bizanibin, dema ku me çareseriyeke bi vî rengî di nava partiyê de pêk anî, emê bikaribin vê pêl bi pêl li hemû civakê jî belav bikin.
Ji bo çareseriya di nava partiyê de were pêkanînin, di rastiyê de em gihiştine hêza ku ev li ser civakê serdest bibe û bi wê jî gav werin avêtin. Ên din pirsgirêkên teknîkî ne. Pirsgirêkên weke pêkanîna teknîka zanistî, pirsgirêkên ku em tê de zêde zehmetiyê nakşînin û dikarin pêk bînin in. Bi ser xistina şoreşeke bi vî rengî ve, qasî ku ji bo pirsgirêkên serdema me çareseriya herî baş tê dîtin, li hemberî neçarbûna balkêş ku kapîtalîzma emperyalîst ferz dike, PKK jî bi jinê re nêzîkbûneke ku çareseriyê tîne bi pêş dixîne. Ev çareserî, nêzîkî çareseriyeke ku hetanî niha sosyalîzm negihiştiye heta dereng xistiye, zêde ber bi zelaliyê ve nebiriye. Ger kêmasiyên me hebin, emê çareser bikin. Ji bo vê jî ne kesekî hêrs bibe, ne xwe tengavbûyî hîs bike, ne bibêje rûbirûyê xiyanetê hatime, ne jî zêde hêvî bike ku were qebûlkirin.
Rêhevaltiya di tekoşînê de xwedî rêgezekî ye ku bi girêdaniyên bêmiriniyê ve dimeşe. Ji bîr nekin ku rêhevaltiyên herî birûmet ên ku li ser vî bingehî bi we re ne, yên ku hezkirinên wan herî mezin bi we re ne û ev jî her cureyê hezkirinê û kêfxweşiyên kesayet birûmetir e. Bi wî rengî ye ku çavkaniya hezkirin û kêfxweşiya takekes, ev partiyek dibe, hemû gel dibe, hemû mirovahî dibe, dema ku hun serdestî van hemû tiştan bibin wê demê rûmeteke we ya jiyana takekesî dê çêbibe. Berovajiyê vê nêzîkbûna ku emperyalîzm ferz dike ye. Ev nêzîkbûn mirovahiyê înkar dike, gelan ji her cureyê nêzîkbûnên rizgarîxwaz tune dihesibîne. Ew bilindbûna azadiya takekes, ji rê derketin û lawirbûna ku emperyalîzm diafrîne hê ji niha ve tê zanîn ku dawiya dinyayê tîne. Pergala kapîtalîst, emperyalîst li ser vî bingehî dawiya dinyayê tîne. Têkîliyan weke lêmonê guvaştiye. Weke mirovahî guvaştiye, ava wê derxistiye û avêtiye aliyekî. Vê pergalê mirovahî tune kir.
Sosyalîzm tam di demeke wiha de xwedî li mirovahiyê û jiyanê derdikeve. Ji sedan salan hetanî niha gelek ol derketine holê. olan xwestin li hemberî lawirbûnên bi vî rengî xwedî li mirovahiyê derbikevin. Niha jî dixwazin xwedî lê derbikevin. Gelo ma ev yek pêwîst e? Yan ji dinyaya bêşerefan, bêaran ên ku îşkence dikin û kirêtiyan dikin rizgarnebûna me ya ji wan, hîn baştir e? Ez bawer dikim, hêviyên we hene û hun dixwazin di nava feraseteke baş de bijîn. Heta ez ji vê ewle me. Di vê mijarê de di asta niyet de mirov nikare tu qisurekê layiqî we bibîne. Lê belê ji bo ku niyetên baş pêşçav bibin, pêwîstî bi nêzîkbûneke wiha û şerê wê heye. Mirov nikare bi niyetên xwe weke dixwaze bijî, tenê dema ku pêwîstiyên jiyanê hatin bicihanîn dikare vê yekê bi ser bixe. Em jî şerê vê didin. Ji bo ketina bi hezaran salan, bi dîroka kurt a partiya me ve bersiv dayîn hêsan nîne. Bi feraset, bi sebir û ya herî girîng jî tekoşêr bin.
Pêwîste di vê tekoşînê de jin jî cih bigrin. Em bi wan re rêhevaltiyê kûr bikin û tiştê ku wan wenda kiriye, di vê pêvajoya rêhevaltiyê de careke din bi wan bidin qezenckirin. Dîsa taybetmendiyên ku zilam weke zêdebûnekê dibîne, yên ku ji pergalên çewisînêr û dagirker mane, lê belê ji aliyê partiya me ve nayê qebûlkirin, derbaskirina wan tiştan armancên partiya me ne. Bi hemû hebûna xwe ve em şer bikin ku bigihên wê. Ew doza pîroz a ku em dibêjin bigihêjinê, li ser bingehê bi destxistina serkeftinê, çi ji destên me tê em pêk bînin. Ev ji bo me gelekî pêwîst e û em milîtanên vê riyê ne. Ji bo me çi kêfxweşiyeke ku me ev rê girt û em bûn şervanekî baş ê vê riyê.
Ez wisa bawer dikim ku milîtanên me yên birûmet zêde di zanebûna wê de nebin jî xwe di riya jiyana pîroz de balkêş feda kirin. Baweriya xwe bi wê roja ku şeref, rûmet û hezkirin dê çêbibe anîn, radestî pergala kirêt û koledar nebûn. Dema em di vê mijarê de rojên destpêkê tînin bîra xwe, em ewle ne ku dê ev yek wiha be. Gerîlayên me yên ciwan, hezar caran jiyana ku pergala sexte ferz kiriye nehlet lê anîne. Ev dozeke mezin e û girêdana zanebûna wan bi vê armancê ve misoger e. Emê bi bîranînên şehîdan ve girêdayî bin. Jixwe ev tevger jî, weke pêwîstiyeke bi girêdaniya wan ve tê pêşxistin. Em bawer dikin ku hun bi temamî li ser vî bingehî, bi hêviyan ve barkirîne. Ji ber ku ev hêvî, jiyana pîroz pêkan dike, em ji bo wê dijîn û şer dikin. Ev mirov bi şehîdên xwe ve, bi şervanên xwe ve, dibe ku piştî sedan salan jî yê şer bikin, bi wî rengî karekî herî pîroz dikin, wiha jî dê wate bidin ku riya herî rast girtine, gelek asteng derbaskirine, weke di hemû dozên girîng ên di dîrokê de hatine dîtin û weke di" jiyana milîtanan de hatiye peyitandin, ez ewle me dê mezinbûnekê pêk bînin û bi ser bixin. Ez ewle me ku, hun di mînaka me de jî, dibe kesayeteke herî pîroz ava bikin.
Me di vê çerçoveyê de hun hetanî vir anîn. Pêwîst e baweriya ku her yek di we de heye, li ser bingehê vî tiştî ber bi pêş ve were birin. Me PKK li ser vî bingehî hetanî vir anî. Pêwîste em navekî xirab neynin ser vê. Ji bo ku hîn kûrtir were jiyîn, pêwîste hun weke wateya bingehîn a jiyana me cihekî girîng bidinê. Pêwîste em vî tiştî li ser her tiştî re bigrin. Di partiyê de serxistina vê esas bigrin û ji bo serdestkirina li hemû têkîliyan hişyarbin. Tu gumanên me nemane ku em komeke rêhevalan ên wiha ne. Çareserî bûye ya giştî. Çareseriyeke ku wiha bûye ya giştî jî, tê biserxistin.
Min hetanî niha bi vê yekê bawer kir û kar kir. Bi xebateke dilnizm ve min dinyayeke baweriyê û biryarê ya mezin afirand. Piştî ku min hun û gel ev qas gihandin hev, dibe ku ji bo hindekan nepixandî be jî, ew kesê ku têra xwe nakin jî dikarin di nava mirovahiyê de bibin xwedî çareseriyekê. Em ji bîr nekin ku ên gelekî ketine, bilindbûna wan jî mezin çêdibe. Ew kesên li şûna mirovahiyê hatine hiştin, gavavêtina wan bi şoreşê ve gengaz e. Dibe ku bi vê gavavêtinê mirov dikare li pêş mirovahiyê be, weke hember sekinandina her cureyê pergalên zext û dagirkeriyê di cîhana azadiyan de, di asta têkîliyên jin û zilam de, li hemberî pûçbûnê û bêhezkiriniya mezin ku mirovahiyê dixwe, em ewle ne emê jiyanê û mirovahiyê temsîl bikin û di vê wateyê de em zêde ne. Ez dihizirim ku ev yek hatiye peyitandin, em gihiştine asteke hêza mezin. Pêwîste hun misoger zirarê nedin qezencên PKK'ê yên mezin ên di vê mijarê de. Ew jiyanên ku xwe feda kirine, em bi takekesiya xwe ve wan biçûk nekin û reş nekin. Ji ber ku pêwîstiya mirovahiyê bi vî tiştî heye. Hela gelên ku tenê perçiqandin hîna zêdetir pêwîstiyên xwe bi vê yekê hene. Pêwîste ku balê li vê yekê bikşînin, li gel ji her demê zêdetir hun xwe di feraseta partiyê de, kesayeta tekoşer û milîtan de ava bikin, pêwîste hun derfetê bidin serkeftinê ya ku her diçe kûrtir dibe. Dema ku em rast tevbigerin, em ewle ne ku li ser vê bingehê em ji bo ketîbûna jinê ya balkêş hêzeke çareseriyê ne û bi vê yekê jî kêfxweş in.
Bi dinya jinê re, bi vî rengî gav dayîna avêtin ji bo me jî hêzek ava kiriye. Jin hîna ji niha ve pêl bi pêl tên nava refên me. Emê bawer bikin ku wan bikin çavkaniya rast a hêza xwe, bi rist qezenckirina wan ve emê cihekî baştir bidine wan. Nêzîkbûna bi vî rengî di bûyera Rêbertiyê de girîngiyeke jiyanî ye. Ger rêhevalên zilam jî vê layiqê gavavêtineke Rêbertiyê dibînin, pêwîste ji bo çareseriya wê jî alîkar bin. Çareseriya ku tê hêvîkirin jî ev e.
Hun pirsgirêkan dibînin, giran be jî hun tiştê ku dikeve ser milên xwe bikin. Di tekoşîna me de her tişt azad tê nîqaşkirin, ê ku dixwaze berdewam bike dike, yê ku naxwaze dê bihelê û biçe. Min nexwest ez bi xeyalên we yên ciwaniyê bilêyîzim. Ez naxwazim hun bi hesteke xwefedakirinê ya ji rêzê di nava refên me de bimînin. Ev nîqaşeke azadiyê ye û ji bo jiyanîkirina vê yekê jî şer hewce dike. Ger hun zehmetiyê dikişînin, bêyî ku min jî û xwe jî biêşînin, bi serbestî dikarin biçin. Lê belê tevgera ku ez dixwazim berdewam bikim, di vê mijarê de vê yekê dibêje, vê dixwaze û dixebite ku vê bike.
Ez xwedî rêgez û baweriyê me. Bi qasî ku min hêza xwedîderketina hemû jinan û hêza hezkirinê nîşan da, li ser mêrxasiyê jî ez serdest im. Di vê mijarê de xwe şaş nekin. Ger hun dikarin rabikin, em bi we re bimeşin, lê belê ez pêwîstiya tekoşînê jî dixwazim. Zext jî nîne. Pêwîstiyên kesên dimînin jî, yên bi min re bimeşin zelal e. Ez vê diyar bikim. Bi ruxmî we, em bi ser naxin. Ger îradeya we ya azad, xwestek û hezkirina we tunebe, ez nikarim vî karî çareser bikim. Rêgez ev e. Pêşketina ku kêm û zêde bi girêdayîmayînê ve hatiye pêkanîn peyitandina vê ye. Di mînaka xwe de bi hemû partiyiyan ve, bi qasî hêza xwe bibine hêza çareseriyê ku ji bo xelasbûna ji dojehê piştgiriya xwe çêbibe. PKK, ji hemû aliyan ve tevgera mêrxasiyê ye. Ji vî alî ve hatina we hindekî mêrxasî ye. Înkarkirina vê yekê ne gengaz e. Lê belê emê ji bîr nekin ku serkeftin mêrxasiyê dixwaze. Destpêk têr nake, ji bo encamê pêwîstiya me bi şervanên mezintir û mêrxastir heye. Ez hêvî dikim hunê hêza vê nêzîkbûnê nîşan bidin. Ger hun nîşan nedin jî, ez zêde teng nabim. Lê belê ji bîr nekin ku ezê biryar û hewldanên xwe bihêztir bimeşînim. Di vê çarçoveyê de tiştên pêwîst ku ez di we de nebînim, we efû nakim. Çi pêwiste were kirin, wê nîşan bidin. Li vî tiştî balê bikişînin, gelekî bihizirin û li ser vî bingehî bi partiyê ve werin girêdan. Li ser we ev qas sekinandina me bêsedem nîne. Bersiva we nebe, meş çênabe. Dema ku dirêjiyên dijmin û hindekên di nava me de bi israr ji înkarkirina nasnameya me dest pê bikin û destdirêjiya nirxên me yên jiyanî bikin û bixwazin van biperçiqînin, teqez e bersiveke me jî dê li hemberî van hebe. Emperyalîzm ev qasî bihêz e, li her derî serdest bûye. Ez ji vê bawer dikim, lê belê tu caran min bawer nedikir ku ez li hemberî vê tune me. Bi me keniyan, dibe ku me jî di çalakiyên xwe de derfetên serkeftinê nedît, lê belê ez ji vê bawerim di çalakiya gotina rast a destpêkê de yek-du gavên serkeftî esas e. Van tiştan hemûyan em anîne vê astê. Dibe ku hindekî din bihêz bin, lê belê ez bawer nakim ku weke berê ew tiştên ku dixwastin, li ser me ferz bikin di vê wateyê de ew rastiya ku em gihiştine, rastiyeke vala nîne. Bûye malê gel û hatiye rewşekê ku herî zêde bala dinyayê dikşîne.
Em li ser pergalê gelekî rawestiyan, tevî hemû van rexneyan em ewle ne ku me ya herî rast bi dilnizmî kiriye. Pêwîste serkeftina me biçuk neyê dîtin, di hemû partiyiyan de –ku hêjmar zêde girîng nîne- tişta tê hêvîkirin jî ev e. Ger hun zêde girêdayî bimînin, emê vî karî bimeşînin. Pêwîste mirov xemgîn nebe û têk neçe, pêwîste hun kêfxweş bin. We derfetên nêzîkbûna kesayetên pêvajoyên wiha dîtiye. Ev kesayet naxapîne û ger rast vedibêje, dikare serkeftina mezin bi dest bixe. Kesayeta ku fetih dike, balkêş e. Kesekî ku vî tiştî qebûl nake nîne. Dijminê ku derketiye hemberî vê binketiye. Ev tiştekî baş e. Tê wateya ku di vê riyê de xwe fedakirina jiyanê ji mînakên pîroz di hemû pêvajoyên dîrokî de ku mirovahiyê jê derxistiye yekî ji wan temsîl dike.
Ma hilbijartineke din heye? Mirov ji taybetmendiyên xwe yên civakî û netewî dûr xistine. Vî tiştî têr nabîne, dixwaze mirovahiyê bixe bin erdê. Cihekî ku mirov biçe nemaye. Cihekî ku nehatiye çewisandin nemaye. Helbet piştî vê rewşê dê mezin were lêyîstin û mezin were şerkirin. Ev tiştê ku li we têne ferzkirin in. Weke dinê hun xwedîderketinê nikarin bihizirin. Hun ji pirsgirêkên xwe yên malbatî, dê, bav, hevjîn, dost û evîndarê xwe zêdetir tiştekî din nikarin bihizirin. Ev şoreş ji bo vê yekê çêdibe, şehadetên mezin, zehmetiya mezin ji bo vê ye. Em li koşeya herî jor a dojehê bin jî, emê bisekinin, sebir bikin, şer bikin û gav biavêjin. Me ji bo vê xwe avête holê, hun hatin û tevlî bûn, lê belê em jî dibêjin pêwistiya vê tevlîbûnê jî ev e. Li ser vê bingehê emê xwe bidine şerê piştî wê. Tiştê ku ez dikim ev e. Hun jî ger bixwazin vî tiştî bikin. Ez jî weke şervanekî dilnizim dixwazim jiyana xwe bi îradeyeke azad û bihêz berdewam bikim. Dema ku kesek nebû jî, dîsa min ev yek berdewam kir. Niha gelek hevalên me hene û dîsa ez berdewam dikim. Tişta ku ez dixwazim, hêzdayîna me ya hev e.
Ez bawer dikim ku rêhevalên me yên jin, ne çavkaniya lewazkirina tekoşînê ne, çavkaniya hêzê ne û misoger ez dixwazim bi wî rengî nêzîkî we bibim. Dixwazim we zêdetir nas bikim, weke çavkaniyeke hêzê binirxînim. Ewê jî dê xwe bibînin, weke xwediyên hêza herî mezin di bingehê rast de tevlîbûnê bizanibin. Di van hemû mijaran de gihîştina feraseta mezin, hember sekinandina pergala kapîtalîst-emperyalîst û afirînên wê yê dagirker-faşîst bersiva herî mezin e. Di kesayeta me de bersivdayînên ku narûxin ji bo van tiştan dê berdewam bike.
Em herin ku derê jî, em kîjan çekê bigrin destên xwe jî, di kesayeta we hemuyan de emê baş şer bikin û teqez encam bigrin. Di cewherê PKK'ê de ev yek heye.
12 Tîrmeh 1992