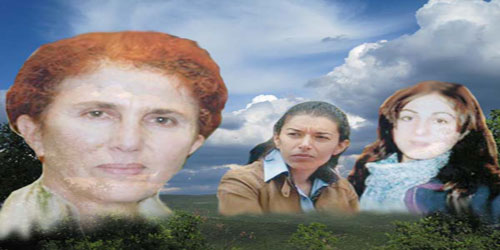 Hevala Sara, şoreşgereke xwedî pevçûneke bi felsefîk û îdeolojîk bû
Koordînasyona PAJK'ê
Di destpêkê de em di kesayeta Rêhevala Sara de, tevayî şehîdên şoreşê bi bîr tînin. Herwiha em ew komploya ku li hemberî her sê hevalên jin, bi komkujiyeke ku li Parîsê hatibû pêkanîn şermezar û lanet dikin. Komploya ku di navenda Ewrûpa de, li hemberî her sê jinên Kurd, em weke êrîşeke ku li hemberî azadiya jin û ya mirovatiyê ye bi destdigrin.
Di dil xwe de Ewrûpa xwe weke navendeke demokrasiyê û mafê mirovan dide nasîn û xwe wiha jî dibîne, lê di ciheke weke Parîsê de, bi awayeke hovane komkujiyeke wiha dikare pêk bê. Ev rûyê Ewrûpayê yê rast dide nîşandin. Tu pîvanên exlaqî û  yê demokrasî li gel nîne.
Di vê komkujiyê de derkete holê ku, Ewrûpa ji bo berjewendiyên xwe, tiştekî ku bi serê jinên Kurd, gelê Kurd neke nîne. Jixwe ev nêzîkatiyên wan ji pirsgirêka gelekî jî dide nîşan dan. Weke ku tê zanîn, rastiya dewleta serwer û ew zîhniyetên ku asta tevgera Kurd nikarin daqurtînin li hemberî gelê Kurd ev sî salî zêdetir e bi her awahî şerê qirêj yên dijwar dameşandin. Lê hember van êrîşan rastiyeke gelê Kurd ku şiyar bûye mijara gotinê ye. Jina ku bi têkoşîna azadiya gelê Kurd re şiyar bû, di nav refên têkoşînê de cih girt, têkoşîna ku dihat meşandin wek têkoşîna azadiya xwe dît û bi awayeke herî aktîf di nav de cih girt.
Gelê Kurd yê ku dihat înkar kirin di heman demê de çarenûsa jina ku dihate înkar kirin jî par dikir. Di Kurdîstanê de cara yekemîn ji tevgerekî wek PKK'ê re jina Kurd eleqedar bû. Ji ber ku PKK rastiya jin ya binpêkirî, wek çîna dagirker rewşa wê bi ziman dikir, û ji bo ku jina Kurd di nava têkoşîna azadiyê de bi çalak bike, Rêbertî gelek derfet danî pêşberî jin. Jixwe tevgera PKK di eksena jin de pêşketiye. Jina ku nîvê civakê ava dike, weke netew dihate înkar kirin û wek zayend (cîns) bi dagirkeriyeke mezinre rû bi rû dima. Jin tu caran vê nîzîkatiyê nepejirand lê derfetê wê yên xwe bi nav bike nedît. Lê dema Tevgera Azadiya Kurd PKK, xwe bi rêxistin kir û ciheke girîng da jinê wê demê jinên kurd berê xwe dan têkoşîna azadiyê. Têkoşîna azadiya gelê Kurd ji xwe astekî bilind derxistibû holê. Jinên Kurd bi vê têkoşînê xwe bi rêxistin kirin û xwe weke nasname bi watedar kirin. Jina Kurd ya zane û rêxistinkirî tê wateya  civaka Kurd ya zane û rêxistinkirî.
Pergalên desthilatdar yên ku vê nepejirandin bi rê û rêbazên cuda, bi polîtîkayên hê qirêjtir rê û rêbazên tunekirina jinê her tim ceribandin. Li hemberîmilîtanên jin, bi taybet yê pêşeng di dîroka me de gelek caran komplo bi heman zihniyeta desthilatdar hatiye çêkirin; weke komployê ku li hemberî hevala Gulan, Şîlan û herî dawî jî li hemberî rêhevala Sara hate pêşxistin.
Li ser vê komployê re saleke derbas bû, gelek milên vê komkujiyê yên ku nehatine eşkere kirin heye. Dewletên deshilatdar di serî de Ewrûpa naxwaze vê rastiyê derxîne holê. Ger bixwestana, niha derxistibû holê. Ev jî nezîkatiyên Ewrûpa yê deshilatdar dide nîşandin. Ew ji bo berjewendiyên xwe tu rêbaz û pîvanên mirovatiyê  nas nakin jixwe pîvanên wan yên mirovatiyê jî holê ye.
Ji bo zelalkirina vê komployê asta me ya têkoşînkirinê girîng e. Em bi xetên qalind jî be di ferqa rastiya vê komployê de ne. Ev komplo berdewamiya komploya ku li hemberî Rêbertî hatiye sazkirine. Komploya ku li hemberî Rêbertiya me hat pêşxistin li hemberî gelê Kurd bû û ev komplo komployeke navneteweyî bû. Hemû desthilatdar dest dan hevdu û vê komployê bi pêş xistin. Komplo û komkujiya ku li hemberî hevala Sara hat pêşxistin jî li hemberî jina azad e. Di şexsê Rêheval Sara de xwestin jina azad tune bikin. Em wisa dinêrxînin. Wek netew jî jixwe Rêbertiyê binav kir; ' Ev duyemîn komkujiya Dêrsimê ye' Divê em giraniya vê komkujiyê de bin. Deshilatdar Kurdên azad naxwazin û ji bo xwe talûkeyeke mezin dibînin. Ji ber vê çendê serî li her kirêtiyê û komkujiyê didin.
Zihniyeta desthilatdar, bîrdoziya rizgariya jin, ditirse. Ew hêza azadî  û demokrasiya me ditirsin. Her ku ditirsin hin bi dijwartir bi lestokên kirêt li ser me de tên. Ew dixwazin bi van komployên xwe yên mirovatiyê bepar, gav li me paş de biavêjin. Lê ew bixwe jî dizanin, em rêya azadiyê yê ku bi ked û xwîna bi hezaran şehîdan hatiye avakirin tu caran dernakevin û em hertim vê rêyê de ji bo azadiya xwe û gelên bindest meşa xwe berdewam bikin.  
Komkujiya 9′ ê cotmeha sala 2013'an di demeke ku bi Rêbertî re hevdîtin dihate çêkirin de hat pêk anîn. Rêbertî di nava hewldanê pêşxistina pêvajoyeke nû de bû. Di armancê vê kompoloyê de, yek jê provakatorkirina vê pêvajoya ku Rêbertî dixwest bi pêşbixîne bû. Hêzên rojava yê deshilatdar hemû  polîtîka û siyaseta xwe li ser dagirtin û tunekirina civaka xwezayî bi pêş dixwe, naxwaze di nava gelê Kurd û Tirk de aştiyek mayîn de bi pêş bikeve. Vê hewldanê ji bo polîtîkayên xwe talûke dibîne û ji bo ku vê asteng  bike serî li her rêbazê û tîfaqê dide. Weke ku bêje, ' tu pêwistiya bi Apo re hevdîtin pêk anînê nîne' û ' em dikarin hewlên wisa jî bi komkujiyeke xira bikin'. Jixwe wê demê nû hevdîtin pêk dihatin û hin ev hevdîtin raya giştî re jî nehatibû eşkerekirin. Lê, Rêbertî wek her carî ev polîtîkayên wan  ên kirêt vala derxist. Rêbertî bi hewldanên xwe yên aştîxwez pêvajoyeke nû da destpêkirin. Ev bersiveke herî mezin bû ji bo vê komkujiyê.
Ev rastî jî heye, ev komkujî ji nişkêve nehatiye plankirin, ew demeke dirêj xistine rojeva xwe û xwestine pêvajoyeke girîng de bi pêk bînin. Û bi vê êrîşê xwe jî xwestin hejandinekî bidin çêkirin. Ev êrîş di tevaya gelê Kurd û di Tevgera Azadiya Gelê Kurd de hejandineke pirr ciddî da çêkirin. Çima bi taybet hedefgirtina hevala Sara? Dema mirov ji xwe pirsiyar dike, hedefeke pir bi hilbijêre. Hevala Sara çil sal zêdetir di nava Têkoşîna Azadiya Gelê Kurd de weke şoreşgereke jin xwedî têkoşîneke bi hêz di astê pêşengtiyê de herdem berpirsyartî girtiye ser milên xwe. Hevala Sara ji sazimankarên avakirina Tevgera jinê ye. Ya herî girîng jî Rêhavala Rêber Apo ye. Di demên herî zor û zehmet de wek jineke Kurd werekî kiriye ku cihê xwe di nava xebatên avakirina rêxistina PKK'ê de bigire. Wek jinek yekemîn kongreya damezirandine PKK'ê de cihê xwe girtiye. Û bê ku serê xwe dewleta Tirk a dagirker re bitewîne di Zindana Amedê de dîrok nivîsandiye û bûye Rêhavala Mazlûm, Xeyrî û Kemalan.
Em dikarin bêjin ku ev êrîşa li hemberî Rêhavala Sara hat pêkanîn li hemberî nirxên azadiya gelê Kurde, li hemberî hevaltiya Rêber Apo, li hemberî azadiya jinê ye. Em dizanin ku hêzên desthilatdar yên dagirker û mêtînger di destpêkê têkoşîna me, hin di salên 77 de ku di demê koma APO' yî de bû jî bi komployan re her rû bi rû maye. Bi hedefgirtina hevalên Rêbertî yên herî nêzîk, xwestine ku derbeyekê li Rêbertî û Tevgera Azadiyê bixin. Wan her xwe wiha dane bawerkirin ku ewê bikaribin bi vî awayî Têkoşîna Azadiya Gelê Kurd, jina kurd asteng bikin. Ji xwe komploya destpêkê di kesayetiya hevalê Heqî Qerer de hate pêkanîn. Her wiha di sala 2013'an de jî careke din di kesayetiye hevala Sara de kompoloyeke bi vî rengî hate pêşxistin. Dagirker, di dîroka tevgera me de her tim tunekirina kesayetên pêşeng ji xwe re kirine armanc û bi vê jî xwestine tevgerê me bê bandor bikin.
Lê, ew şêweyê têkşîna me hesab nakin. Ew bersivadayîna Rêber Apo û tevgera me ji şehîdan re hesab nakin. Rêber Apo her tim bi gavên pêşdebirina rêxistinê û têkoşîna azadiyê mezinkirinê bersiv daye şehîdan. Û xwestiye bi vê tola wan rabike û daxwazên şehîdan bi pêk bine.  Bi şehadetên van hevalan, ev tevger gavên hîn mezintir avêtiye, ji ber ku di feraseta Rêbertîya me de ku bûye bingehê meyzandina me ji bersivdayîna şehîdan re, herdem li ser esasê tolgirtineke bi zanebûn, bi rêxistinî  serkeftin esas girtin bûye. Ji ber ku em hişmendiya desthilatdaran li hemberî gelê Kurd û pirsgirêka wê ya azadiyê baş dizanin, li hemberî komkujiyên wiha jî hêrsa gelê Kurd û jinên Kurd ya li hemberî vê pergalê hîn zêdetir dibe, bi vê hêrsê soza tolgirtinê ya têkoşînê dide.
Bi şehadeta hevala Sara, her kesek dît ku ne tenê jinên Kurd, di warê navnetewî de jî tevgerên jinên şoreşger li hemberî vê komkujiyê nerazîbûnên xwe dane diyar kirin. Xwedîderketineke li van hevalan bi girseyeke mezin hate çêkirin. Çawa ku hevala Sara bi jiyankirina xwe xwedî bandoreke mezin bû, û bi nav û deng bû, bi şehadeta xwe jî eniya têkoşînê hîn firehtir kir. Ev têkoşîn navnetewî kir. Ji ber ku hevala Sara tenê weke jineke Kurd ya şoreşger nebû, hevala Sara bi têkoşîna xwe û rêgez û pîvanên xwe ya azadiya jin derbasî sînorên navnetewî bû.
Pergala dagirker, jineke azadîxwaz, aştîxwaz, rêxistinkirî û zane ji bo xwe her tim talûke dîr  û ji ber vê jî di dîroka xwe de heya niha pirr bi hovane, bêm  reh li ser de çû û qetil kir. Têkoşîna hevala Sara jî ji bo sîstema xwe talûke dît û ev komkujiya Parîsê pêk anî.
Ji bo Tevgerevgera Azadiya Kurd û Tevgera Azadiya Jinê şahadeta hevala Sara wendahiyeke pirr mezin e. Bingehê Têkoşîna Jina Kurd ya azadiyê di kesayetiya hevala Sara de derketiye holê, ji lewra em hevala Sara weke Rêbera jin dibînin. Hevala Sara ji bo tevgera me, nasnameyeke di wate ya azadiyê de ye.
Weke ku tê zanîn hevala Sara xwedî taybetmendiyên têkoşer, berxwedanvan, li hemberî zor û zehmetiyan her dem serketin esas girtiye, herdem bi bawerî û bi hêvî gavên pirr mezin avêtiye. Çawa ku seknandina hevala Sara ya di salên 80′ ê de li hemberî îşkenceyên ku di zindana amedê de dihate meşandin, seknandineke pirr bi rûmet da diyar kirin, weke jineke Kurd di Ewrûpa de jî li hemberî pergala kapîtalîzmê ew sekn da diyar kirin. Li hemberî polîtîkayên zirav yê kapîtalîzmê jî hevala Sara xwedî sekneke bi helwestên azad bû. Hevala Sara bi sekna xwe ya nava têkoşînê de û bi şahadeta xwe jî  perspektîfa têkoşîna me da diyar kirin.
Hevala Sara di nava tevgerê de jî herdem li hemberî paşverûtiyên jin û zilam, di esasê xeta azadiyê de her têkoşîn kir. Yanî hevala Sara li hember tevayî êrîşên ji derve û hundir yê ku bi paş de dikşîne têkoşîn kir. Bêtêkoşînbûnê tu car ne ji xwe û ne jî hawirdorê xwe re qebûl nekiriye. Çi qas zehmetî kişandibe jî tu car gav bi şûn ve neavêtiye û ji rêgezan de tawiz nedaye. Hevala Sara, di têkoşîna xwe de bi qasî ku bi ser paşverûtiya mirovan de diçû, di şêwazê têkoşînê de ew qas qezenckirina mirov û ji bo mirov ked dayînê jî esas digirt. Weke milîtaneke pirr bi baldar nêzîkî rastiya Rêbertî dibû, xwe di rastiya Rêbertî de jî lêhûrandibû û xwe bi wê lêhûrandinê ava dikir.
Hevala Sara li gelek qadên têkoşînê de xebat dan meşandin. Weke pêşengeke milîtantiya azad ji xwe re esas digirt û vê li her qadên xebatê de pirr bi dijwar dida der. Hevala Sara di qada şer de li ciheke weke Botanê de fermandartî kir. Di qadên siyasî, civakî û dîplomasî de jî gelek xebat daye meşandin. Hevala Sara li gel ku di qadên ku xwedî taybetmendiyên xwe yên cuda de mabû jî, lê di tevayî qadan de jî çanda demokrasiyê û ya aştiyê bi qasî ku di kesayetiya xwe de ava kiribû, di derûdorê xwe de jî dida avakirin.
Pirr nivîsandinên hevala Sara hene, em di nava van nivîsên wê de jî dibînin ku çawa weke şoreşgereke herdem jiyaneke bi zanebûn û bi lêgera azadiyê ji xwe re esas girtiye. Bixwe jî di pirtûka xwe ya bi navê 'Jiyana min herdem pevçûn bû', şoreşgereke ku jiyana wê gereke çawa bi pevçûn be dide diyar kirin. Mirov di vê pirtûka hevala Sara de jî dikare bibîne ku şoreşgereke xwedî pevçûneke bi felsefîk û îdeolojîk e.
Di nava rastiya gelê Kurd ku em tev jî dizanin hatiye perçe kirin, bi salan hatiye bindest kirin, hatiye perçiqandin, di nava van rastiyan de weke jineke şoreşgertîkirin û têkoşîn danîna meşandin ne ew qas hesan e. Em dizanin ku têkoşînkirina li hemberî van rastiyan çi qasî dijware. Jineke ji bo ku bikaribe li hemberî van rastiyan xwedî têkoşîn be û di vê têkoşînê de jî serkeftî be, têkoşîneke bê navber li hember kesayeta xwe û li hember zihniyeta zilamê dagirker jî divê bide, hevala Sara ev di şêwazê têkoşîna xwe de da avakirin û bi serxistî jî meşiya.
Jixwe hevala Sara çanda berxwedaniyê di kesayetiya xwe de herdem parastiye. Di ruhê hevala Sara de berxwedaniya jinên Dêrsimê yên wekî Zarîfe û Besêyan hebû. Asîbûna hevala Sara û serî netewandina Wê li hemberî tevayî êrîşan ji vê kevneşopiyê jî tê.
Hevala Rojbîn û hevala Ronahî jî weke hevalên ciwan yê ku li hemberî pergalê xwedî sekneke azad bûne, xwe ji nav pençeyên kapîtalîzmê xilas kirine û xwedî zanebûnekê azadiyê bûn û bi wê zanebûnê di nava xebatên girîng de cihê xwe girtine. Ev hevalana ji bo me gelekî bi nirxin û ji bo têkoşîna azadiya jinan jî mînakin. Ji bo ku ev komkujiya bê zelalkirin û hesabê vê komkujiyê bê xwestin weke tevger çi ji dest me bê emê bikin. 
Ji bo ku em li xeyal û daxwazên van hevalan xwedî derbikevin, pêkbînin, em soza xwe ya têkoşînê careke din didin diyarkirin û  em dibêjin wê bîranîna wan her tim ronahiya têkoşîna me ya azadiyê be.