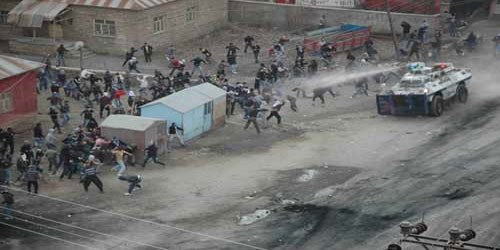 Di Nav Salekî De Nêzîkbûna Dewletê
Bêguman dema em peyva 'pêvajo' bikar tînîn gelek nakokî û med- cezîr jî di serê me de çêdibe. Berî her tiştî em dikarin an nikarin behsa pêvajoyekî bikin, ew jî bi nakok e. Ji ber ku di van kêliyên hesas de ev peyv ji aliyê çapemeniya alîgir de ewqas hatiye bêwate kirin, pê hatiye lîstin û naveroka wê hatiye wala kirin ku mirov bi tereddût nêzî vê peyve dibe. Ev rastiya entellektûelên serdestane ku pergal dema tiştek bixwaze li gorî berjewendiyên xwe bikar bîne destpêkê pir nîqaş dike, dibe û tîne, wateyên cur be cur lê bar dike û dike benîşt, piştre jî di derbarê vê tiştî de tu pratîk nake û civakê di wê derbarê de bê hêvî dike. Têgihiştinek wisa dide avakirin ku qey dewlet pir tişt kiriye. Wisa tûketîma peyvan tê çêkirin. Ango pergala kapîtalîst ji xwe li ser qedandin, xerîdarî  xwe saz dike û ev rêbaz li hember hemu pêvajoyên civakî de derbasdar e. Mixabin li hemberî kêliyên demokratîk de her tim heman rêbaz tê bikar anîn.
Lê Rêber Apo nahêlê ku ev bext bibe para peyva pêvajo yê. Ji ber ku em dikarin bi dil rehetî behsa têkoşîna aşitiyê ya ku Rêbertî 40 sale dide bikin. Em vê têkoşînê wek pêvajoyê aşitiyê digrin dest. Hemu kêliyên vê têkoşînê ji bo aşitiyek mayînde avakirin û moderniteya demokratîk bi taybet Kurdîstanê de saz kirin hatiye xemilandin. Ji bo vê jî ev pêvajo ji destpêka vê têkoşînê heya roja me ya îro vedigre navxwe.
Rêbertî bi destpêka têkoşînê heya roja îro ji bo aşitiyekî mayînde û yekitiya gelan kar kiriye û dike. Em dikarin bêjin ku armanç ango felsefeya têkoşîna Apoyî jixwe di Rojhilatanavîn de ev polîtîkayên dewletên serdest ya ku dixwazin gelan bi gelan bidin qir kirin vala derxistin û aşitiyekî mayînde avakirin e. Seba vê jî em peyva pêvajo yê ji bo vê têkoşînê bikar binin.
Ev pêvajoya ku herî şênber di newroza 2013 de derket pêş an jî dinya yê re eşkere bû gelek hêvî û bendewariyên mezin jî di gelên Rojhilatanavîn de pêşxist. Rêber Apo bi ked û sebrekî mezin bi dewleta Tirk re riyên diyalogê vekir. Ji ber ku li hember Têkoşîna Azadiyê zihniyeta dewletê ya serdest û zilamsalar ya hezar salî hebû ku ev zîhniyet, girika kor ya Rojhilatanavin him kûr dikir him jî xwe liser vê mezin dikir û ev pergala hatiye avakirin nedixwast xira bibe. Li hemberî mêzekirinek wisa him têkoşîn kirin him jî ji bo guhertina vê riyên diyalogê vekirin zehmetiyên pir mezin bi xwe re tîne. Bi taybet di encama xebatên Rêbertî ya 16 salên dawî de di pêvajoyê de merheleyekî nû avabû. Bi pêyama Rêbertiyê ya Newrozê re jî di hemu qadên jiyanê de ev rastî hate nîqaş kirin. Kurd û Kûrdîstana ku weke cinawarek behsa wan dihate kirin îro navenda hemu gotubêjan e.
Bêguman dema em wisa dibêjin ew nayê wê wateyê ku hertişt guheriyê, berovajî zihniyeta li hemberî me heman e, bes tenê rêbaz guheriyê. Hukumetên berê hertim bi rêbazên biçewisîne, bikuje, bişawtinê û wisa xilas bike xwest li hemberî kurdan bisekine. Rêbazên şîddet û tinekirinên fîzîkî dihat bikar anîn. Lê hukumeta niha çi dike? Kirdariyên "bêje ama neke", ji demê re bihêle û birizîne, tiştên pîroz ji rêzê bike û kurdên xwe ava bike.. Kujtinên niha ji aliyên ruhî, zîhnî û çandiye. Bêguman dema ev rêbaz tê bikar anîn jî tinekirinên fîzîkî jî wek şura Demokles li ser serê Kurdan her tim tê hejandin, demên ku dewlet dibîne ku rêbazên kuştinên spî bikêr nayê planên duyemîn ango kuştinên fîzîkî bikar tîne. Şîddet wek parçeyekî pergalê hebûna xwe domandiye. Em dikarin bêjin ku şîddet dibe sedema hebûna dewletê. Em nikarin şîddet û rastiya hebûna dewletê ji hevûdu qut bigrin.
Wekî ku tê xuyakirin rêbazên hukumeta AKP ya ku li hemberî têkoşînê bikar tîne hîn zêdetir binbinkî, xetertir û jahrtir e. Di Komara Tirkiyê de hukumeta ku yekem car got pirsgirêka Kurd heye AKP ye. Ev gotin di gelek derdoran de hêviyekî pir mezin da avakirin. Ji deruniya bindestiyê jî tê gelê Kurd kî gotinekî xweş bêje hema bawer dike û wan gotinan re AKP di Kurdistanê de orana rayên xwe zêde kir. Demekî pir kurt şunda Kurdî wekî 'zimanekî nayê zanîn' hat binav kirin û berdevkê AKP got kurdî ne zimanê şaristaniyê ye ku ev şaristaniya ku behs dikin rastiya deshilatdariya zilamsalar û pergala ku derdora xwe de avakiriyê be ji xwe em nabin parçeyekî vê û zimanê me ne zimanê wan e. Lê tabloya ku derdikeve cuda ye. Ew pirsgirêka Kurd ya ku hukumetê gotiye, dervayî ziman, nasname û çanda kurdî çiye kes fêm nekir. Ji armancên têkoşîna Kurdan yek jî bi zimanê zikmakî perwerde dîtîn û xwe bi zimanê xwe îfade kirine. Lê em di sedsala 21 an de dibînin ku hin jî ji ber gotinekî Kurdî girtin, hakaret, îşkence û verderkirin tê jiyîn. Zîman ku wek perçeyekî hebûna mirovan e, tê piştçav kirin û pê re jî bê ziman çawa bikarin netewekî nasbikin ew jî wek naqokiyek derdikeve pêşya me. Pergala desthilatdar ya dewletê li gorî pêdiviyên demî pozîsyon digre û rêbazan bikar tîne. Tenê bi rêbaza şîddeta hişk dîtin ku encam nagrin li kêleka rêbazên şîddeta hişk rêbazên rizandinê jî xistin meriyetê ji ber vê jî xeteriya herî mezin ya li hemberî têkoşînê ev hukumet e.
Piştî peyama Rêbertiyê ya Newrozê tevgera azadiyê li gorî rih û exlaqa pêvajoyê gelek gavên mezin avêt û ji bo pêşketina aşitiyê neqşe riyek meşand. Leşkerên dîl ya di destê Tevgerê de hatin berdan, li Bakurê Kurdîstanê agirbes hate îlan kirin û ya herî giring jî cara duyemîn biryara paşvekişandinê hate girtin. Gelek grup derbasî axên Başurê Kurdîstanê bûn. Tevger ji roja agirbesê şun de tu çalekî li dar nexist û tevgerên xwe yên di axên Bakurê Kurdîstanê de li gorî rihê agirbesê pêk anî. Tevgera Azadiyê bi hest, hêvî û biryardariyekî mezin berbasî sala 2014 an bû. Lê hukumeta AKP çawa 2014 pêşwazî kir?
Ji bo jî  aşitiyê re bibe pirek Tevgerê Biryara paşvekişandinê  girt lê dewletê di vê pêvajoyê xwest li gorî berjewendiyê xwe bikar bîne. Di heman demên ku tevger agirbes îlan dikir de dewlet lez da xebatên qerekol û bendav çêkirinê. Li ser xetên ku gerîlla tevdigere nêzîkî 600 qarakolên nû ketin îhaleyê û xebatê wan destpêkir. Cardin cihên derbasbûnê bendav hatin destpêkirin. Dewlet li ser du armancan xebitî; yek vegera gerîlla ya li ser axa Bakurê Kurdîstanê ji holê rakirin û xwe di Kurdîstanê de bicih kirin bi vê re jî axên Kurdîstanê li gor berjewendiyên xwe bikar anîn, Kurdîstanê bêmirov kirin. Ango bi çêkirina bendavan re xwezaya Kurdîstanê texrîp kirin, çandiniyê lewaz kirin û Kurdîstaniyên ku li ser çandiniyê debara xwe dike mecburî koçberiyê kirin. Koça darê zorê ya ku dewlet di salên 90'î de bikar danî niha bi rêbazên zirav mecburî koçê hiştinê re dimenekî ku kocekî dildarî heye avakirin heye. Bi vê re zemîna ku gerîlla bikaribe li Kurdîstanê bimîne ji holê rakirin heye. Ya duyemîn jî armanca esasî ya çêkirina qerokolan ev e ku dewlemendiya binerd ya Kurdîstanê mêtandin e. Di roja me ya îro ku çavkaniya enerjî di dinya yê de kêm dibe de pêdiviya pergalê ji bo domandina temenê xwe ji enerjiyê re heye. Dixwazin ev enerjî bi riyên herî kurt, bê mesref û encamên bol bidest bixin. Ji bo wan tendurîstiya cihanê, mirovan an jî xwezayê muhîm nîne. Dema armanç berjewendiyên pergala serdest be rêbazên exlaqî ne derbasdar e. Ji bo vê jî zirar û ziyana vê xebatê nayên berçav girtin. Tirkiyê jî dixwazê ji vê pastê para xwe bigre. Ji bo mezin kirina serdestiya xwe pêdiviyên xwe yên enerjiyê dixwazê ji mêtingeha xwe ango ji Kurdîstanê bigre. Ji bo gihandina vê armancê jî divê destpêkê Têkoşîna Azadiyê ji wir dur bixe, ji ber ku dizane di bingeha felsefeya Tevgera Azadiyê de parastina xwezayê û hawirdorparêzî heye ku ticar ji bo xebatekî wisa îcaze naye dayîn, ya duyem jî cihên ku ji xwe re bike mesken ewlehiya wê avabike. Niha pergal bi rêbaza gaza zinaran dixwaze ev pêdiviyên xwe yên enerjî temîn bike. Gaza zinaran bi vala kirina hezaran ton jehrê bin erdê re tê derxistin. Ev rêbaza enerjî derxistinê bi xwe re di heremê de gelek texrîbatên mezin re rê vedike. Demê re gelek nexweşiyên giran şêniyên heremê de ava dike, xweza zuha dike û zindiyan dikuje. Li gorî lêkolînan çavkaniyên herî zêde ya van gazana li Kurdîstanê de ye. Dewlet jî ji bo vê armanca xwe cihê herî guncav ji xwe Kurdistanê dibîne. Ev qarakolên ku tên çêkirin jî li ser xeta ew derên ku çavkaniya vê xebatêye de ye.  Ango armanca avakirina van qarakolan parastina şebekeya gaza zinaran e. Ev jî armanca dewletê ya ji vê pêvajoyê de dide diyar kirin.
Cardin sala 2014 ji bo gelê Kurd bû sala berxwedan û xweseriyê. Di Rojava yê Kurdîstanê de xweseriya ku hatibû îlan kirin gelek êrîşên hovane re rû bi rû ma. Piştî îlan kirina Kantonên Rojava hêzên navnetewî ketin nav liv û tevgerê. Di pêşengiha Îsraîl û DYA bi projeya 'Kovana Mêş' ji bo hêzên oldarên pirole(aşiri dinci) ji axên xwe dur xistin, bi taybet li hember îslamiyetê nefretek li qadên navnetewî de avakirinê û herî girîng jî istikrara ku di Rojhilatanavîn de avadibe xira kirina rêxistinek bi navê DAÎŞ ê hat avakirin. Ev lîstok berî li ser Afqanîstanê bi El Kaîdê re hatibû ceribandin. Li hember xweseriya Rojava wek metirsiyekî li ser gelan xwestin bikar bînin ji ber ku xweseriya demokratîk ji bo berjewendiya hemu gelan bû, ji xwe xweserî ber vê tirsek pir mezin di dilê pergalê de dide avakirin. Bi vê rêxistinê re di Rojhilata Navîn de xwestin neqşeyekî nû û li gorî xwe bidin çêkirin. Di bingeh de herkes jî dizane ti alaqaya DAÎŞê bi îslamiyetê re nîne. Berovajî kiryarên wan dide diyarkirin ku çiqas ji rastiya ol û baweriyê dur û bêpar in. Tirkiye jî wek her car bû duvika hêzên rojavayî û ji bo xilaskirina hêz, vîn û azadiya Kurdan alikariya herî mezin da van çeteyên hov. Piştî îşgala Musulê 49 hemwelatiyên Tirk ya di konsolosxaneya Tirkiyê de bûn ji aliyê DAÎŞê ve hatin rehîn girtin. Dewlet bi zanebûn wan welatiyên xwe da destê DAÎŞê. Ji ber ku bikaribe raya giştî re bêje ku ka mêze bikin rehîneyên min hene û ez nikarin hember rêxistinê dîrek têkoşîn bikim. Ango ew qeyrana dîlan parçeyekî planên wan bû. Rêxistinek wek DAÎŞê hov û wehş çawa dibe ku her roj li ber ekranan dîlên destên xwe de serjê dike, îşkence dike, dikuje, jinan di pazaran de difroşe tiştek ji dîlên Tirkan re nake. Ji xwe demek şunda hat gotin ku bi operasyonekî dîlên Tirk hatine rizgar kirin lê di vê derbarê de tu agahiya leşkeran an jî hêzên parastinê nînbû. Ango tu operasyon, tevgerekî leşkerî an jî lebatek li holê nebû li ser hevpeymanek ev dîl hatibûn berdan. Ji xwe DAÎŞ wek dîlên din jî nêzî wan nebûye. Ti pêdiviyê wan kêm nekirinê, di cihên taybet de girtine û wek mîvan pêşwazî kirine lê di heman cihê de dîlên Kurd û netewên din bin îşkenceyan re derbas kirine, jin firotine û hîn jî ew kiryarên xwe didomînin. Di wextê ku dîlên konsolosxaneyê hatin berdan de nêzî 150 girtiyên DAÎŞî bê dadgeh û darizandin, bê ku agahiya tu kesî jê hebe bi dizikî hatin berdan û ji bo li hember Kurdan şer bikin ber bi Rojava hatin rê kirin.
Cardin di Dîlok, Ruha, Batman û gelek bajarên Kurdîstanê de ji bo perwerde dîtînê DAÎŞiyan re cih hatin dayîn, li gor belgeyên derketine de diyar dibe ku gelek perwerdeyên wan ji aliyên dewleta Tirk ve tê dayîn. Ji xwe destpêkê êrîşên li ser Rojava de bi çeteyan re gelek leşkerên Tirk jî beşdarî şer dibûn û nasnameyên wan jî hatin dîtin, piştî ku ev hatin eşkere kirin dewlet hîn temkînî nêzbû lê cardin gelek hemwelatiyên Tirk deşîfre bû ku li Tirkiyê perwerde dibîne û ji bo li hember Kurdan şer bike ber bi Rojava tê rêkirin.  DAÎŞ bin navên rêxistinên cur be cur li Tirkiyê pir eşkere rêxistinbûna xwe dike û ji xwe re kadro avadike. Ev rixmî ku li gelek aliyan de derketiye holê jî dewlet ji bo astengkirina xebatên DAÎŞê tu gav navêje ji ber ku dewlet hîn jî pir eşkere DAÎŞê wek rêxistinek terorîst binav nake. Ji ber ku bi xwe raste rast ev rêxistin xwedî dike. Dema em pereyên ku ji bo danayênrûpişt(örtülü ödenek) ya ku li Tirkiyê de tê veqetandin mêzebikin jî emê bizanin ku ew pere diçin ku derê. Ji ber ku dewlet rixmî ku her roj behsa diyalogê jî dike hîn jî Tevgera Azadiyê wek rêxistinek terorîst binav dike û ji bo Tevger û îfadeya Tevgerê ya herî şênber ango hêza gelê Kurd lewaz bike hemu rêbaz û riyan rewa dibîne û li gor xwe ji bo vê çi pêwist bike jî dike.
Hêzên desthilatdar ya Navnetewî ya ku naxwazin vînekî gelên azadîxwaz avabibe, bi destê çeteyan navenda vîna gelan ku di şerê li Rojhilata Navin de derket holê ango Kantona ku destpêkê hate îlan kirin Kobanî xwestin bixin û li gor berjewendiyên xwe li wir hêzêk bi cih bikin. Kobanî li ser du esasan hat hedef girtin yek, Kobanî di têkoşîna azadiya gelê Kurd de cihekî stratejîk e. ji ber ku Rêber Apo destpêkê li ser Kobanî derbasî Qadê Lûbnanê bû. Cardin di pêşketina têkoşînê de jî mîsyonek girt ser milên xwe. Ya duyem jî di destpêka şoreşê de kantona yekem ya xweseriya xwe îlan kir Kobanî bû. ji bo vê jî pergal xwest ev hêviyên azadiyê cihê jêdera wê de bixeniqîne û tune bike. Wisa pergala alternatîf ya li hember Kapîtalîst Modernîte bihata vala derxistin. Li ser vê armancî bi hêz, teknîk û nîcelîkekî pir mezin êrîşê Kobanî dikin. Di vir de jî cardin aktora destpêkê ya derdikeve pêşya me dewleta Tirk e. Ji bo ketina Kobanî dewlet çi ji destê wî dihat kir. Kobanî ji sê aliyan ve dorpêça çeteyan de ye. Aliyê çaremîn jî sinora Bakurê Kurdîstanê ye. Dewlet tenê xeta hênase girtina Kobanî girt û nehişt ku alîkarî, piştgirî û takviye biçe Kobanî ku berxwedana gel di wir de bixeniqe û di nav rafên toz girtî ya dîrokê de winda bibe. Gelên çûne ser sînor ji bo alîkariya Kobanî bi êrîşên hovane re rû bi rû ma. Dewlet aliyekî de gel ji ser sînor xwest dûr bixe ku tekiliya wan û DAÎŞ dernekeve holê. Lê çapemeniya azad hemu qirêjiya dewlet bi dîmenan derxist der. Hemu cîhan tekiliyên germ ya di navbera dewlet û DAÎŞê dît. Rixmî van hîn jî dewlet bi arsiziyek pir mezin înkar dike û behsa pêvajoyê, aşitiyê û biratiyê dike. Lê ev nêzikatiya wan têkoşîna me ya azadiyê û aşitiyê kêm nake. Rêbertî li hember van hîn zêdetir ji bo cihanekî aram xebatê xwe xurt dike.       
Lê belê di nav vê salê de rastiya pêvajoyê ya ku Rêbertî pêş dixist ji gelê Tirkiyê re baş nehat vegotin. Rixmî hemu hewildan û xebatên Rêbertiyê, em danasîna xebatên Netewa Demokratîk û Xweseriya Demokratîk de kêm û lewaz man. Wekî ku qey xebatên pêvajoyê tenê ji bo berjewendiyên gelê Kurd tê xwestin hat lanse kirin. Qey gelê Tirkiyê azad e, hertiştê wan heye, Kurd jî dixwaze bigehêje wan tiştan. Lê dema mirov tabloya ku di Tirkiyê de heye mêze dike dibîne ku ji Kurdan zêdetir pêdiviya gelên Tirkiye ji pêvajoyê re heye. Ji ber ku armanca pêşxistina pêvajoyê şert û mercên di heremê de guhertin e.  Di nav salekî ku pêy me diminî de gelê Turkiye cardin tîbû,birçîbû, deyndarbû û bêkar bû. Aşiti ne tenê bêdengbûna çekan e. Şertên ku mirovan mecburî çekê dihêle li holê rakirin e û ev şert jî belkî ji Kurdan zêdetir gelên dîtir maxdur dike. Roj nîne ku li Tirkiyê xebera kujtina jinekî neye. Li gor îstatîstîkan li roje herî kêm 5 jin tên qetil kirin. Lê hîn jî pirsgirêka jin wek pirsgirêka malbatê tê dest girtin. Ango jin tenê di nav malbatê de dikare were dest girtin. Ji bo vê jî pirsgirêka herî mezin ya Tirkiyê pirsgirêka jin e.
Cardin her roj dehan kes ji ber qezayên kar jiyana xwe ji dest dide. Kardar ji bo zêdetir pere qezenç bike û mesref kêm bike jiyana mirovan re dilîze û tu zagon an jî pergal parastina mafê jiyanê nake. Ji ber ku qiymetê jiyana xîzanan li gel dewletê nîne. Ji xwe di welatekî ku qiymetê jinan û hemwelatiyan nebe de em nikarin behsa aramiyet û asayişê bikin.
Hukumet ji bo pêşxistina pêvajoyê cihê ku holekî aramî bide avakirin û asta refaha civakê bilind bike, berovajî rayeya polîsên xwe zêde dike û cardin polîtîkayên çewisandinê dixe meriyetê. Ji ber ku dewlemendiyên Tirkiyê ji bo gelê wê ne ji bo desthilatiyên wê tê bikar anîn. Ji bo li hember qesrên ku Erdoxan ji xwe re qasî hatiniya nîvê welat dide çêkirin û pereyên ku ji aliyên wezîr û malbatên AKP'yeyiyan tên dizîn nerazîbûna gel çênebe divê erkên 'hêzên asayîşê' pir bin ku bikaribin çavên milet bitirsînin û rewşekî 'bêdengî,  aramî, bitebat' bê avakirin.  ji bo vê jî ji herkesî zêdetir pêdiviya gelê Tirkiyê ji pêvajoyê re heye. 
Fêmkirin û kiryarên hukumetê ji 'pêvajo' ya salekî wisa ye.
Nûjiyan ERHAN