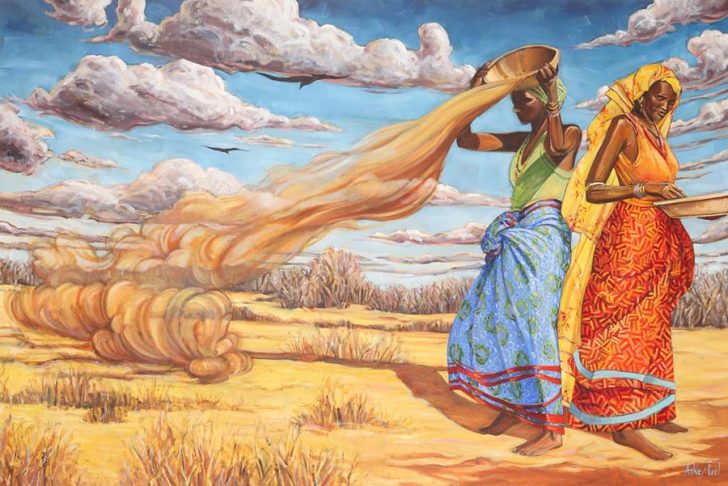 Şoreşa Çandê Şoreşa Jinê Ye
Şoreşa Neolîtîkê di vê warê de şoreşekê jinê ye. Bi şoreşa ku jin pêşxistiye ve, di nav civakê de çand şêwe girtiye û gehiştiye wateyê. Kûrbûna wateyê pir bi hêz e. Jiyan girêdanbûnek di asta evînê de û bi wate hewce dike. Watedayîna nirxwên hatine afirandin, parastin û di berjewendiya civakê de şixulandina wan di vê serdemê de tê jiyîn. Hebûna têgînê takekesî, ez ezîtî, zordarî, pêkutî, berjewendîperestî û hwd jî nîne. Her tişt li derdora rêgezê hevpar de dizivire û qurala 'an hemu an jî qet' demxa xwe xwe li jiyanê dide. Qurala an hemu an jî qet, rengê çanda civakî nîşan dide. Însanên wê demê di wê zanebûnê de ne ku bêyî yekîtiyê jiyan çênabe. Di vê warê de her tiştên di civakê de heyî bi awayekî hevpar tê şixulandin. Zêdehî nayê qebûlkirin û ji civakê tê derxistin. Rêbertî dibêje rêya zêdehiyan ji destê xwe derdixstin jî cejn in. Bi cejnan him  bereketa hatine komkirin tê pîrozkirin, him jî zêdehiyên di dest de heyî bi rêya diyariyan ji kesên pêwistiyê wan heye re tê dayîn û di navbera klanan de yekîtî tê pêkanîn. Cejn yek ji amûrên nîşandana heskirinê ye, yek ji rêya pêkanîna yekbûnê ye. Di roja me de koka cejnan xwe dispêre wan rojan. Her çiqas navê wan were guhartin jî, bingeh û çavkanî ew dem e. Û hîna jî di serî de li Mezopotamya, di cejnên ku li Rojhilata Navîn tê pîrozkirin de diyarî tên dayîn ji cîranan re xwarin tê belavkirin. Parvekirin û yekbûn, hatine gel hev, li hevhatina kesên ji hev xeyidîne, rêzdayîn û hezkirin di van rojan de hîn bêhtir wate dibîne.
Rêbertî dibêje: 'Taybetmendiya diyarker a serdema civaka Neolîtîk, cara yekemîn bi destxistina rewşa kêdîkirina ajel û cotkariyê, pêkanîna teknolojiyek ku vêya pêk bîne ye. Ax, nebat û darên cûr be cûr, ajelên kêdî yên tên xwedîkirin, gûndên xwecihî, civaka dayîksalarî ya li derdora jinê şêwe digre, ferasetên mîtolojîk û olî yên ku xwe dispêre pîrozkirina hebûnên di jiyanê de xwedî roleke girîng e taybetmendiyên bingehîn ên vê serdemê ne.  Tevir, bêr, hewcar, çerxe, amûrên bi dest, destar, amûrên traştina kevir, ker, gamêş, sewal amûrên hilberînê ya destpêkê ne. Civak bi şêwaze kabîleyan di pergaleke bi milkiyeta kolektîf jiyan dikin. Çanda bingehîn a di civaka dayîksalarî, di tevna aşîtiyê de ye. Li hemberî feraseta ku hev tune dike û xwe dispêre talanê, biyanîbûnek mijara gotinê ye. Ziman bi awahiya helbestê ye. Ji ber vê ji vê serdemê re serdema helbestkî ya jiyana mirovahiyê jî tê gotin'.
Mirov nikare civakek bê hûner bifikre, civakek bê hûner weke komên hestî ye û balkêşbûna wê ne gengaz e. Hûnera wê demê ji ber pêdiviyên civakî û ji tevna jiyanê ava bûye. Bi berhemên hûnerî bawerî şêwe girtine û watedayîn mezin bûye. Hûnera ku di civaka xwezayî de pêşdikeve ne tenê xîtaba beşekî dike, ji bo hemu nûnerên civakê tê çêkirin û xîtabî rastiya civakî dike. Berhemên hûnerî yên ku xîtabî civakê dike bersiva pêdiviyên civakî dide. Peykerên ku tên çêkirin rêzdayîna jiyanê pênase dike, tiştên diyariyê tiştên ku di rîtuelan de tê şixulandin û wate digre ye, nepixandinên li ser cihên baweriyê tên çêkirin bawerî û jiyana civakê dirismîne û, tirsan bi wir de dibe. Çîrokên mîtolojîk wêje û çîroka pergala fikrandinê bilev dike. 'Mirov dikare çavkaniya muzîk û wêjeyê jî bispêre bi sazîbûna neolîtîkê. Muzîka otantîk weke ku degdayîna wê serdemê ye. Bilûra şiwanan, dahol, zirne; êş, kêfxweşî û coşa wê demê îro jî dide jiyîn. Jinê dike çavkaniya îlhama hûnerê'. Çavkaniya îlhamê ya amûrên mûzîkê yên hatine kişfkirin xweza bi xwe ye. Her dengekê xwezayê bi rîtuelan tê derxistin û pîrozkirin, tirs jî bi wan dengan tên dûrxistin. Di vê warê de divê weke hûnermendekê rast li jinê were mêyzekirin û şîrovekirin. Cîhana wate ya jinê û tarzê fikrandina wê divê bi ziravbûna hûnermendek were şîrovekirin. Rastiya jin a ku bi şaristaniyê re nabe wekhev heye. Her ku em dakevin cewhera jinê em dikarin xwe bigehînin çavkaniyên jiyanê ya wê demê şêwe digre. Lê di roja me de yê ku dikare di vê aliyê de mêyze bike, tenê Rêbertî ye.
Rêbertî bi çavê hûnermendek dikare li jinê mêyze bike, şîroveya zanistî pêşbixe, bigihîje kûrbûna felsefî û bi destnîşankirinên birdozî dikare bi jiyanîbûna wê pêk bîne.
Kesê ku nikare xwe bigehîne cîhana wateyê ya jinê û qeba nêz dibe, nikare bibe hûnermendek. Ger yek ji xwe re dibêje ez hûnermend im divê li têkiliyên wî yên bi jinê re, di berhemên wî de tarzê wî ya destgirtina jinê û nêzîkatiyên wî yê li hemberî argûmanên serweriyê were mêyzekirin. Ger ji argûmanên  şaristaniyê xwe xilas kiribe, daketibe cîhana jinê û zayendparêziyê derbas kiribe ew dikare bibe hûnermend. Di roja me de hûner ji hûnerbûnê derketiye û bûye lîstokek kapîtalîzmê. Ji bo xilasbûna ji vê, daketina koka hûnerê û bi jinê re avakirina yekbûnê pêwist e. Bi qasî ku ev çêbibe, em dikarin şoreşa çandî pêkbînin. Di vê warê de em dikarin bêjin ku nêzîkatiya li hemberî jinê, yek ji xalên nebe nabe ya pêkanîna şoreşa çandî ye.
Rêbertî dibêje 'Çand di wateya teng de heqîqeta hestiyarî û feraseta kevneşopî ya civakan îfade dike. Ol, felsefe, mîtolojî, zanist û qadên cûda yên hûnerê di wateya teng de çanda civakekî ava dikin. Toplumun bir nevi ruhsal ve zihniyet durumunu yansıtır'. Weke nasnameya civakbûnê pênasekirin jî gengaz e. Her şêwegirtinek civakî bi çanda xwe re cûdabûnan nîşan die. Şêwegirtina çandî çiqas dewlemend û bi aheng be, ewqas digihîje xwedî taybetmendiya bandorkirin û belavbûnê. Çandên ku belva dibin li gor mercen wê civakê cûdabûnan nîşan didin lê çarçoveya xwe ya birdozî wenda nake. Lê divê ev neyê jibîrkirin ku, warên ku destpêkê çand lê ava dibin girîng e. Halê wê yê xam û cewherî li cihên ku destpêkê lê ava bûye jiyan dike û bi hêsanî nayê guhartin. Warên ku destpêkê lê ava bûye xwedî taybetmendiya bûyîna warên koka xwe avakiriye ye. Belavbûna çanda Neolîtîkê bi dewlemendî û gihaştîbûna wê re têkîldar e û li cihê ku çûye hatiye qebûlkirin û bûye parçeyekî jiyanê. Ne bi darê zorê, bi coşekê mezin çanda Neolîtîkê jiyan dîtiye. Bi hezaran salan belavbûna çanda ku li Hîlala Zêrîn şêwe girtiye, nesekiniye. Çanda ku li vê axê şêwe girtiye ewqasa kûr û bi kok e ku rê nade çandekê din jiyan bike û qebûl nake. Ger bi baldar lê were mêyzekirin şoreşa çandî û cotkarî ya di Neolîtîkê de pêk tê li Mezopotamya jorîn jiyanî dibe, şaristanî û bajarbûn li Mezopotamya jêrîn bi jiyanî dibe. Tê fêmkirin ku belavbûna çanda Neolîtîkê ne tenê fîzî ye, heman demê çandî ye jî. Însanên ku vê çandê afirandine, ji warên ku bihiştê dide wan qût nebûne û li hemberî êrişan jî li ber xwe dane û bi derketine asoyên çiyayan hewil dane ku çanda xwe biparêzin. Eşqa jin û gelê Kurd a li hemberî çiyayan xwe dispêre vê kokê. Rêbertî dibêje 'Rastiya Kurd him berhemekê vê merheleya dîrokî ye, him jî vexuyana bi hêz a di vê çandê de pêvekirî mayînê dihewîne. Israra wê ya weke gelê kabîleyên çandî mayînê tenê bi pêkanîna parastina li hemberî hêzên şaristaniyê mirov nikare îzah bike. Çand bi xwe ger ne xwedî kokên kûr be, an ewê bi xwe bibe şaristanî an jî di nav şaristaniyên ku dibe dergûşa wê dê bihele. Em şahîdiya helandina bi hezaran civaka kabîle ku bi vê awayê heliyane dikin. Kurd di vê aliyê de, koma gel a ku mînaka wê nîne ye'.
Di roja me de rîsta pêkanîna şoreşa jinê girîng e. Bêyî ku şoreşa jinê pêşbikeve, pêkanîna şoreşa çandî ne gengaz e. Ger di bingehê hemu xebatên xwe de em amûrên ku şoreşa jinê pêk bîne ne dêynin, bi qasî ku jiyana em avabikin dê ji şoreşê dûr be, dê ji xizmetkirina  serweran jî rizgar nebe. Koka çanda Kurd azadiya jinê ye û dê bi şoreşa jinê pêşbikeve. Ger em naxwazibin ji kokên xwe yên dîrokî qût bibin, divê em li hemberî hemu astengiyên li ber azadiya jinê ve têbikoşin. Şoreşa jinê bi pêşengtiya PKK'ê û PAJK'ê qismî be jî bi saya têkoşîna hatiye meşandin biserketiye. Lê vê serkeftinê mayîndekirin girîng e. Em şoreşa Rojava weke şoreşa jinê pênase dikin. Lê di civakîbûn û mayîndebûna şoreşê de gelek merheleyên ku divê em derbas bikin li pêşberî me disekinin. Yek ji van merheleyan jî dewlemendkirina xebatên xwe yên çandî, bi civakbûna vê û ya herî girîng jî di eksena jinê de pêşxistina vê xebatê ye. Pêddiviyên xebatên xweser a çandê ji vê rastiyê derdikeve û yek ji mijarên ku di xebatên me de nebe nabe ye. Ji ber ku şoreşa jinê şoreşa çandî ye, çoreşa çandê jî şoreşa civakê ye. Weke ku yek ji wan nebe ya din jî nabe bi hev re girêdayî ne û heqîqetek ji hev qûtnabin dihewînin.
Di vê nivîsa me de me xwest kêm be jî em dakevin kokên xwe yên dîrokî. Helbet ne dîrokek ku bi çend maqale û nivîsan were fêmkirin e. Bi kûrbûnek lêkolînkirin, têkiliyê wê bi heqîqetê re dayîn û bi hêz şîrovekirin pêwist e. Di nivîsa xwe ya din de emê pêvajoya derbasbûnê, li ser jin û çandê bandora serdema mîtolojîk û çawa hatiye jiyîn hewil bidin da ku binivisînin. Beriya ku em xilas bikin, dixwazin helbesta Rêbertî a bi xîtabî Derweşê Evdî nivîsandiye li ser nivîsa xwe zêde bikin.
"Xwezî ez li Çiyayê Şengalê
Li cem Dewrêşê Evdî bûma!
Li ser pişta hespên spî
Li deşta Mûsilê bûma!
Dema ku Dewrêş ketî,
Min ew li pişta xwe bikira û bibira çiyayên Kurdistane!
Min jê re bigota, ''Binere,
Bi hezaran Edûlê û Donzdeh hene!
Li van çiyayan ku xwedavendan kon vedaye
Min bigota, ''bi aramî raze!''
Min bigota, 'Mirin…
Her ji kût ê,
Ji kû ve tê
Êdî xeman nexwe!
A ku teqez bûyî Kurdîtî û jiyana azad
Rasteqîniya ebedî ye!''
Rêbertî
Akademiya Şehîd Mîzgîn a Kevana Zêrîn