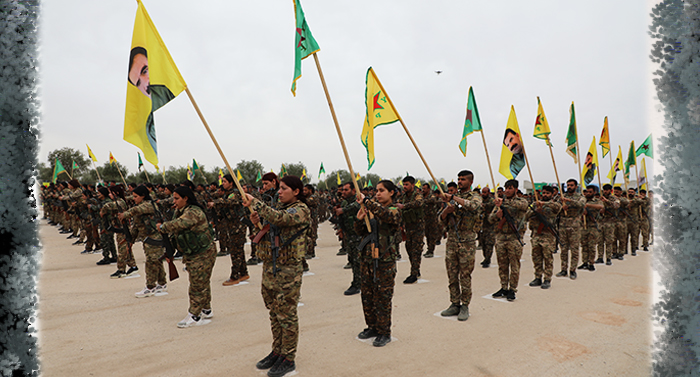 Şerê Taybet Beşa XXXV: Rojava Qadekê Şoreşêye
Li Hemberî Metodên Hatine Rûpeşkirin Ê Serweriya Zilam, Sekna Jina Azad
Li ser bingehê pêşî li girtina şoreşa civakî, zîhnî û çandî ya ku piştî Şoreşa Rojava dihat xwestin ku li qadê pêk bînin; her cûre pêk anînên qirêj xistin dewreyê.   Wek pêşî jî ji destpêka pêvajoya şoreşê û hetanî niha bi sedhezaran kes ji cih û warên xwe hatin koçber kirin, araste kirinên ku ji koçberiyê re bûne wesîle jî, li ser saloxgeriyê hatine pêşxistin. Koçberî vegeriyaye taktîka şer a herî mezin. Koçberiya girseyî ji kokên xwe qutbûye û vegeriyaye girseya ku bê rêxistin û bê parastin a ji her cûre bikar anînê re vekirî. Rêbertiya me gelek caran diyar kiriye: "Tu kes ji ber sedema çawaniya pirsgirikan nikare di rastiyê de  jiyana xwe rizgar bike. Dijmin di ferqa vê de ye û ji ber vê sedemê şerê taybet, girseya koçberiyê ya ku ber bi rizgariya mizawir (sahte) ve diçe, dixîne bin pencê her cûre bikar  anînê. Yên ku ji Rojava diçin Tirkiye, Başûrê Kurdistan û cihên wekî wan deran, qasî  ku xizmetê ji îstîxbaratê re bikin dikarin destûra jiyana wan deveran bigirin. Hem bikar anîna rasterast û hem jî ji rê derxistina bîrdozî-çandî ya polîtîkayên bingehîn ên ku li ser girseya koçberan tê rêve birin.  Girseya koçberiyê bi serê xwe mijarek nirxandinê ye. Li kêleka wan ji bo xerab  kirina civaka me ya Rojava, polîtîkayên tên zanîn ên şerê taybet pêktînin.   Dixwazin ji rê derxistina civakî; ji bo sabote kirina pêvajoya xwe avakirinê ya civaka exlaqî û polîtîk, bikin amûrê herî bingehîn ê tekoşînê.
Wekî di bajarê Amedê de dike, di cih û warên Rojava de jî bikar anîna zêde ya madeyên wekî hişber, alkol teşwîq dike, saloxgerî ji bo vê taybet dixebite. Hewl dide ciwanan ji tevgera şoreşê qut bike û rewşek bê hestiyar, bêberpirsiyar bidest bixe, bi vî awayî li hember pêşengtiya civakê şer birêve dibe. Bi  taybet jî ev polîtîka, bi awayek zêde di şexsê Kobaniya ku bi tevgerên xwe yên şoreşgerî ve dengê gihand her devera cîhanê, dewreyê de ne. Li vê deverê hilbirin û firotina hişberê tê teşwîq kirin.  Li Rojava zêde kirin û pêş xistina gelek cihên alkolê, ji vê armancê re xizmet dike. Hewl didin wek amûrek xistina kevnar  fihûşê pêş bixînin, wek bizavek  veşartî û ji bin ve wek qadên kemînê li dijî jin û zilam bikar bînin. Jinên Ereb ên ku ji şer bandor bûn, malbata xwe winda kirin, nikarin derfetê debarê bibînin; dikin qurbanê vê sektorê û piranî karê fihûşê li ser wan tê pêş xistin. Ji malên giştî (genelev) yên wekî perçeyên din bifermî û bidestê dewletê tê rêvebirin zêdetir; li Rojava fihûş, hê zêde di malên taybet û bi awayek veşartî tê kirin. Ji bo jinên ciwan bikevin tora fihûşê jî, pêk anînên tên zanîn dixînin dewreyê. Di vê qadê de jî bandorek pir zêde ya MÎT'ê heye. Bi xapandina jinên ciwan a li ser înternetê ve dîmenên wan tên kişandin,  encama ku eger fihûş nekin bi gefa ku wê wan bi nirxên civakê re rû bi rû bînin û ber bi vê torê ve tên kişandin. Bi taybet jî çeteyên Tirk ên taybet, bi destê MÎT'ê ve zarokên malbatên welatparêz an jî jinên ciwan ên ku di pergalê de bi awayek çalak dixebitin, dikişînin nava vê şebekeyê. Wan jinên ciwan ên ku di fihûşê de bikar tînin, wek  şebekeya sixûrên veşarî, tên bikar anîn.  Hewl didin bi vê  rêbazê ve di saziyan de bicih bikin û agahî bidest bixin.
Yek jî amûrên bingehîn ên pêk anînên şerê taybet  jî medya ye. Bi taybet jî di vê qadê de medyaya dijîtal bi awayek çalak tê bikar anîn. Hema bêje mala ku bê înternet nemaye. Helbet ji bo bidest xistina agahiyên bilêz înternet dikare bê bikar anîn, lê dema asta zanebûnê ne pêşketî be civak herî zêde li ser înternetê rastî êrîşan tê, wê demê înternet dibe amûrê şerê taybet a xwe gihandina bilez a civakê. Çawa ku bikar anîna înternetê ji armancê derdikeve û rewşa takekes kirinê ve kesayet bi xwe ve girêdide, dikare bê asta ku rojeva civakekê diyar bike. Dema nûçeyek derew yekser bikeve bi hezaran avahiyan, deh hezar di carekê de bi heman derewê re rû bi rû bimînin; ev wê bi serê xwe ne zelaliyekê bîne, eger nekare tu tişt bike jî wê rojevê dagir bike û dijîtiya wê jî, wê bê wateya ku tevlî rojeva wê bûye. Cîhana dijîtal kesayet dorpêç dike, dema wî/ê dikuje, ji rojevên bingehîn dûr dixîne, hişmendiya wî/ê ya siyasî rûxar dike. Mejıyek ku  rojane kî/ê çi gotiye wek pêşketin fahm bike wê îstîqameta xwe winda bike, wê şêweyê nirxandina wî/ê ya siyasî pir rojaneyî be û têgihandinek ku neçarî îro bûye jî tê wateya ku ji her cûre beralî kirinê re vekiriye. Wê li kêleka wan li ser medyaya dijîtal pêk anînên bangî lewaziyan dikin di dewreyê de bihêlin, wê bi awayek zêde polîtîkayên zayendparêz li ser bedena jinan, vekirî bên pêşkêş kirin  û wê wek amûrek têr kirinê raberî civakê bê kirin. Çawa ku bi vê ve sînorên exlaqê zerar dibînin têgihandina jin a wek objeyek zayendê dîtin jî zêde dibe. Di liv û  tevgerên mirov de cewher û îtîbar tê kêm kirin.
Ev polîtîka ne tenê ji bo Rojava, polîtîkayek şerê taybete ku ji aliyê bikar anîna înternetê ve li her deverê tê pêk anîn. Televîzyon jî di çarçoveya medyayê de bi awayek çalak tê bikar anîn. Li Rojava temaşe kirina qanalên Tirkan tê teşwîq kirin, rêze fîlmên Hînd û Tirkan bi awayek domdar û çalak, wek amûrê rojev berevajî kirina civakê, ji dûr xistina çandî û ji bîr kirina rastiyan ve di rojevê de tên hiştin. Jiyana tîpên nimûne û kesên ku di rêze fîlman de dileyîzin, wek jiyana mînak tê raber kirin. Lê jiyana heqîqî jiyanek cûda ye; hilberîna zayendparêz a evînên mizawir (sahte) aliyekî, rastiyên ku derxist pêş rastiyên xapînok in. Kesayet ji nêvenga ku jiyan dike û ji rojevê dûr dixîne. Herî zêde jî bi wan rêze fîlman ve  jinên ku bê nîqaş ji şoreşa Rojava re pêşengtî kirin, wek girseya hedef a wan rêze filman tên diyar kirin. Ji ber ku jina kevneşop, tê wateya civaka kole. Destpêkê şikandina meyla azadiyê li ser jinê tê pêşxistin. Saziyên bin navê civaka sivîl ên piştî Şoreşê bi destê dewletên Ewropî ve bi awayek zêde hatin ava kirin rêxistinên ku karên saloxgeriyê birêve dibin. Emerîka destpêkê pergala Rojhilata Navîn bi artêşa xwe ve perçe dike, hema piştre ev sazî dikevin dewreyê, wek amûrek helandina çandî tê domandin. Divê civaka sivîl wek civaka derveyî dewletê bê pênase kirin. Eger saziyên civaka sivîl, dikarin derveyî dewletê civaka sivîl rêxistin bikin û desthilatdariyê paşda bixînin, ev tê wateyê ku bi erka xwe ya rasteqîn ve dixebitin.
Lê di şerê hêzên serwer de rêxistinên civaka sivîl ji aliyê hinek saziyan ve dikevin bin sêxberiyê, ya rast xebat kirina wan a wek artêşa rû sivîl a hêzên hegemon, dibe amûrek şerê taybet. Hem asteng dike ku civak li ser nirxên xwe yên bingehîn xwe rêxistin bike, hem li ser navê çareser kirina pirsgirikên civakî, lê di rastiyê de kûr dike, dubendî çêdike, hem derfetê xwe rêxistin kirinê dibîne û hem jî bi karên saloxgerî ve dibe karên asteng kirina civakê ya civak bûyînê. Li Rojava bi awayek zêde di dewreyê de tê hiştin, pozîsyonek ku binê şoreşê dikole didin qezenç kirin. Gelek rêxistinên civaka sivîl ên girêdayî MÎT'ê analîza keşfê ya dagirkirina Efrînê kirine. Heman şêweyê hêzên navneteweyî jî wek şêweyek rêxistiniya civaka sivîl bikar tînin. Bi pêşkêş kirina derfetên madî yên pir zêde ve mirovan li ser pere bi xwe ve girêdidin, wek qada kar endam qezenç dikin, demek piştre jî wan ji bo armancên saloxgerî bikar tînin.
Wek zimanê hevpar Îngilîzî tê ferz kirin, çanda şaristaniya Anglosakson tê sepandin. Halbukî saziyên civaka sivîl bi zimanê deverên ku diçin xizmet dide. Ê niyeta wî/ê herî baş jî Rojhilat Zanê (oryantalîst) herî dijwar e. Bi rastî jî derveyî sermayeya ku dewlet dide, rêxistiniyên civaka sivîl ên xwe dispêrin însiyatîfên hevbeş jî hene û ev beş, ji bo xizmeta şoreşa Rojava hinek di nava niyetek baş de ne.  Le beşek zêde bi armanca saloxgeriyê, pêkhênerên dagirkeriya çandî, di heman demê de wek di mînaka Efrînê de jî hat dîtin amadekarên bingeha xebatên leşkerî ne. Hewldana wan a araste û guhertina şêwazê hizirandina civakê, ji xeta bîrdoziyê dûr xistin, bîne rewşa ku xweziya xwe bi çand û ramana rojeva (batı) bîne û derxistina pêş a azadiya ferdî amûrên wan ên bingehînin.
Şoreşa Rojava şoreşek jinane
Bi perwerdeyên şêweyê wan pîşeyî, lê puxteya wan birdozî ve şêwazê jiyan û feraseta azadiyê ya lîberalîzmê pêşkêş dikin, dixwazin taybet jinan arasteyê vê bikin. Ev rêxistinên civaka sivîl bi rêxistinên jinan re di nava dûrahiyê de ne. Şoreşa Rojava şoreşek jinane, bîrdozî û pêk anîna wê pir di pêş de ye. Lê li hember vê rastiyê vekirina komeleya mafê jinan û xizmeta ku bi vê armancê re dikeve nava nakokiyê çiqas rasteqîn be, ew jî ew qas civakparêzên sivîl in. Bi kurtasî divê ev rêxistiniyên ku wek amûrên şerê taybet dewreyê de tên hiştin, wek qada pêk anînekê bên pênase kirin û li gorî ve jî  pêwîste bi rêbaza tekoşînê ve nêzîk bûyîn çêbibe. Wek encam;  Ji ber ji aliyê hêzên mêtînger ve wek amûrê gefek bingehîn tê dîtin, lewma Rojavaya ku piştî şoreşê ji cîhanê re bûye çavkaniya îlhamê, ew qas zêde bi êrîşan re rû bi rû dimîne. Her çiqas rastiya şerek taybet a ku dixwaze bi operasyonên civakî ve bi taybet jî jin û ciwanan teslîm bigire hebe jî, nasnameya berxwedanê bi pêvajoya şoreşê ve derketiye pêş.
Rojava qadek şoreşêye ku xwe dispêre rastiya paradîgmaya Şaristaniya Demokratîk a Rêbertiya me, rûyê xweşik ê mirovahiya ku koka wê digihije civaka xwezayî û berxwedêrên wê. Avahîsazê wê Rêber Apo ye.  Ji ber vê sedemê pêşengtî û çalaktiya wê hemû eniya azadiyê ya cîhanê bandor dike, ji ber ku qadek pêk anîna şênbere, lewma dibe navenda çavdêrî û cazîbeyê. Pêşengtiya karakterê gerdûnî ya Rêbertiya me dibe sedemê eleqeya ku ji qada şoreşa Rojava re pêş dikeve. Ji ber vê sedemê qada Şoreşa Rojava di pêşengtiya Rêbertiya me de dibe darek azadiya qedîm a betonê Şaristaniyê dişikîne û li ser koka xwe şîn dibe, kulîlkên wê qada vekişînê ye, hêza wê ji vê derê tê. Ji Rojhilata Navîn re azad berdana şaxên vê derê, tevî kirina hemû jin û gelan hevpariya herî mezin e. Şoreşa Rojava neçare ku vegera şoreşek Rojhilata Navîn. Dema hêzên hegemon vê dîbînin pêk anînên xwe yên şerê taybet zêde dikin, hewl didin bi êrîşa şerê taybet a herî mezin ve vê pêvajoyê ji perspektîfên Rêbertî re bêpar bihêlin. Çawa ku Rêbertiya me li Rojava dara ku betonê Şaristaniyê dişikîne şîn kir, di bin tecrîdê de dihêlin. Divê mirov ji kesên ku Rêbertî mehkûmê tecrîd, bêdengî û çala mirinê dikin; hêvî neke ku wê bibin dostên dilsoz ên şoreşa azadiyê.  Fahm kirina şerê taybet ji fahm kirina wateya vê hevokê ve derbas dibe. Xweşikiya vê darê ji îradeya wê ya cewherî tê. Di ferqa vê de bûyîn pêngava pêşî û destpêk a tekoşîna li hember şerê taybet e. Li ser navê hemû jin, Kurd û gelên Rojhilata Navîn rast fahm kirin û pêk anîna paradîgmaya Rêbertî, wê bibe sedem ku ev dara  şitila wê biçûk, pêşeroja wê azad vegere darek qedîm.
Di wê wateyê de Şoreşa Rojava tenê ne kulîlkeke ku li çolê şîn bûyî, ji nûve ruh dîtina wan xakên ku vegerandine çolê û ferseta ku ev jiyan bi vî ruhî ve xwe bigihîne hemû bedewiyan. Ji bo nirxandina bi şêweyê herî xweşik a  vê fersenda ku Rêbertiya me çavkaniya wê ye, divê bi zelaliya çavkaniyê ve hemû polîtîka û amûrên şerê taybet bên dîtin û bên vala derxistin.
Weşanên Akademiya Jina Azad a Şehît Zîlan-Zeynep Kinaci
Dawî