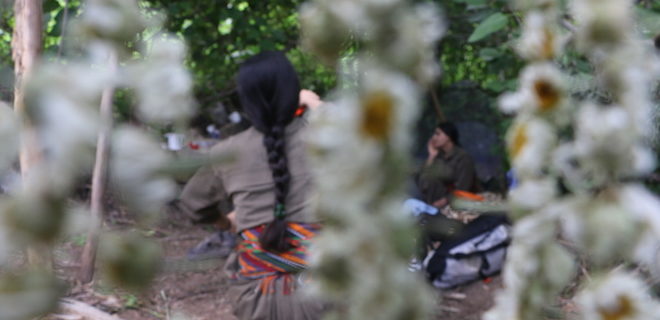 Rondikên We Diramûsim
Di nava çend kêliyan de min digot qeyî dilê min nema di qefesa sînga min de hiltê. Her ku diçû diwerimî û mezin dibû. Lê dîsa jî ew di ber gotin, hest û rondikan re nedigiha. Ne digiha ku hemûya di kewara xwe de zeft bike. Ne digiha ku hemûya ji ber bike. Himêz û destê xwe di ser de bibe. Gelo, dile min biçûk bûye an lewaz bûye? Di nava çend kêliyan de min dilê xwe di dadgeha wijdanê xwe de da ber lêpirsînê, bê ka ev çi û ne çiye.
Şaş fam nekin, lê min gelekî lome jê ne kir. Ji ber ku tabloya ku ez li beramberî wê sekinîbûm ji wê wêdetir bû ku dilê min hemû şifreyên wê çareser bikirina. Rastiya ku ez pêre rû bi rû hatibûm dayik bûn. Ha… ji xwe ez di navbera xwe û nefsa xwe de her bi vê qinyatê bûm ku ez her ji hevalê xwe re heval, hawrê, dost, heta carina dê û bav, xuşk û bira bûm ji wan re. Min her û her ew parçeyek ji xwe didîtin û xwe jî parçeyek ji wan. Min her ev ji xwe re digot; ma ti evîn di ser vê evînê re heye. Belê heye… Di ezmûna van çend kêliyan de min dît, li hemberî dayika, dayik hemû îdiya badilhewa, pûç û vala ne.
Axê xwe ji barîna berf û baranê têr û tijî kiriye û xweza wisa lê hatiye tu dibêje ka te ji dilê xwe xemilandiye. Bitirbûye ji nîmeta demsala zivistanê û jêre dibêje here biwir de va ez bihar hatim. Mîna ku derya rengan be çiyayên me, çiyayên Kurdistanê dîsa xwe xemilandine. Hîna lûtkeyên çiya sipî dikin lê ku ti ber û jêr ve tê mîna ku te mehfûreke kesk bi ser rûyê erdê dakiribe giya bejn avêtiye. Hema ji her çeşîtekî kulîlk vekirine. Şilêr, xecxecok, sosin, lale heya kulîlkên ku ez nizanim navê wan çine. Ango ji bêhn û bayê wê yên xweş, paqij û hênik mirov jê serxweş dibe. Ji berku demsala zivistanê bi şilî, berf û serma xwe tevgera Gêrilla kêm û asteng dike, di demsala biharî de jî tola vê yekê tê rakirin. Ango di cihê xwe de nasekinin. Weke her Gêrillayekê ez jî bi roj seatek be jî demê ji çûyina nava xwezayê re vediqetînim. Ez diçim çav û dilê xwe bi heyîn, xweşikbûn, wateya wê manidar dikim û vedigerim. Lê tiştek di jiyana Gêrilla de heye ku ti roj naşibe ya dî û ti dem xwe pê nade dubare kirin. Guhertin û veguherîn bi lez diqewime, di nava vê lezê de jî cudabûn û mezinbûna wateyê jî di wê derbarê de xwe nû dike. Nizanim çima; lê ez îro gelekî li ser dualîbûna jiyanê diponijîm û min ev ji xwe re digot: her çiqas zivistan bi zor û zehmetî be jî, ji ber ku li dû wê buhareke ewqa xweş û geş tê em jê hez dikin. Û her çiqa havîn bi kel û germ be ji bo ku bi dû wê de em dizanin ku wê payîzeke hestzîz tê em jê hez dikin. Ya ku vê gerdûnê bi kemal û cemal dike, hev temam kirina wê ye. Ya ku li me jî dikeve ew ku em xwe bi zaniyarî di vê dibistana wê ya hînker de temam bikin.
Ber êvarê ye; piştî baraneke narîn, hêdî hêdî ewr ferkîn ez jî ji xwe re li ser girê jora wargeha me xayiz bûme li tava ku pirteqalî bû ye ku hêdî hêdî dixwaze biçe ava temaşe dikim. Di wê navberê de çend heval hatin ji bo danheva kîvarka. Ji xwe me hemûyan xwarina êvarî xwariye hîna min bersiv ji pirsa xwe re nedîtibû hevalan gotin, 'du malbat hatine mêvandariya me'. Mêvanên me jî mirovên hevala Şevîn e. Yek ji wan malbata şehîd Avareş'e ya dîtir jî malbata hevalê Seyidriza ye.
Seyidriza di sala 2012 de ji bo hemleya şerê şoreşgerî gava ku derbasî Şemzînanê dibû min li ser rê wî dîtibû. Sohbeteke me ya kurt çêbibû. Ciwanekî jîr, wêrek û qederekê jî ji xwe razî bû. Ji xwe razî bû, ji ber ku di dibistana perwerdeya Apollo ya fermandariyê de sê sitêrk girtibûn. Ango tê wateya piwanên herî bilind. Her çiqas ku Gêrilla bi dilnizmbûna xwe bêne nasîn jî lê ya Seyidriza ji ber temenê ciwaniyê û nav û navnîşana fermandarê bi sê sitêrk ji xwe razîbûneke li hevhatî lê zêde kiribû. Piştî demeke ku di ser hemleya şerê gel yê şoreşgerî re derbas bû, navê Gêrilla Avareş ku bi kesayeta xwe ya leheng, bi jiyana xwe ya kelecanî û fedekar û şehadeta xwe ya egîdî şopeke mezin li ser hevalên xwe hiştibû û navê wî li çiya vedida. Hingî min li rastiya kesyeta wî ji hevalên wî bihîstibû, mîna ku min bi sala pêre jiyan kiribe wî dinasim. Belkî jî hemû cara ji bo mirov hevûdu binase dîtin ewqas gîrîng nabe. Ji xwe ji bo jiyan û hevaltiya gêrilla qet nabe. Pêngava şerê şoreşgerî bi serkeftineke ku mora xwe li dîroka gelê kurd daye bi dawî bû. Bi qasî şahiya serkeftina vê berxwedanê, di bin de êşa cangoriya jî ne kêm bû. Yaaa… her tişt di vê jiyanê de du aliye. Bi qasî ku nêviyê mirov ji êşê dişewitîne nêviyê dî bi rûmeta wê te hênik dike. Mirov bi hêbûna van herdu dijberbûna dikare bêje ku ez heme.
Di vê jiyanê de, hela li serê van çiyan tiştek ji xwe berê nabe, misoger nîşana tiştekî veşartiye. Disekine, radiweste li benda hatina kêliya xwe dimîne. Piştî salekê di sibeheke buharî de min Seyîdriza di goristana şehîdan li ber goristana şehîd Avareş sekinî bû dît. Di vê êvara biharê de jî em dayik û bavê herdu havrêya bi hev re pêşwazî dikin. Malbatek jê hatiye lawê xwe bibîne, ya din jî hatiye tirba wî bibîne. Yek zindiye yek jî şehîde. Bi hev re li kêleka hev rûniştine. Di kêliyên wiha de nabe ku mirov ji dualîbûna wiha re nebêje ku bê edalete. Ji ber ku ev dualîteya ku em behsa wê dikin xwe dispêre zihniyeteke deshilatdar û dagirker. Lewra ji adaleta gerdûnê biyanî bûye û dualîteya wê ya xwezayî jî înkar bûyî ye.
Avareş navê xwe ji Gêrilayekî bi navê Avareş girtiye. Di zarokatiya xwe de wî dibîne nas dike û pir jê bandor dibe, paşê ew Gêrila şehîd dikeve û Avareş navê wî Gêrilayî radike û tê serê çiya. Ji bo em behsa Avareş bikin ti pesn û medh jê re navê. Tenê li bîbikê çavê vî lawikê walatê çiya temaşe bikin hûnê karibin bi rehetî rengê buhiştê di çavê wî de bibînin. Hûriyê welatê dayikê, welatê kurdistanê ye. Wî zerdexena li ser rûyê wî, bi wan çavên xwe yên keskî biharî, behsa evîneke abidîn li ser axa welatê xwe dike. Ew jî mîna her hevalekî xwe bi bayê eşqa dozeke giran sermest bûye. Bi rojê re dildar, bi sitêrka sibêre hişyare. De bese hevalno!… bese wî bi tiliya nîşanî hev bidin. Bi nêrînê dilê xwe ve wî çavînî nekin. Wê suruşt û xwedawend bihesidin, wê, wî bibin tevlî refê xwe bikin. Wê bêjin bila asîmanê me bi rûbihiştekî wisa xweşik bi şewqtir bibe, belkî ronahiya wî di robinîro jî diyar bibe. Ma di raboriya me de destanê wisa ne gelekin. Li hev kom bibin hevalno da ku em Avareş di sedefa dilê xwe de veşêrin. Da ku kes wî ji me ne dize.
Seyidriza hîna jî li ber kêlika Avareş sekiniye, rûpelê çîrokên lehengên Şemzînan di çavên wî de diqulupin. Ezmûnê jiyanê wî dilnizm kiriye, tav û bayê zozanê şemzînanê esmer bûna wî tarîtir kiriye. Îdî Seyid dizane ku çend serkeftin têrê nake ku stêrkên wî biçirisîne, ya pêwîst ewe ku berê xwe bide asoyê herî bilind ya vê jiyanê û ji wir ve sitêrka xwe bi destê xwe di nava sitêrkan de bi cih bike. ji ber ku her tişt li cih û bi wateya xwe xweşike.
Hemû hevalên wargeha me di nava kelecaneke mezin de ne. Da ku di erkê mêvanperweriyê de qusur nekin. Dibe ku mirovên hevala Şevîn bin, lê di heman demê de dayik û bavên hevalên me ne. Ango dayik û bavên me ne jî. Şeva me bi guhdarkirina dayik û bavan geş bibû. Hesretê salên ku dûrî zarokê xwe jiyan kirine bi lêv dikirin. Geh behsa bîranînên zarokatiyên wa dikirin, carna jî yên dema ciwaniya wa. Carina em bi xwe re dikenandin, carina jî digiriyandin. Şev zû zû derbas bû.
Di ber destê sibehê de Seyidriza bi hevalekî xwe yê Gêrila re ber wargeha me ve dihatin, dayik û bavê ku bûye deh sal kurê xwe nedîtine nema erdê wan digirt. Dayika ku ji dûrve kurê wê ku hêdî, hêdî nêzî dibû dît, xwe ji destê me filitand û ber bi kurê xwe ve baz da. Tirsa hemû hevalan ew bû ku tiştek ji dayikê bê yan jî dilê wê vê kêfê raneke. Heval pêve gihan û ew dane sekinandin. Di wê navberê de wê sakin jî dikirin da ku wê matmayîbûnê ji ser xwe bavêje. Piştî ku dîtin tu çare di destê wê de nîne sekinî li benda hatina wî ma. Belkî ew çend kêlî bi qasî deh salê ku ji kurê xwe dûr maye dirêj pê dihat. Cavê xwe miç ne dikir da ku cirkek be jî dîtina kurê xwe hedir neke. Ji dîtina wî û şûn de ew rêk çend gavin dihejmart. Li ser rûyê gerdûnê de ji bilî kurê wê her tişt tune bibû û ne diyar bû. Di van çend gavê ku dawiya wê nedihat çend mûyên sipî li porê wê zêde bibûn. Xwîna canê hemû hatibû di lamên rûyê wê de kom bibû. Ji xwe dilê wê jî lez lê dida û canê wê mîna pelê darekê dihejand. Kamêreya min ku bibû şahidê van kêliyan bi qasî dilê min zîz bibû. Û ew kêliya bê tarîf hat…
Di wan kêliyên ku malbata Seyid Riza bi dîtina kurê xwe şadibûn, malbata Avareş ketibû bihuşta sitêrkan de. Ketibûn walatê sitêrkan. Dayik û bav bi derbasbûna xwe re awirê xwe di nava bêdengiyê de digerandin. Dayika ku kelê hêdî hêdî zora hestê wê dibir bi gavên giran li Avareşê xwe digeriya… Ti biçûk bû delalê min lê niha ti mezin bû ye, lê dîsa jî ezê ji wî çavên te yê biharî, ji wî kenê te yê nîsanî, û ji wê bêhna te ya emberî nas bikim. Ma pepûleya xebera hatina min ji te re nanîbûn. De rabe delalê min berbi min ve were. Were pêl çîmenê dilê diya xwe bike bi wan lingên nazik. Were riya veqetînê dirêj bû ez tîme, tene ava evîna hestên te yê kewserî tîna min wê bişkîne. Delalê min, govenda we dirêj û fireye, lê hevalê te dibêjin ti ser çopiye, lê ne sekine ezê dîsa jî bigihime te. Li min negire delal ji ber ku dil û çavên min weke fencana xwînê lê hatine, ez dayikim, lê ez ewqasî jî ji te razî me. Kurê min bila çûyin tu carî nînba, bila wê gavê ev giyana dayika te di dara bişengê de ba, da ku bisk û şaxikên wê li ber bayê hênik bi ser bejn û bala te re biriba û bihata.
Her çiqas dil û cergê wan li vir mabe jî, lê malbatên me ber û warê xwe ve bi rê ketin û çûn. Ango rêkên berdewamkirina jiyana xwe ji hev cuda bû. Lê armancên me yên azadiyê tu carî ji hev cuda nabe. Lewma diyare ku hemû du alîbûn ji dijberbûnê pêk nayê. Ji cudabûnê pêk nayê. Dualibûna dijber û hişk, ya ku ji zanebûna gerdûnî qut, ji dijminahî û dijmin bûnê pêk tê.
Dêrsim Zêrevan