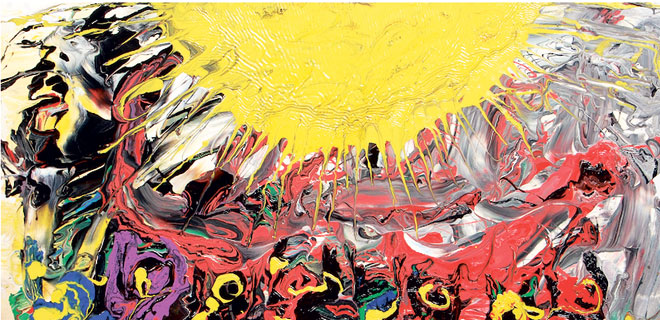 Rêwitiya Ber Bi Koka Xwe Ya Dîrokî
Heqîqet di koka me ya dîrokî de, em jî rastiyekê di nav heqîqetê de hatiye veşartin jiyan dikin. Veşartîbûn, encamekê nezanbûn û qûtbûna ji rastiya dîrokî ye. Ji hêla ferasetên desthilatdar ve her tim hewildana dayîna jibîrkirin a dîroka me û berovajîkirina wê, hatiye dayîn. Her ku em derdikevin rêwitiyên dîrokî û ji rastiya dîrokî li xwe mêyze dikin, rastî hîn bêhtir ronî dibe û kaosa em di nav de dijîn hîn bêhtir tê fêmkirin. Pêşeroja kes û civakekê bê kok nabe; ew êdî dibe kes û civaka hatiye veguhêrîn. Dema em li rastiya Kurdistanê mêyze dikin, dibînin ku rastiya me ya dîrokî pir kûr e. Lê bi polîtîqayên bi sedan salan e tê xwestin li Kurdistanê were pêkanîn ve, hewil didin Kurdan ji kokê wan, çanda wan were qûtkirin û bê kok were hiştin. Bi veguherandinê tê xwestin ku danehev û nirxên hatine avakirin û were dizîn û werin jibîrkirin. Rêbertî di paraznameyên xwe de vê rastiyê bi zimanekê pir zelal û bi zimanekê ku mirovan bihêjîne tîne ser ziman. Her ku em vê rastiyê dixwînin hêrsekî ji kûr hîs dikin û bi awayekî bişewat kûrbûna kokên xwe dûbare dûbare hîs dikin. Rêbertî dibêje; "15 hezar sal dayîktiyê bike, ji bo mirovahiyê her tiştê pêwist biafirîne, piştre bikeve rewşa kesekî neçar! Tu bibe welatê ku xwedawend lê avabûne, ji bo mirovahiyê her tiştê pêwist him biafirîne û him jî biwelidîne, him jî piştre weke paçekî were şixulandin û were avêtin! Hemu xwedayan û mezinahiyan ava bike, piştre bibe evdê neçar ê hemuyan! Pîşeya têrkirina hemu mirovahiyê ava bike, pitre birçî bimîne! Her cihê bisitre, piştre cihê ku tu xwe bisitrî nemîne! Bibe finda ku her kesî ronî dike, piştre ji tarîtiyê rizgar nebe! Ji her kesê re bibe deng, stran û helbetsê ava bike; piştre veguhere kesekî lal û ker! Ji bo her kesê zanisr, rêzdayîn û teknîkê biafirîne, piştre bibe ya herî cahil û neçar bimîne! Ji her kesê re qesr û xanan ava bike, piştre bibe hewcedara bihistekî cih ê xwe lê bi cih bikî!" Ji bo hîskirina hêjandina van gotinan û fêmkirina wê, divê em li pêvajoya dîrokî ya ji 15 hezar sal berê destpê dike û heya roja me dirêj dibe mêyze bikin. Ger em dixwazin roja xwe rast şîrove bikin û bi heqîqetê re bigihe hev, divê em rasteqîna dîrokî ya di wê demê de hatiye jiyîn bigrin dest. Bi vê nivîsê kûrt be jî em dixwazin wê demê binirxînin, şîrove bikin. Helbet bi vê nivîsê dê rastî bi giştî neyê ronîkirin, ji ber vê emê jî bi çend nivîsan, emê hewil bidin da ku li ser şêwegirtina me ya çandî bandora pêvajoya ji dirôkê heya roja me hatine jiyîn binirxînin, ronî bikin û kêm be jî bibin sedemê fêmkirina vê.
Pêvajoya dîrokî ya li Mezopotamya hatiye jiyîn, xwedî taybetmendiyê bûyîna warê destpêkê yê ku civakê dike civak e. Civakbûna mirovahiyê li ser vê erdnigariyê hat jiyîn. Li vê erdnigariya ku weke Kevana Zêrîn li ser dîrokê navê xwe daye nivîsandin, her kolandinên tên kirin palpiştên (delîl) nû derdixe holê. Her girekî bi palpiştên ku mirovan civakî dike ve tijî ye. Her bihistekê wê bi dewlemendiyên ku bi tu nirxan ve neyê rûberîhevkirin ve tijî ye. Welat û warê yekemîn a mirovahiyê, welatê ku bi civakbûna hebûna xwe bilind bûye astekî jortir e. Rêbertî van axan weke teqemeniya mezin a (big bang) civakbûnê şîrove dike. Çawa ku teqemeniya mezin bi milyonan sal berê hatibe jiyîn û tê xûyakirin ku ev teqemenî hîna jî berdewam dike, civakbûn jî bûye sedemê danehev û ceribandinên bi milyonan salan hatine avakirin li ser vê axê bigehîje kedekê mezin û civakbûn were jiyîn. Serdema ku em weke civaka xwezayî bi navê din weke Neolîtîkê bi nav dikin, di merheleya mirovahiyê de xwedî rîstekê mezin e. Ger civakbûn nehatiba avakirin, pêşketina mirovahiyê çênedibû û dibe ku mirovahî bi tûnebûnê re rû bi rû ma ba. Erdnigariya ku civakbûna mirovan û şêwegirtina wê ya çandî avakiriye, ev erdnigarî ye. Di vê serdema ku weke Neolîtîkê tê binavkirin de bi berhemên hatine avakirin, bi baweriyên hatine pêşxistin û tarzê jiyanê ve, di astekê pir mezin de pêşketin çêbûne. Di vê alî de, em dibêjin teqemeniyek mezin a çandê avakiriye û civakbûnê çêkiriye hatiye jiyîn. Ev teqemenî weke di roja me de tê jiyîn ne teqemeniya tûnekirinê ye, teqemeniya avakirinê ye û mirovahî hîna jî ji berhemên vê teqemeniya çandî sûdwerdigre, xwe dispêre van nirxên çandî.
Beriya derbasbûna merheleya Neolîtîkê, merheleyên Paleolîtîk û Mezolîtîk tên jiyîn. Paleolîtîk merheleya ku herî dirêj berdewam dike ye. Bi jiyana xwe ya bi tarzê klanê tên naskirin. Serdemekê ku ji merheleyên cûr be cûr derbas dibe, her ku dimeşe pêşketinan ava dike, bi amûrên nû jiyana xwe berdewam dike û bi bûyîna bingeha civakbûnê gav avêtina şêwegirtina çandî çêdibe ye. Sedema bi awayekî dirêj berdewamkirina wê, çavkaniya xwe ji giran pêşketina vê demê digre. Pêvajoya Mezolîtîk, merheleya navber a derbasbûna pêvajoya Neolîtîkê ye. Serdema Mezolîtîkê, serdema ku êdî di dawiyê wê de qeşa dihelin, nirxên ku xwecihîbûnê avabike kom dibin, warê ku em weke Hîlala Zêrîn bi nav dikin ava dibe û ji pergala baweriyê re gav tê avêtin e. Di çand û jiyana mirov de bandora li ser agir xwarin pijandin pir mezin e. Em ji tevahiya serdemên Paleolîtîk, Mezolîtîk û Neolîtîkê re dibêjin civaka xwezayî. Rêbertî dibêje "Mirova di civaka xwezayî de, bi hemu awayê bi xwe re dayîna jiyankirin a nûnerên klana ku tê de jiyan dike bi awayekî nebe nabe bi vê qûralê re girêdayî ye. Nûnerê klanekê jiyanekê ji a/ê din cûdatir nikare bifikre; ji derveyî jiyana klanê jiyanek nafikre. Weke cûreyê mirov pêşketina wê demekê dirêj ne li ser esasê têkiliyên serwer e, xwe dispêrê pîvana piştgiriyê. Xwezayê weke 'dayîkek' ku li ser singa wê mezin dibe, di hişê xwe de bi cih dike. Di nav xwe de û bi xwezayê re yekbûn, pîvana bingehîn e". Tarzê jiyana wan komunal û tevahî ye. Şêwaê fikrandinê aanîmîst û baweriya wê totem e. Şêwazê fikrandina anîmîst pir girîng e. Ger were pirsîn ku 'tişta cîhanê dibe ber karesatê', yek ji bersiva ku em ji vê re bidin dê bibe ji 'qûtbûna ji şêwazê fikrandina anîmîst' e. Anîmîzm çi ye? Zindîbûn e. Ango xwezayê weke xwe zindî dîtin û jê re rêz nîşandan e. Ji ber vê milk û berhemên zêde ehlaqî nabîne, li gor pêdiviyê ji xwezayê sûwerdigre û li gor pêdiviyê tevdigere. Lê li pergalên ku di roja me de tê jiyîn mêyze bikin; berdin xwezayê zindî dîtin, mirov êdî li mirovên din û gelan jî weke zindiyekê mêyze nakin û ji derveyî xwe ji tu jiyanek cûda re rêz nîşan nade.
Bê guman bêyî ku civakbûn çêbûba, mirov nedibû mirov. Tişta ku mirov dike mirov civakbûn e. Di xwezayê de zindiya herî lawaz mirov e. Lawaziya xwe bi civakbûnê re derbas kiriye û dest bi pêşketinê kiriye. Rêbertî di vê mijarê de dibêje; "Civak, bi avakirina amûran û bi awayekî zanist bûyîna xwedî armancekê hevpar bi cinsên xwe re yekbûnê ve xwe ji cûreyê heywanên herî nêz qûtkirin û hi bev re jiyankirina cûreyê însan pênase dike". Civakbûn, çalakiyekê bi destê însan ava dibe û pêk tê ye. Însan bêhêzbûna xwe bi civakbûnê re derbas kiriye. Ger bi hev re bûyîn, tevgera wekhev, piştgirî, alîkarbûn nebûya ne gengaz bû ku însan zehmetiyên jiyanê bi tena serê xwe derbas kiriba. Gotina 'ji yekbûnê hêz ava dibe' xwe dispêrê bi milyonan sal berê. Jiyana bi şêwazê komunal û bi xwezayê re di nav hev de bûyîn ji bo vê merheleyê tiştên ku nebe nabe ye. Ji bo xwe parastinê biyolojî û avahiya gelek zindiyan heye, lê ev biyolojiya însan nîne. Di vê warê de ji bo li xwezayê jiyan bike, dest bi şixulandina aqilê xwe û şopandina aliyên xwe parastinê heywanên din kirine. Amûrên ku ji keviran hatine çêkirin di vê warê de pir girîng e. Weke ku însan bi amûrên ji keviran xwe parastine nêçîrvanî û xwedîkirinê xwe jî pêkanîne. Ger hûn bêjin ku taybetmendiya herî bingehîn a civakbûnê ava dike çi ye; em dikarin bêjin ku rîsta jin a pêşengtiya di nav civakê de pêk tîne ye. Jiyan di bingehê Dayîk-Jin de bi rê ve diçe. Ya ku ehlaqê pêşdixe, pîvanên jiyanê diyar dike û klanê-civakê di nav yekbûnê de digre, diwelidîne û jiyanê dide jin e. Di vê warê de jiyan li derdora jinê şêwe digre. Zayokiya jinê, zarokên xwe ji bedena xwe xwedîkirin, bûyî wê ya komkerekê baş, bûyîna wê ya parazvan, ya ku dide jiyankirin di bûyîna wê ya pêşengtiyê de sedemekê girîng e. "Divê çanda birdozî ya civaka Neolîtîkê biçûk neyê dîtin. Hiquka dayîktî, piştgiriya civakî, xwişk û biratî, rêz, hezkirina bê berjewendî û bi bingehê armanca civakê de, fikra qenciyê ango ehlaq, alîkariya bêgerew, ji kesên civakê didin jiyankirin û nirx avadikin re rêz dayîn, ji cewhera têgînên xwedawendî û pîrozbûnê re girêdanbûn, nirxên nemir ên weke bêrîkirina jiyana aza sedemên bingehîn ên hebûna civakê ne. Heman demê nirxên ku heya jiyan bimeşe dê tu caran hebûna xwe wenda nekin in". Divê em hemu nirxên ku di merheleya civaka xwezayî de hatine avakirin, weke şoreşa çandî bidest bigrin. Hemu nirxên ku hatine avakirin, şêwegirtina çanda civakî pêkaniye. Her amûrê ku hatiye şixulandin, her jiyana ku şêwe girtiye, ehlaq, rêz û yekbûn bûye sedemê jiyankirina çandê. Amûrên destpêkê yên muzîkê, rîtuelên destpêkê, baweriyên destpêkê, lîstok, dans, rism, destpêkê, peyker, cihên baweriyê, gûndên destpêkê, kedîkirina heywanan û gelek afirandinên em dikarin bihejmêrîn ên vê serdêmê ne. Divê nirxên ku di roja me de tê avakirin bi afirandinên wê demê re neyê muqayesekirin. Ji bilî teknolojiya ku di sedsala 16'emîn de pêşketiye, her tiştê ku tê şixulandin berdewama nirxên ku di wê demê de hatine avakirin e. Di derfetên roja me de hîna ji li heman erdnigariyê bi şopên çanda Neolîtîkê re rû bi rû mayîna me, bi kokbûna çanda Neolîtîkê nîşan dide. Her çiqas şaristanî ji bo serûbinkirina van nirxan bi palpiştên birdozî êriş bike, hewil bide jine bike kole, ji bo tunekirinê qetlîamên pê nayê bawerkirin pêkbîne jî nikaribûye bi giştî şopên wê ji holê rabike. Di kûrahiya zanista jinê de ev rastî her çiqas ser girtî be jî hebûna xwe berdewam dike. Ji ber ku cewhera jinê van nirxan afirandiye, heya ku jin hebe dê ev nirx berdewam bikin û di hevdîtina civakî de dê rîsta xwe biliyze. Tu êrişên birdozî û fîzîkî nikare vê şêwegirtina bikok ji holê rabike. Ji ber ku biyolojiya jinê ji civakbûnê re, afirandinê re û nûbûnê re vekiriye. Herikbarina enerjî ya di jinê de, ger sînor û bendên hatine avakirin derbas bike, dê weke çemên Dîcle û Firatê bi deng biherike û ji nû ve nûbûna biafirîne. Avahiya jin weke ku teşe nagre, herikbar û afirîner e. Bi qasî ku bendên kapîtalîzm daye avakirin werin rakirin û werin derbkirin; dê enerjiya jin a herikbar di rêya xwe de berdewam bike û bihegije çavkaniya xwe ya esasî. Di vê warê de di serî de jin hemu dînamîkên civakê, divê astangiyên ku enerjiya jinê dixe qefesê hilweşînin. Ji bo vê jî divê bi feraseta kapîtalîst re him birdozî û him jî fîzîkî têkoşîn were dayîn.
Dibistana Şehîd Mîzgîn a Kevana Zêrîn