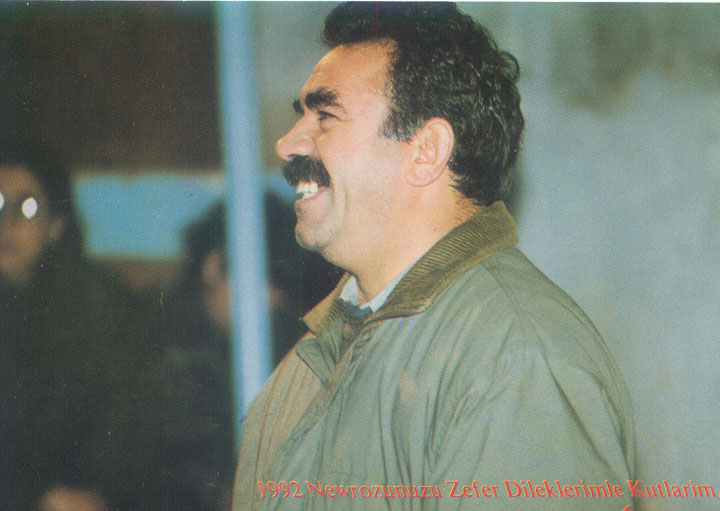 Merheba Serokê Min
Belê, ji bo ku ez hest û fikrên xwe yên di derbarê Te de bînim ziman min pênûs girte destên xwe; dibe ku kêm jî bimîne. Xweziya hestên xwe anîna ziman û nivîsandina wê ya li ser lênûsê qasî pênûs girtina dest xwe hêsan biba. Mirov hêst û fikrên xwe bi her awayî nikare binivîsîne. Bi taybetî jî dema mijar dibe Tu, wê demê pênûs jî bê çare dimîne. Dema ku ez ji We re dinivîsînim wê demê dilê min pir lez lêdide û weke ku ji cihê xwe derbikeve.
Xeyal, parçeyeke ku di jiyana me de qet xilas nabin. Xeyalên herî xweşik jî ew xeyalên ku hûn tê de cih digirinin e. Di dilê her gêrîlayekê/î de hêstên xweş ên li hemberî We hene, hesretek li hemberî We heye. Xeyalên xweş ji bo dîtina We…
Xeyalê ku digihîjin lûtkeyê û şewqa dide bêrîkirinên me de dibîne… Em bi hêviya ku, rojeke hevdîtineke bi We re dijîn. Yê hişt em bi hêvî bin û hêvikirinê bizanibin Hûn in… Hêvî jiyan bi xwe ye, me vê, ew nirxên ku we avakirin de dît.  Ev jî hêz û moral da me. Ya herî girîng jî me jiyanê ve da girêdan. Mîlîtanên We bûyîn ji bo me şanseke pir mezine lê, di asta tê xwestin de layiqî we nebûyîn û kêmayîn de berpirsiyartiyeke wê yê giran jî heye. Em çiqasî têkoşîna xwe berfireh bikin û hêza xwe rêxistin bikin, wê demê kêm be jî tiştên ku We afirandine re em bikaribin bibin bersiv û ked bidinê. Ev jî li hemberî keda we weke dilopekî baranê a ku av dide axê be.
Roja me ya qet hezkirin û xweşikbêna xwe ji me texsîr nekir re;  We, hêza berxwedanê ne tenê di me de di gel de jî ava kir. Gelê me bi her awayî xwe weke gilokekî agir dike û dil û cergên dijmin diricifîne. Ev jî hunera we ye, we gel fêrî xwe bawerkirinê kir. Jin, ciwan, zarok û zilam ji bo we her radibin silavê û bi dilekî rehet rêwîtiya xwe ya ber bi azadiyê ve berdewam dikin. Ji ber ku ew dizanin yê ku xeyalên wan ên nîvço maye, bi We bigihîje lûtkeyê. Hertim behsa hesreta axa çolê ya bi dilopekî ava baranê tê kirin, ez niha hîn baştir wateyê didim vê gotinê. Ji ber ku em jî vê hestê li hemberî We jiyan dikin Serokê min!.  Em jin her roj, her kêlî bi hesrata We dagirtî dijîn. Yên ku têja qutbûnê jiyan kirine vê rastiyê hîn baştir dizanin, lê ev ne weke wê ye. Di jiyana me de her çendî aliyê fîzikî de qutbûn hebin jî lê dema dil bûn yek û hatin gel hev wê demê em dibin yek parçe. Tenê mirov bizanibe Rêhevalên xwe di dilê xwe de bigire û cih bidiyê. Dibe ku ev hewldana lêgerîna heqîqetê be jî. Em ji bo ku bigihîjin heqîqetê, azadiyê û bigîhîjin We, di nava hewdaneke mezin de ne.
Ji bo kulîlkek Roj tê çi wateyê, ji bo ax baran tê çi wateyê, hûn jî ji bo me tên wateya jiyanê. Di şexsê jinên PKK'ê de hemû jin bi watedayîna hêza We re zindî bûn. Rastiya xwe, dîroka xwe, heqîqeta xwe û hêza xwe nas kir. Me vegera cewherê xwe bi We naskir. Ew hêza ku di hundirê me de veşartîbû me bi saya We derxiste holê. Li hemberî keda We ya bêhempa, ez vê bawerdikim ku divê em jinên azadî tercih kirine divê têkoşîna xwe hîn bilintir bikin û bigihîjin hemû jinan. Ev hezkirina ku weke okyanûs We xuliqand, di nav wê de dilopek bûyîn ji bo me wateyekî pir mezin e û ez dixwazim vê rastiyê jî bi lêv bikim.
Ev rastiyeke ne peyv têne gel hev, ne jî ez dikarim ew hêstên ku di dilê min de ragînim lênûsekî û binivîsînim. Ji ber ku hezkirina min ya ji We re bêdawiye, hesreta min ya ji We re bêdawiye…
Bi hêviya ku bi hev re dema Roj tîrêjên xwe li Cudî yê dide ew kêliya bi We re jiyan kirin û temaşekirinê, bi xweşiyê bimînin Serokê Min!
ZEYNEB BOTAN