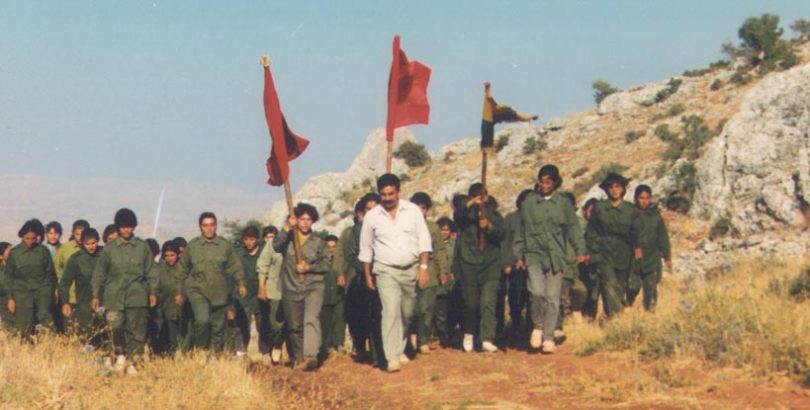 Heya Têkoşîna Azadiya Jinê Neyê Biserxistin Têkoşîna Azadiyê Nikare Bigihîjje Serkeftinê
Di pêvajoya pênc hezar salî ya heta Sûmeran de serdemeke dayîksalarî  hate jiyîn. Di Sûmeran de ev serdema dayîksalariyê cihê xwe ji serdema bavikiyê  yan jî baviksalariyê re hişt. Di vê demê de îlana baviksalariyê hate kirin. Ji Sûmeran ve di pênc hezar saliya bûhurî de serdema baviksalariyê ye. Heta roja me pênc hezar sal dayîksalarî û pênc hezar sal jî serdema baviksalarî hate jiyîn. Di feraseta me de ne tam dayîksalarî ne jî tam baviksalarî heye. Feraseta me bihevrebûneke herdûyan tîne cem hev, xwe dispêre felsefeyê û bingeheke xwe ya felsefî heye. Belê, divê jin û mêr li gel hev bijîn û dikarin bijîn. Lê bila ev şaş neyê têgihiştin; tişta ez li vir qala wê dikim, ne azadiya zayendî ye, ez vêya jî teswîp nakim. Ew bihevrebûna jin û mêr a ez qala wê dikim, divê bi felsefeyê were stirandin û bihevrebûneke bingeha xwe ya felsefî hebe. Bihevrebûna jin û mêr, ancax wisa dikare were watedarkirin. Rewşeke berevajî wê me bibe ev zayendiya jinê ya di kapîtalîzma hov de tê dîtin. Vê encama zayendiya jinê ya kapîtalîzma hov, ev felaket e, zinix e. Pêwîst e têkiliyeke spartî bi zayendiyeke qeba, hundirê xwe vala û ku felsefeya xwe nine, nebe. Qesta min a ji azadiya jinê jina zana û bi vîn e. Ramanên min ên di derbarê jinê de pir cûda ne û pir nû ne. Min vê mijarê di pirtûka xwe ya bi navê Sosyolojiya Azadiyê de bi awayekî berfireh girt dest; dikarin ji wir jî sûd wergirin. Heya tekoşîna azadiya jinê neyê biserxistin, wê tekoşîna sosyalîzmê, tekoşîna demokrasî û azadiyê nikaribe bigihîje serkeftinê.
Ez ê hinek li ser mijara zewacê bisekinim. Niha ku zilamek ji jinê re bêje "jina min çêbû" ew zilam qediyaye. Êdî ji wî zilamê tu tiştek dernayê. Ku jinek jî bêje "mêrê min" ew jin jî li wir qediyaye. Ev tiştek ku bipejrînim nîn e. Ya li vir îfadeya ziman, fikr û zihniyetê ye. Ku têkiliya jin û mêr di bingeha ajoyan de bi pêş bikeve, ev gelek xeter e, wê di warê felsefîk de mirov negihîne tu derî. Ez her dem ji têkiliyeke wisa tirsiyam. Hûn dizanin ê min jî bûyerek min a wisa ya zewacê çêbû. Min destûr neda ku ajoyên min, min radest bigirin. Nêzîkatiya li hember ajoyan radestbûnê, min qebûl nekir. Di vê mijarê de, tişta ku min anî vê astê ev e. Min berê jî ji te re gotibû, zewac dikare mirov rezîl bike, dikare bike wezîr jî. Gotineke wisa jî heye. Fîlozof jî wisa tînin ziman. Ez radestî ajoyên xwe nebûm. Ji ber ku ez ji ajoyên xwe re têk neçûm, lewra Apo me. Yên ku li hember ajoyên xwe têk biçe, zewaceke ajoyî bike, demek şûnve "bimre!" Yên ku herî evîndar bin jî, tu dinêrî, piştî zewacê dikevine qirika hev. Pêwîst e ku bi jinê re jiyankirinê hîn bibin, wê çawa bi jinê re bê jiyandin derxînin zanebûnê. Hûn dizanin peyva "kadın" di kurdî de "jîn"ê tê. Jin, ji jînê tê. Wateya wê jî jiyan e. Divê bi jinê re bikevine rezonansê. Di vê bûyera zewacê de, wisa şikl û şêweyê wê tu girîngiyeke xwe nîn e. Rezonans (di zanistiya fîzîk û kîmyayê de têgehek e) zêdetir hevsengiya di navbera du hêzan de îfade dike. Di navbera hevseran de ya esil ew e ku ev bê zevtkirin. Ev wisa bi xweşikbûna fizîkî re jî ne têkildar e. Di rih de zevtkirina rezonansekê ye. Di warê fizîkî jina herî xweşik be jî, dema ku yekbûneke azad û bi wate neyê zevtkirinê, xweşikbûna wê di nava demê de winda dibe. Di vir de ya girîng ew e ku nêzîkatiyeke bedewbûna rihê jinê derxistin û bi yekparetî, bi wate bedewbûna rih derxînin holê. Ku nêzîkatiyeke wisa hebe, wê têkiliya jin û mêr jî xwe bigihîne wateyekê û ew dem wê jin an go jiyan wate bigire. Ji ber ku asta zanebûn an hişmendiya wan xwe negihandiya asta ku tê xwestin, vanan bi têrî nayên fêmkirinê.
Têgeha namûsê nizanin. Nikarin namûsê binav bikin. Namûs, ji Eko-nomosê tê. Eko-nomos, tê wateya zagonên malê, karên ku jin dike, karên malê û karên eydî jinê. Ekonomos, ekonomî, karên jinê ne, xwe dispêre hilberînê, ekonomîst jî yên ku vî karî dikin re tê gotin, ekonomîst jî jin e. Têgeheke namûsî ya ku şaş tê şîrovekirin heye. Min berê jî gotibû, xwedawendîbûn. Ev jî xwenaskirin e. Xwenaskirin jî ji zanebûn, jêhatîbûn û baş fêmkirinê derbas dibe. Destpêkê bila jin dîrokê bizanibin, bila dîroka xwe hîn bibin, bila dîroka neolîtîkê bizanibin, bila civaknasiyê, aboriyê û felsefeyê bizanibin, wê bi vî awayî xwe jî nas bikin. Bi qasî ku bikaribin xwe nas bikin, wê bibin xwedewend. Înannabûyîn, îştarbûyîn ji fêmkirin û têgihîştinê derbas dibe. Bi vî awayî wê bikaribin çewsandinên civakî û sîstema zordest derbas bikin. Hûn her roj bi çanda tecawizê re rû bi rû dimînin. Divê destpêkê hûn çanda tecawizî ya rojane derbas bikin. Ku hûn bikaribin vê çanda tecawizî ya rojane jî derbas bikin, ezê ji we re bêjim bravo! Van pirsgirêkan bi xebatên akademîk zêdetir kûr bikin, lêkolîn bikin û têbigihîjin. Min ji bona vê Akademiya Jina Azad gotibû. Li vir xebatên xwe yên akademîk bikin. Di heman wextî de bi vekirina xwaringehan re û bi mijûlahiyên aborî yên cuda cuda re, dikarin xwe beşdarî hilberînê bikin. Dikarin tiştên aîdî jinê bikin. Dema ku li Şamê bûm, keçên me yên herî ji xwe bawer dihatin û digotin, "emê azad bibin", lê piraniya wan çavên wan dilîstin. Mêr jî dihatin, çavên wan jî dilîstin. Ya ku ez dibêjim, bila destpêkê van çavên ku wisa dinêrin bigirin, bila kor bikin. Di şûna vê de bila çavên xwe yên mejî û zihn vekin, bila bi vî çavî binêrin. Encax wê demê dikarin di riya azadiyê de bi pêş ve herin. Jina ku vê neke û derê hemberî min, ezê wê biqewitînim.
Nasnameya zayendî ya jin û mêr a tê zanîn, piştre hatiye çêkirin û nasnameyên înşakirîne. Jin, li gorî vê nasnameyê hatiye sazkirinê û bi hezaran sal in tê mêtandin. Nikare heqê keda xwe bigire. Wekî mînak, ev Hîzbûlah û wekî din ferasetên olî, jinê dane girtin û ji civakê îzole kirine. Ka em şalpeyê bidine aliyek, ev şalpe ye ev çarşef e di hundirê wê de didine girtin, ji serî heta neynûk girtî, qenderek jî rûyê wan nayê dîtin. Ma wisa feraseta azadiyê dibe? Ma xistina vî halî ya jinê, dikare bi azadiyê bê ravekirinê? Di îslamiyeta rastîn de tiştek wisa nîn e, zihniyeta vanan bi îslamiyetê re tu eleqaya xwe nîn e.
Ez nabêjim evîna bêdawî, lê dibêjim hevdû berdana bêdawî. Dema ez dibêjim bêdawîtî, di rastiyê de ez dikarim vê bêdawitiyê bi desthilatdariya pênc hezar salî ya zilam re sînordar bikim. Ez pêşniyar dikim ku li hemberî vê yekê jin bi rengekî bêdawî vê desthilatdariyê berde. Divê siyasetên xwe çêbikin û ji bo vê yekê aboriyên xwe ava bikin. Divê jin aboriya xwe çêbike; min qala akademiyên siyasetê kiribû. Ji bo ku jin azadiya xwe biafirîne zanista siyasî û çalakiya siyasî pêwîst dike. Pêwîst e vê yekê biafirîne. Azadiya jinê yan jî têkiliya jin û zilam nikare wisa bi evîna romantîk an jî bi evîna bêdawî û yan jî bi azadiya zayendî were bidestxistin. Eger emê bêjin evîna bêdawiyê, ez qala têkiliyên evîna romantîk ên di roja me ya îro de tên jiyîn nakim. Ji xwe ez qala evîna romantîk, ango ew tişta ku jê re dibêjin "evîn" têgehek e ku di romanên klasîk ên di sedsalên 17. û 18. de li Îngîlîstanê hatin afirandin, nakim. Eger wê bi evîna bêdawî re bijîn, pêwîst e azadiyê derxin zanebûnê.
Belê, tenê beramberî çanda destavêtinê xebat kirin têrê nake. Dema ku li hemberî çanda destavêtinê têdikoşin, divê di her wateyî de tekamûlbin û têkoşîn bikin. Divê ev xebat bên firehkirin û saz kirin. Ne xwe wê ji mîtingek qelebalix wêdetir tiştek nebe. Divê jin azad be. Ev pirsgirêk ji dîrokê tê. Divê ne jin bibe kolê zilam, ne jî zilam bibe kolê jin. Dema ku dibêjim destavêtin, tenê behsa destavêtina zayendîtî nakim. Di vê derê de pir kûr û pir alî ve dorpêçkirinek heye. Di çapemeniyê de nûçeyeke ji Mêrdînê derketibû. Ez ji vê re dibêjim mexdura ji Mêrdînê. Ev zaroka keç li wê derê bi destavêtina dused kesî ve rû bi rû maye. Heman tişt li gundeke Mêrdînê jî çêbibû. Di eslê xwe de ev ne tenê li wê derê, li her derî bi sedan mînakê vê hene. Ev feraseta bi çand li her derî derdikeve holê. Li Îranê jî jinên ku cezayê recm digirin hene. Erê ez tenê behsa çanda destavêtinê nakim. Behsa wan destavêtinên kevin yê di çapemeniyê de derdikevin nakim. Yanê divê jin di hemû qadên jiyanê de rêxistinên xwe yên xweser ava bikin. Min behsa akademiyên siyasetê kiribû, dikarin li van deran xwe saz bikin. Divê jin li Amedê û her derî baş niqaşbikin.
Ez ji ber vê yekê ji jinan re dibêjim ku ma gelo hun dizanin hunê çawa bijîn û hun kî ne ku hun karibin evînê û hezkirinê bijîn? Ez ji berê ve ji diyardeya jin û zarokan dûr sekinîm. Min weke Nazim Hikmet ji jinan re helbestan nenivîsand. Di rastiyê de ez nirxeke pir mezin didim wan, min ji bo wan pir tiştan jî kir, lê belê pêwîst e mirov wê rastiyê bibîne ku jineke di vê astê de azad nebûye. Ez ji bo mêrên Kurd jî dibêjim; eger bi qasî zerre namûsa wan û rûmeta wan hebe dê pirsa "em çima di vê rewşê de ne?" ji xwe bikin, vê yekê ferq bikin û têkevin nava lêgerîna vê. Ez ji ber vê yekê vî tiştê dibêjim. Eger hun vêya fêm bikin, bi armanca çareserkirinê jî hunê têkevin nava hewldan û xebatên pir mezin.
Ev dîroka şaristaniya çînî ya pênc hezar salî, tenê ji jinê re erka zayîn û mijandinê daye, jin tenê ev e. Vaye Erdogan dibêje ya sê zarok bînin. Hûn li hember vê ferasetê têdikoşin. Hûn jî dikarin li Rojhilata Navîn temsîliyeta jina hemdem pêk bînin. Pêkanîna vê temsîliyetê girîng e. Piştî hezaran salan şûnve, gelek girîng e û bi nirx e ku çanda xwedawend a jinê di jinên Rojhilta Navîn de temsîl bibe. Ew jina ku xwe gihandibe wê astê jî, wê bê hezkirin, wê bi wê jinê re bi wate bê jiyandin. Di vê girêdanê de hûn dikarin ji pêşengiya jinên Rojhilata Navîn bikin, hûn dikarin jinan bandor bikin. We di vê mijarê de gelek pêşketinan afirand, hûn di nava vî karî de ne û hûn natirsin jî. Divê hûn van xebatan bibin hîn qonaxên pêşdetir. Ji hemû hevalên jin re silavên xwe radigihînim, serkeftinê dixwazim.
Di mijara jinê de du tiştê ku em dixwazin bikin heye û vana pir girîngin. Ya yekemîn ku jin di warê ramana îdeolojîk de azad bibe û bihêz bibe. Di warê îdeolojîk de divê ragedar be(yetkin). Ya duyemîn ji rêxistingeriya xwe saz bike, bigihêje rêxistingeriya xwe, bigihêje asta ku karibe rêxistina xwe çêbike ye. Ji di van her du mijaran de karibe pêş de biçe tenê wê karibe di qada azadbûnê de gavên girîng wê biavêje.
Li gorî min heta azadbûna jinê nebe, ne gengaz e ku civak şoreşê lidarbixîne û azad bibe. Azadbûyina jinê, li dijî çanda hatiye dayin de ji bo azad bibe, bi rexnekirineke xurt a bi kevneşopiyê, bi rexnekirina kevneşopiya heyî de gengaz e(mumkun e). Ev gelekî zehmet e. Ez dizanim ev gelekî zehmet e. Têkiliyên heyî piranî li ser tecavuz, tecavuza li ser bedena jinê hatiye sazkirin. Di çanda heyî de zilam xwedî nêzikatiya jinê weke bedeneke ku karibe tecawuzê wê bike dibîne ye. Di şert û mercên heyî de xwe ji vê çandê paqijkiri, ji vê ferasetê rizgarkirin pir zehmet e. Heta jin azad nebe, zilam nikare xwe ji vê rewşê rizgar bike.
Têkiliya jin – zilam ne biyolojîk e. Bi giştî li ser zemîna desthilatdariyê ye û siyasî ye. Dema mirov dîroka pênç hezar salî jî li ser zêde bike, bêhêzhiştina jinê ye. Ev ji aliyê zanistî jî wisa ye. Ez mijara jinê pir girîng dibînim. Koledariya jinê, azadbûna wê pirsgirêka herî girîng ya di civakê de ye. Koledariya heyî ya jinê, li gorî min koledariya herî mezin a di civakê de ye. Di çanda hatiye dayîn de xwe azadkirina jinê pir zehmet e, bûyereke zehmet e. Ez vê ji xwe dizanim. Aliyekî min ê ji zaroktiya min de ku neketina bin fermanê, azad bûyin, xwe ji her tiştî azadkirin heye. Hîn jî ez wusa me. Tevî vê her roj hewl didim ku xwe di aliyê azadkirinê de biparêz im. Ji xwe, xwe azadkirin, parastina azadiya jinê hîn zehmetir e. Hema bêjin ne gengaz e. Lewra bi modernite ya kapîtalîst ve, di şaristaniya pênç hezar salî de ketina jinê ewqas mezine ku rabûna wê, azad bûna wê pir zehmet e.
Ji xwe ez nabêjim jî nikare azad bibe, li berxwe bide. Lê azadiya jinê, azad bûna wê bi jiyane heyî ya kole û bi şikandina vê ketinê we girêdayî ye. Herdem aliyeke jin ê ya li berxwe dide heye. Ji bo jin azad bibe divê destpêkê xwe nas bike. Ketin çiqas kûr be ji bo azadbûnê berxwedan jî divê ewqas kûr û mezin be.
Him jin him jî zilam aliyê xwe yê kevneşopî bernadin. Ev pir zehmet û pir kûr e. Ango divê jin, jintî ya kevneşopiyê derbas bike. Divê di xeta xwe ya azadiyê de berdewam bike. Divê jintiya kevneşopî bala wê nekişîne û dilê xwe nebijînê. Û pir jî girîngiyê nedê. Di rojname ya Gundem ê yek a bi navê Nesrîn Akgul nivîsiye. Li wir gotineke jineke fîlozof, ya Hypatia ya ji aliyê dewlet a Roma yê hatiye dardakirin û hatiye kuştin radigihîne. Hypatia dibêje "hûn zilamno beden a min û cinseltiya min wêdetir tiştekî nabînin û fam nakin." Hypatia di sedsala çaremîn de jiyaye, nûneriya dawî ya felsefe ya Yûnan dike, ji aliyê Romayiyan li Îskenderiye yê hatiye dardakirin.
Lê belê gelek alî û taybetmendiyên jinê yên ji derveyî laşê wê heye. Lewra di cewher de jin ji zilam pêşketîtir û li pêştir e. Bi bandora çanda heyî de ji nikare xwe ji çanda tecawuzê rizgar bike. Lewra ev hundirîn kiriye. Di şaristaniya kapîtalîst de têkiliyê jin-zilam xwe dispêre cinseltiya xwesteka biyolojîk ya herî ji rêzê. Ev nêzîkatiyeke ewqas ji rêzê ye. Lê belê ev pêvajoyeke biyolojîk a ji rêzê ye. Jin a herî dibêje ez, nikare xwe ji çanda tecawuzê rizgar bike. Û bi vî awayî Sema Yuce jî ji yên vê nedipejirandî bû. Û ji bo ev nepejirandibû çalakiyeke bi vî rengî lidarxistiye. Û bi vî awayî em Sema Yuce bibîrbînin. Em vê axaftina ji bo bîranîna wê diyarî bikin. Li ser vê bingehê ez xebatên hevalan girîng dibînim. Di wan şert û mercên dijwar de, li çiyan jiyan dikin, ez dizanim. Lê tekoşîn a wan pir bi rûmet e û girîng e. Bila berdewam bikin. Serkeftinê dixwazim.
Rêber APO