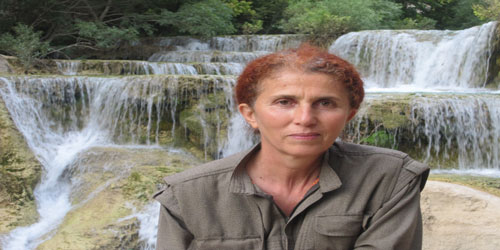 Ger Şer û Têkoşîn Bû Şêwaza Jiyanê
"Ey Mirovahî! Ey Dîrok! Ey Rêhevalên Min Ên Bedew! Ez ev im. Dîroka min di nava vê dîroka mezin û bêhempa de ye. Ez ji wê cuda nebûm. Her çi qas kêm û kurtî û şaşiyên min hebin, ez bi vê şoreşê re dimeşim. Ez nabêjim 'min ev qas tiştên xweşik jiyan kir, min wisa fêm bikin.' Lê divê rastiyên heyî neyên erzankirin. Ma çiqas raste ez xwe derve de bigirim û wisa hinek din kêfxweş bikim û bi coş bikim, wisa xwe bigihînim hinek encaman? Ma çiqas rast e, ez xwe soyut bikim? Ger ez her tiştê tê gotin erê bikim û her tiştê hêjayî min tê dîtin qebûl bikim, dê hinek din çiqasî kêfxweş bike? Dê ev bibe sedemek xwe paqijkirinê? An jî weke tê gotin dê bibe 'derketinek' nû? Tam berovajî vê ti tiştek ku min jiyan ne kiriye, hîs nekiriye û hez nekiriye, ne xwezayî dibe û ne jî dikare bibe çavkaniya rastiyan!
Wê demê ma dibe dîroka kes ji tiştên hatine nivîsandin û vegotin wirdetir be? Ger wisa be, ji ber gelek tiştên fermî û derveyî fermiyetê hatine gotin û nivîsandin hene. Di vê manê de rast e. Dîrokek min a zêde ecêb û dewlemend heye. Lê ev ne hemû tiştên ku hatine jiyînin. Ne ew bi xwe ne. Her çendî di van nivîsan de gelek rastî, erênî, an jî xwe gihandina zimanek baş û tiştên neyênî hebin, lê dîsa ne rastiyên hatine jiyîn bi xwe ne.
Evder pir girîng e. Dibe ku di nava yekbûnê de ziraviya parçe, an jî jiyana kes bi tena serê xwe tiştekê rave neke. Lê ger bi wê yekbûnê re di nava girêdanekê de be û sedema wê hebûnê ew yekbûn bi xwe be, divê weke heyî di nava wê yekbûnê de were destgirtin. Her wiha divê xweserî û taybetbûna wê jî rast were parastin. Divê di nava parçê de jî, yekbûn mîsoger esas were girtin. Ger dê girêdanek diyalektîk were sazkirin, divê ev her du nêrîn jî werin destgirtin. Ger dê tiştên hatine jiyîn bibin mijareke wêjeyê û dê jiyan bi hostatiyek hunerî ve were watedarkirin, divê mirov ji her alî ve bikar bîne. Bêguman divê ji bona vê jî nêrînek çînî hebe. Ger ji vê were qutkirin, dê bûyerên civakî jî rast neyên nirxandin. Her wiha divê rastiya civakî jî di nava çembera siyasî de were nirxandin, da ku realîta kes jî bikaribe rol bilîze. Nexwe dê berovajî vê xwe redkirinek derbikeve holê.
Ezê hewl bidim tiştên ku min jiyane binivisînim. Lê belê, aliyê min ê jiya ye, paramparçe ye û bi nakokiyan ve dagirtiye. Dîrokek têkilhev e! Belê, niha ev şer li dijî kî ye, dijî çi ye û di encamê de tişta hatiye rizgarkirin çi bû? Gelo ev cewazî hat kirin? Di qonaxek wisa de derket holê ku êdî min bi xwe jî nikarî erdemtiya rizgarkirina hinek tiştan bidim raberkirin. Kevneşopiyek Samurayên Japonî heye: ew jî di parastin û bilindkirina wê erdemtiyê şansek e. Min ne karî wê şansê jî bikar bînim. Ya rastî mafê kirinê, kêliya rizgarkirina onura wê rast, di wextê û demê wê de esas girtin gelekî girîng bû. Ji ber ez bi sedemên hebûna xwe ve rû bi rû hatibûm hiştin. Her sedemek ez wisa bi şer û doza ez ava kirim û hêza jiyanê dayî min re, ji eniyek dijber ve rû bir û anîm, weke xençerekê bûn. Ya girîng jî min xwe pir hêsan dabû bin wan darbeyan. Hinek nirxên bingehîn zêde hatin hincirîn. Zêde bê teşe ketin. Min ne karî hatina vê astê asteng bikim. Belê, lewma min fêm kir ku piştî vê qonaxê min kevneşopiyek nêzîkbûnek bi onur dimeşîne heq ne kiriye.
Niha jî tam berovajî vê, ruhek bi baweriya divê ez di nava şerê li hember kevneşopiyek ecêb a di nava me de nû pêş dikeve, bi pîvanên şêwaza partî re nabe yek re, çeka xwe rakim heye. Ji ber jiyan bi xwe jî şerek herî mezin e, zîndewariyê ava dike. Lewma li kêleka vê, ew nêrînên ku min tevlî tiştekê nake, dema dibêje min; "roman binivisîne, jiyana xwe binivisîne, dewlemendiya jiyana xwe ragihîne!" bi êşek kûr min dide kenîn.
Dîsa jî reşbînî nanêrim. Zêde bi ser aliyên zînde dijî ve diçim. Tevî her tiştî, min dil, mejî, zanebûn û xeyalên xwe ji mezinbûn û bedewiya jiyanê re vekiriye û ji dil hemêz kiriye. Ji ber a min dide jiyîn ev e. Xeyal û rastiya di wateya jiyan û wateya azadiyê de xwe gihandina her tiştî, tê hezkirin. Herdû jî bi hev re jiyîn hîn xweşiktire. Dibe ku ev ji bona hinekan bê wate ye. Dibe ku ji bona hinekan weke xirabûnek ruhî ye, an jî weke rewşek pêxirtengî were binavkirin. Lê na! Ne yek ji wan e jî. Li şûna ku xwe di nava êşan de bifetisînim, kelecan, coş û herikbariya jiyanê pir xirab bidim rawestandin, her çendî hest û xeyalên ji rêzê û hêsan bin jî, ezê êşan veguherînim bedewiya jiyanê û jiyan esas girtin û ferzkirin vebijêrka sereke ye. Lewma hinekê jî sira min a jiyanê di vir de ye.
Bedewiyên wê zêde ne. Tije ne. Kes nikare ji bona hemûyan ambargo dane. Li dijî her cure nêvengên pîvanên paşve dikişînin, şêwazên gelekî xeternak ên şêlû dikin û li ber hev didin û nêvengên tên têkilhevkirin înat, hêza jiyan û hêza li ser piyan mayînê gelekî girîng e. Bi teqez ez ji ciheke wê ve digirim. Xwe bi wir girtinê ve dixwazim bigihînim. Dibe ku ez di astek teng û takekesî de dimînim, bes dilsoziya vê ya bi qasî misqalekê jî mirovan pir xurt dike, da ku bikaribe li ber xwe bide. Ev jî têkoşînek e. Lê divê mirov hevsengiya vê baş saz bike. Ji ber carina jî êş ser dikeve. Bes, dema mirov yek kêliyê ber bi wê ve diherike, zerarê mezin dide. Ser û çavên min diteqin! Bes dê, êdî wisa nebe, ji ber min rêbazê wê dît. Hêvî û bêrîkirinê tevlî rêwitiya xwe dikim û hewl didim xeyal û rastiyan bînim cem hev. Ger şer û têkoşîn bû şêwaza jiyanê, dê teqez li wir a herî rast û herî bedew ser bikeve."
Gelek caran, gelek ji me ji bîr dikin ku pirs bikin gelo kî me, ji kur hatime, li kur im û çi me? Berî her tiştî ji bona em bikaribin bibin xwediyê wateya jiyan, armanc û xeyalên ku em dijîn, her wiha bersiva van pirsan rast bidin, Rêber APO pirsa 'Jin kî ye?' kir. Gelek me jî zêde wate neda vê pirsê û salên dirêj hat jibîrkirin. Lê, min niha fêm kir ku ev pirs di salên 80'yî de hatiye kirin û bersiva vê jî jinekê daye. Jina ku di rastiya şoreşî û wijdanî de biryara exlaqê heqîqetê daye, xwe pir vekirî di bersiva vê pirsê de pênase kiriye. Her kesayetek xwe di avakirinê de hinek bingehan esas digire. Hinek kesên bê wate jî, li ber bayê felekê dihejin û fir didin, ne diyare ku li ku danin. An jî heta danin dê çi qas yê xwe bimînin ew jî ne diyare.
Hinek ji ber dîlbûna ji tirsên xwe re ji bîr dikin ku bibin ê xwe. Her tim bi gumanên gelo çawa me, dê min bi-ecibînin, qebûl bikin, bi ser min de werin an na ve, di nava çalên biyanîbûnê de difetisin û ti caran nikarin rêya xwe bibînin. Lewma ji bona wan jiyan jî gelekî zehmet dibe. Jiyan û kesayetek belengaz û reben dibe para wan. Dev jê berde şerkirin, dê nikaribe xwe jî biparêze û pêşiya ser çavên xwe jî rake. Dê ew wêrekî tine be ku berê xwe bide rojê û wê germahiyê di şaneyên canê xwe de bihese. Ji ber ew germahî jî dilên dilsoz û hezkirî dişewitîne.
Hinek jî hene, radestî her tiştê xwe dibe, li pey xwe û her tiştê jiyanê û tê jiyîn dixirike, bê ku di zanebûna wê de be. Bi qasî wate ji bîr dike, ew qas jî xwe ji bîr dike. Ne tenê kêlî, êdî wext, paşeroj û pêşeroj jî hebûna xwe di wê kesayetê de winda dike. Vê carê jî, hêza li xwe gerînê jî namîne da ku hênaseyek nû bidest bixe.
Belê, dema li paş xwe dizîvirim û pênaseyên xwe dinêrim. Tenê tiştek dimîne destên min de. Ew jî erzan… erzan…erzan…
Bi rastî jî dema mirov xwe erzan dibîne, erzan dike jî. Dema mirov xwe hêsan dibîne, hêsan dike jî. Dema mirov xwe bê wate dibîne, bê wate dike jî. Lewma gelek caran di rastiyên me de tişta ku em dijîn û didin jiyîn ev e.
Min di vê demê de gelekî ji xwe pirsî gelo êş û elem çi ye? Jan ji kur tê? Kesayet vîna xwe ji kur ava dike. Ma kesayet hewce ye ku xwe li ber pêlên birîna jiyan û evînê berde. Dema mirov êş û janên xwe jî watedar bike, dê bikaribe di her şert û mercên zordaroya hovane de bibe, beşek ji dilê Sara. Ev jî ji bawerkirinê tê. Gelo hinek hene ku bêje ez bawer nekim jî, dikarim pê re bimeşim û kar bikim! Na. Divê serpêhatiya dîroka zindî de tişta herî balkêş û rakêşwer hênaseya baweriyê ye. Dema mirov ji devê kaniyê piyana destpêkê ya avê vexwe û bi tama wê bawer be, dê wê demê jî ew av bi rastî jî dil û hinavên mirov bikewîne û dê mirov ti caran jê têr nebe. Sara jî, ev hênase bû. Di qurta destpêkê de bawer kiribû. Lewma ti caran hem dema jê dûr bû zêdetir nêz dibû, hem dema nêz bû, ji hinava dilê xwe dijiya. Wateya wê jiyînê di kesayeta xwe de zîndewar dihişt. Lewma ev rastî derdikeve hole, ger mirov tam pê bawer nebe û armancên xwe nezane, dê her wextê guman, şik, tirs û xof, berjewendî, hesab, ezezî û hwd hebe.
Lewma piştî ku hevala Sara li ber qiraxên Munzurê dihizire û biryar dide, bawer dike û tevlî dibe, wê hênaseyê ji dil dikişîne hinavê xwe. Ji ber vê di kêliyên bi tenê, zordariya hovane û ketîbûnên kesayetan de jî, misqalekê jî ji wê hênaseya baweriya xwe dûr nakeve. Heta ku axa pîroz hemêz dike. Her êşa heyî bi watedarkirinê ve sivik kiriye. Her jana dilerizîne bi armancên xwe pêçaye. Her birîna kûr bi cesareta baweriya xwe girê daye. Lewma di hemû kêliyên jiyanê de şik, tirs, jan û mirin jê tirsiyane. Jinek bi awirên xwe yên pîroz û serkeftinê mîsoger dike, dijminê xwe yê herî hovane ditirsîne. Bi her hênaseyekê fêrbûnên bi kesayeta xwe re dikuje. Da ku kes nekare bi wan fêrbûnan radest bigire. Bi kesayeta xwe re tenê deriyê bedewiyan, hevalbendî û serkeftinê vekirî dihêle.
Sara, kesayetek pergala zilamê hovane ji qehran dikuje û li hember sekna xwe dihelîne. Di nava çar dîwaran de jina tenê jê tirsîn. Kesayetek xwedawend û ketiyê Esad jî jê tirsiyaye. Bes li hember vê navbera çar dîwaran de dilê her kesî de cih girtiye. Bûye stargeha her jinek girtî û jiyanê hez dike. Bûye Seko'ya hemû heskiriyên xwe.
Ew awirên ku ji bilî girêdanê tişteke din nas nake, her kesî li pey hênaseya xwe dikişîne. Hemû şaşiyan didê şermê û hemû lewaziyan di kezeba xwe de dişewitîne.
Lewma dema hem li rastiya kesayeta xwe, hem paşeroj û pêşeroja xwe dinêrim, ji bona xwe tenê rastiyekê dibînim. YEK BAWERÎ Û GIRÊDANA BI ARMANC HEYE, EW JÎ SARA YE!… 
Wê berdewam bike
Sozdar Cûdî