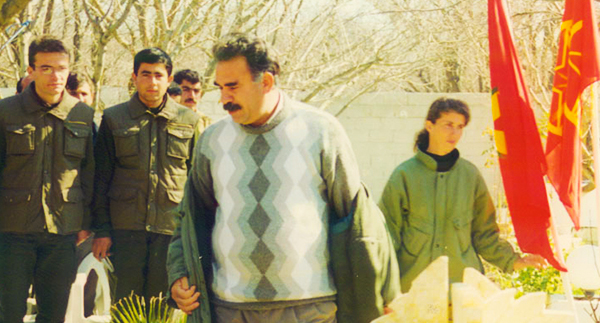 Dîroka Tevgera Azadiya Jinê-4
Bi derketina PKK'ê re pêşketina têkoşîna azadiya jınê
Em tevgereke Rêbertî ne. Dema em têkoşîna azadiya jinê digirin dest, em dibêjin "Di PKK'ê de Jin" Çima? Ji ber ku têkoşîna PKK'ê ji bo me diyarker e, em nikarin bêy wê xwe bigirin dest. Bi giştî weke Tevger em tevgereke Rêbertiyê ne, lê dema em têkoşîna azadiya jinê jî digirin dest, bêy pêşketina PKK'ê û Rêbertiyê em nikarin têkoşîna jinê bigirin dest; pê ve girêdayî ye, yan na wê înkar be. Em nikarin bibêjin dîrok me bi xwe destpê kir û dîroka xwe bê PKK û Rêbertiyê bigirin dest. Pêwîste em bi vî awayî bigirin dest.
Şert û mercên ku PKK jî tê de derket, salên 1970'yê ne. Rêbertî, derketina destpêkê di salên 1970'yan de kir, wê salê jî li Kurdistanê komkujî hatine jiyîn, êdî Kurdîtî tê înkarkirin, tune tên hesêb û her wiha pêvajoyeke hebûn û tunebûnê heye. Lê bes bi qasî vê, derketin jî di cîhanê de hene. Mesela, Hereketa sala 1968'an di pêşengiya ciwanan de çêbûye. Bêy ku wekî Modernîteya Kapîtalîst şîrove bike, nakokiyên ekolojîk, femînîst xwe didin der. Ew tevgerên ku di 1968'an de derketine, hinekê xwe dispêrin vê nakokiyê. Yanî tevgerên ekolojîk, cins û çandî ne û vana wê bandora xwe li ser civaka Tirkiyê û Kurdistanê bikin. Rêbertî jî xwe dispêre vê bingehê. Erê di aliyekê de nasnameyeke ku hatiye înkarkirin, li ser wê hatiye betonkirin, ji Kurdîtiya xwe direve, lê li aliyê din hêdî hêdî di cîhanê de hereket jî çêdibin. Em nikarin bêy vana dîroka xwe bigirin dest. Yek jî, salên 1970'yan ji bo kapîtalîzmê esas dibêjin serdema fînansê, lê belê dema krîzê ye û dixwaze krîza xwe bi wê derbas bike, yanî sîstem bi xwe di krîzê de ye. Vana kêliyên kriz û kaosê ne. Rêbazê Rêbertî ê ji bo dîrokê digot, "kêliyên sosyolojiya azadiyê", ew ev kêlî ne. Di Tirkiyê de jî wisa ye. Heta Rêbertî di parêznameyên xwe de ji bo Komara Tirkiyê dibêje, faşîzma spî êdî dema wê ya qeyranê ye. Ango pêvajoyeke krîz û kaosê ye û di demek wisa de wekî PKK em bi tespîta "Kurdistan mêtingeh e" dikevin rê; Tevgera Azadiya Jinê jî bi vê tespîta "Kurdistan mêtingeh e" dikeve rê û li ser vê bingehê xwe ava dike.
Rêbertî, di pêvajoya paşvekişînê de (sala 1999'ê ku quwetê leşkerî yê li Bakurê Kurdistanê paşve hat kişandin) nêzîkatiyek diyar kir, vê carê di Tevgera me de fikar hebûn. Rêbertî got, "Em hêza xwe ya gerîla ji Bakurê Kurdistanê bikêşin û pêvajoya Çareseriya Demokratîk têxin dewrê." Rêbertî, di wê demê de belavokek belav kiribû, li ser wê belavokê hevalan gumanên xwe anîbûn ziman. Heta hinekan digotin dewletê hinek tiştên wê guhertine, hemû nedane me. Wekî Tevger nîqaş di nav me de hebûn û me got fikar hene û hwd. Piştî dewletê ferq kir ku gumanên me hene, dewlet jî hinekê di wê xalê de hat ser. Rêbertî wê demê got: "Ev îmzeya min a 50 salan e", ango ev 50 sal in ez şoreşgertiyê dikim, pêwîste heval jî wisa nirxê wê bizanin, yanî pêwîste bê fikar qebûl bikin. Di vê wateyê de ew nêrîna xwe anî ziman. Ew tê wê wateyê ku şoreşgeriya xwe ji 7 saliya xwe heya niha digire dest, ji nakokiyên xwe digire dest, ji ber ku ji wê demê ve redkirinên Rêbertî hene. Civak û malbatê red dike, ji wir ve şoreşgeriya xwe destpê dike. Bêguman nakokiyên ku Rêbertî di zarokatiya xwe de jiyan kirî, li ser Tevgera me bandor kir; ji bo vê em dibêjin Tevgera me Tevgera Rêbertiyê ye. Yanî karakterê Rêbertî çi be, li ser pêşçûna Tevgera me bandor kiriye, em nikarin xwe serbixwe bigirin dest. Rêbertî çima ewqas li ser jiyana xwe disekine? Jiyana Rêbertî esas jiyana têkoşîna Tevgera me ye. Îro ji bo Tevgera Azadiya Jinê jî got, têkoşîna jiyana Sakîne têkoşîna azadiya jinê ye, jê qut nîn e. Ew kesayet êdî bûye kesayeteke Tevgerê. Lazime em wisa bigirin dest. Ji bo wê em nikarin dîroka xwe ji pêşketina rastiya Rêbertiyê qut bigirin dest.
Em ji bo Rêbertî dibêjin, ew zarokê Civaka Dayîksalarî ye. Ji ber ku di malbatê de bav pasîf e, qels e. Heta Rêbertî herî dawî di parêznameyên xwe de ji bo wî wisa nirxandibû: "Rast e, bavê min wisa bû, lê ji min re gotiye dema ez bimirim tê yek rondikê ji çavên xwe nebarînî. Esas li vir rastiyek dianî ziman. Bi rastî wexta bavê min mir, yek rondik ji çavê min nehat. Bal dikişand ser rastiyekê." Di encamê de ew jî li ser mezinbûna Rêbertî bandor dike, dihêle ku di malbateke dayîk serwer de mezin bibe.
Tabî dayîk li ser pêşketina karakterê wî bandor dike û dibêje: "Min dersa destpêkê ji dayîka xwe girtiye." Mînak; dema Rêbertî li derve ye, lêdanê dixwe, dayîka wî jê re derî venake û dibêje, "Biçe tola xwe hilîne û piştre were malê." Ev ders e, ango perwerdeyek bi vî rengî fêr dike: Eger zext li ser te hebe, tê li ber xwe bidî, tola xwe hilînî. Ev di kesayeta Rêbertî de taybetmendiyên tolhildanê pêş dixe. Ew jî ji dayîkan hîn bûye. Desthilatdarî dibêje ya "destpêkê li jinê bixin", em jî dibêjin "destpêkê jinê xilas bikin." Em tevgereke tolhildanê ne, pêwîste em jinê xilas bikin. Nexwe dersa tolhildanê ji dayîkê tê girtin. Lê belê ferzkirina dayîkan heye, wekî kur ê civakê ye, divê ji rêza civakê dernekeve. Hema hema dayîkên me tevan dibêjin, "ji xwe re bixwîne, bibe karmendekî/e dewletê, min xwedî bike." Wisa te bi dewletê ve girê dide. Li ser Rêbertî jî dayîka wî jê re dibêje, "Biçe bibe karmendekî dewletê û çend metre qumaş ji min re bikire", lê ew vê yekê qebûl nake.
Rêbertî têkiliyên xwe û dayîka xwe wekî têkiliya mirîşk û çûçikê pênase dike û ji wê dipirse: "Tu dizanî ku tu ji zarok çi dixwazî?" Di 7 saliya Rêbertî de ji Wî re digotin "ew wekî civa ye", ji ber ku di cihê xwe de nasekine. Paşê di 10 saliya xwe de ji dayîka xwe pirs dike: "Ma tu dayîk î, te di dunyayek çawa de ez anîm dunyayê, te ez bi kîjan derfetan re rû bi rû hiştim?" Ji dayîka xwe hesab dipirse, ji ber ku di zarokatiya xwe de bi tiştên cur bi cur re rû bi rû dimîne, bi lêdanê re rû bi rû tê, bi kevneşopiyan re rû bi rû tê. Ma zarok çi sûcê xwe heye ku bi van tiştan re rû bi rû tê? Sûc ê dayîkê ye, lê zarok dikişîne. Tiştên ku pêwîste zarokek nejî û divê ji zarok tiştek neyê xwestin. Piştî parêznamê careke din pirtûka "Zimanê Şoreşê û Çalakiya Wê" bixwînin. Dibêje min gotiye, "Tu ji vî zarokî çi dixwazî, tu di ferqê de yî?" Barekê dide ser zarok. Rêbertî dibêje, "Tu vê cîhanê li ser min ferz dikî ku ez vî barî rakim. Min di zarokatiya xwe de fêm kir ku divê dayîk ji zarokên xwe tiştekê nexwazin. Min ev red kir." Çima? Ji ber tiştek nedaye ku bixwaze. Di vir de hesabxwestinek heye. Rêbertî dibêje, "Dayîka min wekî zanyarekê diaxivî û digot, "Rojek wê were tê bi tena xwe bimînî, wê hevalên te nebin." Ferq dikir ku ji derveyî civakê derketiye. Dîsa dibêje, "Dayîka min wekî alimekê dipeyivî, "rojek wê were tê bi tene bimînî, kes li dora te nemîne." Esas dayîk di ferqa zarokê xwe de ye ku ew derketiye derveyî rastiya civakê.
Ya din, Rêbertî di nav civakê de bi gelek pirsgirêkên jinê re rû bi rû dimîne, li ber çavên xwe dibîne ku keçik rastî çi tên. Di vê der barê de Rêbertî gelek mînakan dide. Mînaka yekemîn ji bo hevala xwe ya zarokatiyê Elîf dide, dema di wî temenê xwe yê biçûk de dizewicînin. Elîf hîn zarok e, di kolanan de bi hev re dilîzin, lê piştî wê dizewicînin. Rêbertî diçe û gazî wê dike, dibêje were em dîsa bilîzin. Lê êdî keçik nikare were û bilîze, ji ber zewicî ye. Rêbertî dibêje, "ev bûyer nayê bîra min, lê Elîf di nav bîranînên xwe de gotiye. Dibe ku min wisa kiribe, ji ber ez wisa bûm, min dikarî ez biçim û bang bikim." Elîf jî hevala Rêbertî a zarokatiyê ye, ji malbata şehîd Hasan Bîndal e, dotmama wî ye. Ew malbat jixwe dijminê malbata Rêbertiyê dihat hesibandin, jixwe bi hevalê Hasan Bîndal re têkiliya xwe heye, yek jî bi keçika malbatê re jî hevaltiya xwe heye. Li ser vê Rêbertî dibêje, "min dît hevala min a zarokatiyê ji destê min girtin, zewicandin, êdî ew nikare bi min re bilîze." Yanî Rêbertî hevaleke xwe winda dike. Ev pir girîng e, ji bo Rêbertî wekî nakokiyekê ye. Di encamê de hevala xwe ya zarokatî winda dike. Niha em li ser zarokatiya xwe bifikirin dibe ku me jî gelek tişt jiyan kiribin, lê me jibîr kiriye. Di rastiya Rêbertî de çi heye? Rêbertî dibêje, "ez li xeyalê xwe yê zarokatî îxanetê nakim." Li xeyalên xwe yên zarokatî xiyanet nekirin, li pey xeyalên xwe gerîn di çêbûna karakterê însan de pir girîng e. Piştî wê bi du rojan dema tên xwişka wî dixwazin, nakokiyê jiyan dike û dibêje: "Çend kîs genim û hinek pere anîn, di nava du rojan de xwişka min birin û çûn. Zilam wekî feodalekî bû, ji riya du rojan hatibû. Ez zarok bûm, min ê çi bikira! Yanî xwişka min dibin, lê ez nikarim li pêşiyê bibim asteng. Ev rastî ji min re wekî nakokiyê hat. Eger îro têkoşînek hebe, ev xwe dispêre wê nakokiyê." Hevala wî ya zarokatî dibin, xwişka wî di berdêla hinek tiştên madî de dibin. Rêbertî li ser vê dibêje, "Wê demê her kes di civakê de ji xwe re li keçekê digeriya. Di berdêla qelenekê, zadekê, heywanekê de keçên me dibin û diçin. Ez hîn di civakê de bûm, min hinek tişt dibihîstin. Carekê keçek bi zorê dane zilamekî, lê ew keçik li malê namîne, ew keçik bi dîrekekê ve girê dane; ji bo bielime wê malê û ji wê malê nereve, lê dîsa ew keçik benê xwe diqetîne û ji wê malê direve. Wê demê wê keçê bala min kişand, yanî tu çiqas wê bi dîrekan ve girê bidî jî di encamê de ew keçik ji wê malê baz dide, direve. Carekê jî min dît ku zilamek wê zewaca xwe ya duyemîn bike. Jixwe jineke xwe heye, hat keça hevala me ji xwe re wekî jina duyemîn bir. Wê demê ev ji min re pir ecêb hat! Keçek ewqas biçûk çawa didin zilamekî ewqas emir mezin û bi jin! Ev ji bo min her wekî nakokiyekê bû. Vê carê ew keçik birine, xeyal meyal tê bîra min, carekê ew keçik hat gel min û ji min re gotiye 'xwendin û nivîsandinê nîşa min bike'. Pir eleqedar bû li hemberî pêşketinê. Belkî wê demê min peyvek nîşa wê da yan neda. Ez xwe hîn jî deyndarê wê dibînim, min nikarîbû tiştek bidayê. Lê ew keç eleqedariyeke xwe hebû ez xwendinê nîşa wê bikim, lê min nikarîbû, ji ber ji destê min girtin, birin dan zilamekî. Min hîn jî wate nedaye vê tiştê, jixwe vê têkiliyê qet bala min nedikişand. Ev keçên bi emrê biçûk ji lîstikê qut dikin û didin zilamên emir mezin, min tu caran ev têkilî qebûl nekir."
Rêbertî mînakeke din dide û dibêje: "Keçek zerik cîranê me hebû, bala min dikişand. Têkiliyek platonîk bû, paşê dan malbatek cîranê me yê kêlekê. Bi vî awayî tevahî keçên me ji destê me diçûn." Ya yekemîn, Rêbertî ji bo jinê vê pozîsyonê qebûl nake. Wê demê her kes ji xwe re li keçekê digeriya, yan jî dilê wî biketa yekê, direvand. Di wê demê de li gundê me her kesî keçek direvand, xort dihat emrekî, keçek ji xwe re dibir. Carekê dayîka min, ji dûr ve dengê wê hat min: 'Keçek hebûya, me yê bianiya.' Esas lêgerînên dayîka min ên wisa hebûn."
Di pîvanê civakê de yek heta emrekî were divê serê wî girê bidin, jê re yekê bînin, bi malekê ve girê bidin. Paşê dayîka min fêm kir ku kesayeta min ne kesayetek wisa ye ku, bi malekê ve were girêdan û wê jî dev jê berda, hêviya xwe ji min nema. Rêbertî dibêje, "Wexta em li Fakulteya Zanistên Siyasî xwendevan bûn, hevalekî min hebû, kurê miftiyê Licê (Amedê) yekî camêr bû, her roj aşiq dibû. Carekê dîsa aşiqê keçekê dibe, ez jî hevalê wî me, tê hêz ji min digire. Rojekê kêr anî, tevahî mekteb li bin guhê hev da. Min wê wextê ev ji xwe pirs kir, 'ev kurê miftî ye wisa dike, gelo yên din çawa nin?' Ji bo keçekê kêr aniye, mekteb tevlîhev kiriye, tenê ji bo wê keçikê ji xwe re bigire." Berevajî, bersiva Rêbertîatî ji van bûyeran re wiha ye: "Ez xiyanetê li xeyalên xwe yên zarokatiyê nakim." Dîsa dibêje: "Jinên gund cuda li min dinêrîn û li ser van esasan belkî di min de hêvî dîtin." Di parêznameya xwe de vê yekê wiha pênase dike: "Ey zarok, tiştên ku hatiye serê me tu nizanî, rewşa me wekî tu dibînî nîn e, ji vê hin girantir e, lê tu tiştên ku qewimiye bizanibî tu zilam bî jî, dîsa hêviyên me ji te hene." Di encamê de fêm kirin ku civakê red dike, rastiya heyî qebûl nake. Rêbertî di jinê de xweşikbûnê dibîne û dibêje: "Ji bo qewmê keçeke Kurd, mirov dikare şerekî netewî bike." Ji bo jinekê ev pir girîng e. Esas em carina dibêjin ya, di kesayeta jinê de netewebûn kom bûye, em têgîna netewe bi jinê pênase dikin. Çima? Ji ber ku hemû koletiyên wekî netewe, wekî welat li ser Kurdistanê tên meşandin jixwe di jinê de kom bûne. Ev ji bo netewe, ji bo welat, ji bo Kurdistanê dikare bibe sedema têkoşîneke xurt. Rêbertî jî xala gavavêtina xwe wisa digire dest. Rêbertî dibêje, "gelek dilxwaziyên min jî çêbûn, feqet min tu caran cesaret nekir ez ji keçekê re bibêjim tu xweşik î, ez ji te hez dikim. Min ew hêz û cesaret di xwe de nedît." Nexwe zilamek ji bo ji keçekê re bibêje ez ji te hez dikim, an jî tu xweşik î, lazime di ber wê de ked bide, têkoşîn bike. Yan na, bê ked, bê têkoşîn keçekê bigire û birevîne, yan qelenekê bide û ji xwe re bigire, wisa nabe. Ev adetên civakê ne. Lê di feraseta Rêbertî de tiştekî wisa nîn e. Ji bo wê Rêbertî dibêje, "dilxwaziyên min ên platonîk hebûn, hinek keçikan bala min dikişandin, lê min tu caran cesaret nekir ku ji wana re bibêjim tu xweşik î, ez ji te hez dikim."
Bala xwe bidinê; niha ev nêzîkatî pir erzan bûye. Di vir de mesele ne pirsgirêka têkiliyê ye. Hezkirin lazime çi be, ji bo tu ji jinekê re bibêjî ku tu xweşikî lazime tu çi bikî? Hema tenê bibêje tu xweşik î, ev nabe. Di civaka me de niha her kes hema bi derbekê re dil dikevin yekê. Niha yek li cihekê ji yekê hez dike, cihê wî tê guhertin; li wir jî ji yeka din hez dike. Ev nêzîkatî erzan e. Rêbertî vê pênaseyê red dike û dibêje, "ji bo tu ji yekê re bibêjî ez ji te hez dikim, pêwîste tu wê ji wê rewşê derxî." Wekî din nabe. Rêbertî di pirtûka bi navê Evîna Kurd de mînaka çûkekê dide û dibêje; "Heta çûkek jî dema dest didin hêlîna wê, ew wê hêlînê berdide." Ango lazime hêlîna wê neyê dagirkirin, desteke biyanî nekeve ser hêlîna wê. Lê di Kurdistanê de her tiştekî me destavêtina ser çêbûye. Eger eyb nebe, hinek bin darekê bibînin hema dixwazin tiştên cuda bikin! Mane hîn ew der nehatiye azadkirin. Her kêliyê dibe ku dijmin were, di wê bêhnê de te bigire. Xeteriyeke wisa heye. Rexmê vê jî bi hestê xwe re şerkirin nîn e. Di zarokatiya Rêbertî de jî van nakokiyên wisa li pêş in. Dibe ku wê demê nikare wekî niha pênase bike, lê ji bo Rêbertî dibe çavkaniya gavavêtinê. Ji bo wê Rêbertî malbatê terk dike, civakbûna heyî terk dike. Çima? Ji ber ku ew civak nahêle bi hevalên xwe yên zarok re bilîze, piştî demekê ji destê Wî digirin. Di roja îro de em dibêjin di civaka me de pîvanên exlaq zêde nîn in. Dikare keçekê bifiroşe, bikire, yan zilamek pir rihet dikare ji xwe re birevîne, ji bo mala xwe bigire û bi dîrekê ve gire bide. Eleqedariya Rêbertî ji tiştên dijberî vê rastiya civakê re heye. Rêbertî dibêje, ev jin be jî, zilam be jî vê statuyê ji bo xwe pir rihet qebûl dike. Pirsgirêka me ev e; em niha xwe dahûrandin dikin, di me de ev nakokî kêm-zêde hene. Em dikarin gelek mînakan jî bidin, nakokî hene, lê me ew nakokî nezivirandine têkoşînê, me wekî heyî qebûl kiriye. Yanî civak tiştê li ser me ferz dike, em wê qebûl dikin. Beşdarbûna nav refên têkoşînê bêguman gavavêtinek e, di encamê de redkirineke, di nav de hêviya azadiyê heye. Jixwe em ji bo wê tên nav refên şoreşê.  Behsa wê nakin. Lê di gelek aliyan de qebûlkirina tiştên tên ferzkirin jî çêdibe. Jixwe Rêbertî ew zivirand têkoşînê. Rêbertî ji bo xwe vê jî dibêje; "Tiştê ku ez birim welatparêziyê esas hêmana yekemîn jî, tiştên li derdora jinê çêdibûn, diqewimîn bûn. Ez bi wê re ketim ferqa welatparêziya xwe. Bi vî awayî min got jin welateke ku were azadkirine. Wê demê belkî ev hestek biçûk bû, lê min niha kiriye wekî dirûşmeyeke esasî." Niha em jî dibêjin jina azad bibe, ew Kurdistana azad e, heta zilamê azad e jî. Rêbertî dibêje, "Wê demê min dît ku têkiliya bi jinê re esas wekî dagirkirinê bû. Yanî jinê dagir dike. Piştre min dît welat ji dest çû, azadî ji dest çû û ez dikevim nav hestên wisa, lê min dît ku jin û azadî çiqas di nav hev de ne." Ev dihêle ku şekilgirtina Tevgera PKK'ê jî pêk were, nêzikatiyên Rêbertî ên bi vî awayî bandor bike.
Akademiya Şehîd Zîlan