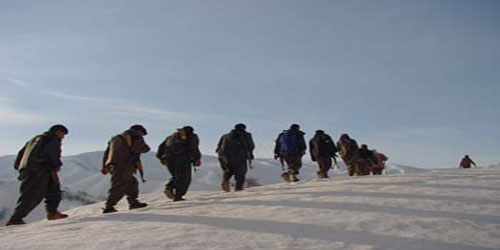 "AKP Politikayên Mujûlkirinê Dimeşîne"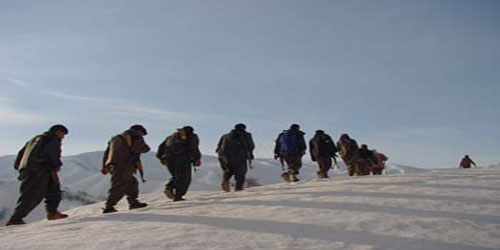 Amadekar:Nûjiyan Erhan
Tevgera Azadiya Gelê Kurd piştî peyama Rêberê gelê Kurd Abdullah Ocalan biryara ji Bakurê Kurdistanê paşve kişandinê girtibû û pêvajoya çareseriyê dabû destpêkirin. Lê li hemberî gavên ku Tevger avêtiyê hukumeta AKPê nêzîkbûnên xwe yên xapînok û mujilkirinê devjê berneda û bi sekna xwe ya şer de israr kirinê berdewam kir. Tevgera Azadiyê li hemberî nêzîkbûnê AKPê biryara paşvekişandinê da sekinandin. Me jî ev biryara Tevgera Azadiyê û sekna hukumeta AKP ji endama Çapemeniya PAJK ê Zinarîn Aydin pirs kir.
Tevgera Azadiyê çima biryara xwe ya paşvekişandinê da sekinandin?
Ev biryar li ser esasa perspektîfa Rêberti ya ku ji bo siyaseta demokratîk pêşbikeve hatibû destpêkirin. Li ser vê perspektîfê jî biryara paşvekişandinê hate girtin. Tevgera Azadiyê nêzikatiyek pir samîmî da nîşandan. ji bo serketina vê biryarê jî sekna xwe ya bi îddîa jî da nîşandan. ji xwe gavên destpêkê jî hat avêtin. Lê ji aliyê dewletê ve ti gav nehate avêtin. Di vê pêvajoyê de pêwîst dikir ku her du alî jî gavan bavêje. Dewleta Tirkî demeke dirêj e polîtîkayên mijulkirinê dide meşandin. Bi axaftinan nerm dikin, sozan didin lê pratîkî ti îcraat nîne. Herî zêde gelê Tirkî ji bo vê pêvajoyê bi xwestekbû, nêzîkbûnek pir germ dan nîşandan ji bo vê jî hukumeta AKP herî zêde komuoyuya Tirkî dixapîne. Bi daxuniyên xwe, bi gotinan milet mijul dikin. Em mêze bikin di vê pêvajoyê de amadekariyên pir mezin ya karakolên nû çêkirinê tê kirin. Balafirên şer û ê keşfê li ezmanê Kurdîstanê kêm nabe. Ew çi xwesteka aşitiyê ye? Di hundir de jî êrîşên li ser gel tê çêkirin ew jî dide nîşandan ku AKP li hember vê pêvajoyê durust nîne. Sebebên vê ya derve jî hene. Di vê pêvajoyê de me dît ku AKP tena serê xwe ne dikare biryara şer bide ne jî ya aşitiyê bide. Di vir de bandora planên DYA yê li ser Rojhilata Navîn jî hene. Dixwestin bi planên tasfiye kirinê û îmha kirinê tevger bê bandor bikin û li heremê wekî dixwazin xwedî mafbin. Dewletên derve bi van planan him dixwaze dewleta Tirkî lewaz bike him jî Tevgera Azadiyê. Hêzên heremê dixwazin bi hevre bidin şer kirin û bi du hêzên lewaz jî bikar bînin. Di vê şerî de hêza ku herî zêde zirar dibîne yek jî dewleta Tirkî ye. Rêbertî balkişand van xalana jî. Komploya 99'an re çawa ku xwestin planekî tasfîye pêşbixin di vê pêvajoyê jî dixwestin heman tiştî pêkbînîn. Lê pêşdîtîna mezin ya Rêbertî ew komplo jî vala derxist. Dewletên derva ticaran naxwazin di navbera gelên Rojhilata Navîn de îstîkrarek çêbibe. Heke di heremê de îstikrar çêbibe binasiya wan ya ketina heremê namine. Rêveberiya niha li Tirkî li gorî berjewendiya gelê xwe jî tevnagere. Terzê tevgerandina wan herî zêde zirar dide civaka wan bi xwe. Pirsgirêk ne tenê pirsgirêka gelê Kurd e. Nêzîkbûna dewleta Tirk li ser esasê pêvajo sabote kirinê ye. Tevger her çiqas li hember nêzîkbûnên wisa bi sebr nêzîkbibe jî bêhelwest namîne. Heke em behsa aşitiyê bikin divê ji aliyê herdu milan de jî gav werin avêtin.
Şandeyekî BDPê herî dawî çû Îmraliyê û bi Rêberê Gelê Kurd re hevdîtin pêkanî. Birêz Ocalan destnîşan kir ku divê bi formatekî nû hevdîtîn berdewam bikin. Mabesta gotina formatekî nû çi ye?
Hukumet xwest vê pêvajoyê bi gotinan bide meşandin û mijul bike. Lê pêwîst dike ku ji gotinan zêdetir divê hukumet gavên şênber bavêje. Rêbertî ji bo vê dibêje rêbazên hîn kurtir û hîn nûhtir divê bikarbînin. Erdogan heya niha her digot ez pakêta demokrasiyê amade dikim. Kes jî nizane dinav vê paketê de çi heye. Erdogan tena serê xwe amade kiriye. Temsîla gelên din nake, temsîla civakê di nav de nîne. Di vir de nêzîkbûnek xapînok heye. Ji vir şun de divê nîqaşên tên kirin bigehêje avabûnekî û  hêza kirinê ya encamê nîqaşan tên kirin hebe. Mînak pêwîst dikir AKP wek nûnerê gelê kurd bi BDP re hevdîtinên periyodîk pêşbixista. Rêbertî behsa 3 pêvajoyê dike. Ew çi kirin ew 3 sê pêvajoya li gorî xwe nirxandin. Dema dibêjin pêvajoya 3 emîn. herkes biçe mala xwe û normal jiyan bike. Sankî normalbûn ew e. Lê armanç ewe ku herkes bikaribe di nav siyasetê de cihê xwe bigre û bi riya siyasetê bikaribe xwe îfade bike. Tekoşîna siyasî wekî mafekî xwezayî were naskirin.
Di  nav vê paketê de divê gelê Kurd wek netewekî mafê xwe ya çanda xwe jiyan kirinê, bi zimanê xwe perwerde ditinê, bi rengê xwe siyasetê biyûnê bîbîne.
Li Rojavayê Kurdistanê gelê Kurd xweseriya xwe avadike. Lê çeteyên wek el –Nûsra êrîşê gelê Rojava dike û dewleta Tirkî jî pir vekîrî piştgîrî dide van êrîşana. Armanca dewleta Tirkî ji vê şerî çiye?
Armanca dewleta Tirk gelek diyar e. Li Rojava avabûnekî xweser nayê pejirandin. Gelê Rojava bi salan bi  kedê Rêbertî hatiye perwerde kirin. Bi salane bi felsefeya Rêbertî têkoşîn didin meşandin. Piştî 2011 gelê Kurd dest bi şoreşê kir. Li wir Xweseriya Rojavayê Kurdistanê tê rêxistin kirin. Gelê me qehremantiyek bêhempa, berxwedanekî pir mezin dide nîşandan û şoreşa Rojava gihişt astekî. Dewleta Tirk ne ku avabûnekî kurdan naxwaze, zêdetirîn ew dixwazin dewlet jî pêkwere. Ancax naxwazin avabûnekî li ser esasê vîna gel pêkwere. Heke avabûna dewletê pêkwere hêzên derve dikarin bidin meşandin, bidin bi rêve birin (yonlendirme) kirin. Lê vîn ya gel be nikarin wekî ku dixwazin dest bavêjin. Dixwazin li Rojava li ser esasê netewperestî û îlkel millîyetçî avabûnek pêk were. Ji bo vê jî ewqas li ser Rojava êrîş tê kirin. Naxwazin gelê kurd li ser esasê xetekî azad, demokratîk û felsefa Rêbertî tevger bike û rêxistina xwe avabike. Li Rojavayê Kurdistanê şerekî bîrdozî tê meşandin. Tirkî jî dixwaze gelê Rojava bihincirîne. Em bimeyzînin ew çetana hemu jî ji aliyê Tirkî ve dikevin Rojava û piştgiriya xwe ji arteşa Tirk digrin. Ji muhîmmat bigre heye cihê perwerde dîtînê jî artêş van çeteyana rêxistin dike û dişîne Rojava. Ew bi belgeyan jî hatiye piştrast kirin. Li hemu cîhanê ciwanan bi navê cîhatê dixapînin û dişînin Rojava. Li ser çeteyên hatine kuştin nasnameya welatên cur be cur derket. Dewletên derve bi rêxistinên El Kaîde dixwazin gelên Rojhilata Navîn lewaz bikin. Ew rêxistinên Ol jî wek maskeyekî bikar tînin. Lê teror dimeşînin. Kiryarên ku dikin ji wehşet zêdetir ne tiştekî din e. Ew rêxistinanan heqareta herî mezine ji ol re dikin. Di exleqa ol de tiştekî wisa nîne. Kesên ku bi ol ve girêdayîne divê wan rêxistinana wek heqaretekî ji bo îslamê jî bibînin û li hember van rêxistinan divê têkoşîn bikin. Di exleqa îslamê de tecawûz nîne, kuştina sîvîlan nîne. Mînak dibêjin tecawûza jinên kurdan helal e. Ol ji xwe re dikin amur. Îslamiyet nirxekî civakî ye û ji vê nirxê re ewqas heqaret kirin divê neyî pejirandin. Li televîzyonê de jî derket, bi maddeyên hişbir li ser xwe diçin û wehşet pêktînin.
Dî dawî de hun dîxwazin çi bêjin, mesajê we em bigrin?
Pêvajoya Çareseriya Demokratîk ya ku Rêbertî daye destpêkirin, pêvajoyekî ji bo tevahî gelên Rojhilata Navîn gelek girîng e. Rêbertî di vê pêvajoyê de pir bi israr e. Kedekî pir mezin jî dide ji bo ev pêvajo nexetime û bimeşe. Di hevdîtînên herî dawî de jî me dît ku Rêbertî hîn jî rêbazan pêşdixîne. Divê herkes bikaribe ji aliyê xwe de ji bo ev pêvajo ser bikeve û bi tendurustî  bimeşe ji destê wan çi tê bike. Hemû kesên aşîtîxwaz, demokrat, ji vê pêvajoyê re tevlêbûna xwe xurt bike. Bi taybet ji bo ku ev pêvajo bi rengê jinê û bi keda jinê bixemile zêdetirîn rêxistinên jinan ya cur be cur jî beşdarî vê pêvajoyê bibe û bi jinên kurdan re di nav hevbeşiyekî de kar bike. Ji ber ku ev şer herî zêde zirar dide çanda jinê û nirxên ku jin avakiriye. Li hemberî vê divê jinên giştî yên Rojhilata Navîn di nav berxwedanekî de bin û bi hevbeş karbikin ku bikaribin zîhniyeta zilamsalar têkbibin. Li ser vê esasê em ji herkesî re serkeftinê dixwazin.