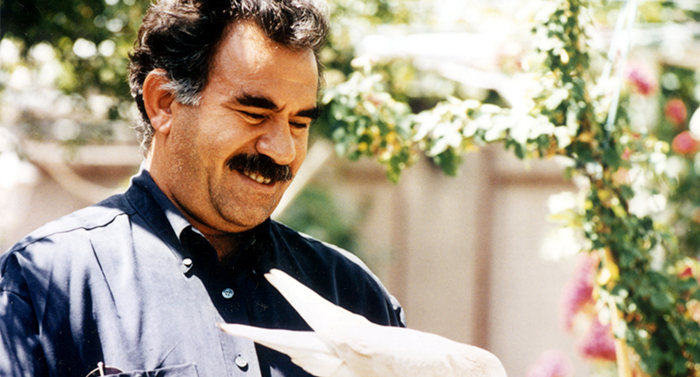 14 Tirmehê Gavekê Mezin Bû
Mirov dikare çend pirsan ji bo berxwedana 14'ê Tîrmehê bibêje. Heval Xeyrî, Kemal û hevalên din jî wexta ji bo birçîbûna mirinê bîryar dan, armanca wan çi bû? Dijmin bi rastî yanî dihat ku di tengahiyê de vana bifetisîne, xwe înkar bikine, Kurdayetiyê înkar bikine, baweriya partiyê înkar bikine, partiyê înkar bikine. Digot, heta hûn înkar nekin ji we re jiyan tune. Wexta dijmin bi her awayî, bi her êşkenceyê xwest ku van tiştan li ser wana bimeşîne, wana jî got, mirin ji me re jiyan e, wiha ne jiyana mirovan, ne jiyana ku em ji bo gelê xwe qebûl bikin, em înkarbûna partiyê qebûl nakin. Înkarbûn mirina tewra xerab e û ji bo vê jî ji me can tê xwestin û em ê bidin. Wiha bîryara birçîbûna mirinê dan û dest pê kirin. 14'ê Tîrmehê bi rastî gaveke mezin bû. Gaveke di cih de bû. Vaya çi gav bû? Di cihekî de ku mirin ji me tê xwestin; mirov ê xwe bide, mirov ê vê bîryarê bide, çiqas bi zehmetîbe jî mirov ê bide û dan.
Ew bîryara wana bû bîryara partiyê, bû bîryara gel. Dema me gava 15'ê Tebaxê avêt jî bêhtir me got mirov vê bîryarê bimeşine, ne bîryareke biçûk e, bîryareke rê dide însaniyetê, dide jiyanê, dîrokê û jiyaneke nû çêbûye. Tabî mirov ji bo vê bîryarê her tiştî dike. Wexta ev bîryara hevalan gihîşte me, me li vir karê xwe şidand, me Kongreya duduyan çêkir, me bîryara xwe ya vegerandina welat da, di wan rojên dijwar de li ser bîranîna wan hevalan me xwe gihande welêt. Û li ser wê 15'ê Tebaxê, û li ser vê bîryarê jî sal bi sal şehîdên me dane bûne bîryar û bêhtir şer bilind bû. Wexta hevalê Egîd di 28'ê Adarê de (sala 86'an) şehîd ket, me dîsa bîryar da, me got saleke din em ê refên gerîla di pir aliyên welêt de zêde bikin. Di '77'an de me bêhtir xwe di Kurdistanê de bitevger kir. Pir şehîd çêbûn, me pir bîryar dan, her şehîdek bû bîryar û '88, '89, '90, '91 me bêhtir kirin salên şer. Destpêka vê jî heye; wexta heval Heqî şehîd bû, me dîsa ev kir bîryara şer. Bi şahadeta her hevalî/ê re, me bîryara şer dida    û me pêkdianî. Sala çûyî heval Xelîl Çawgûn şehîd ket me got em ê vana jî bikin bîryar, di Hîlvanê de em ê dest bi serhildanê bikin. Meşiya. Sala din me partî îlan kir, li ser bîranîna wan şehîdan, berpirsyariya me giran bû, me wiha li dor xwe nihêrî, rê li ku ye, cih li ku ye me xwe avête ser, nefes bi nefes me xwe gihande derve. Di dudiyê vê mehê de wexta me xwe li vê aliyê xist, dîsa me bîryareke mezin da. Ku ne ew bîryar bûya, dîsa her tişt disekinî, di çend mehan de wê bisekiniya. Ew bîryara me daye, di cih de bû, ji bo mirinê mirov bijî, bîryareke wiha bû. Bîryardayîn tenê bes nîn e. Bîryardayîn şûnde xulekbixulek li ser kar, nefes bi nefes ji bo karê partiyê, ji bo ev şer nesekine divê mirov xwe bide ser. Wexta em behsa van tiştan dikin, ji bo hûn encaman jê derxin. Em tenêbûn, tiştek tûnebû, bes tiştên biçûk jî me dikir lê em pir pêre bûn, em pê bawerbûn. Encam hûn dizanin li Başûr yek dostê me tunebû, niha bi milyonan dost bi me re ne. Ne wekî we xwe tevlî şerkirin, nîv saetekê guh nedinan li me, ew partiyên sexte ewqasî hebûn û niha sedî not tevli şer bûne, bi partiyê re bi me re ne. Malekê em bi mêvandarî qebûl nedikir, niha hemû mal malên me ne. Va bi çi awahî çêbû? Bi bîryara me, bi jiyana me çêbû.
Wekî din jî me pir bîryar dan. Her bîryara me daye em bêhtir pêre bûn, me şopand ka dimeşe yan  nameşe, pir kesan bi navê hevaltiyê jî lîst, bawer nedikirin, wana winda kirin û tev ketin. Lê yê ku xwe pir şidand xebat bi pêş de bir û vê yekê karên me bi xwe mezin kir, ku sînorên xwe nas bikin, li ser bîryara xwe durust bin, bipîvin û bimeşin, roj û şev li ser rawestin. A girîng ew e ku ne mumkune mirov tiştên şaş bike, li gorî derfetên xwe mirov her gavekê di cih de biavêje, va jî dibe serkeftin, bûye serkeftin. Fikra rast, bîryara karên rast; ger mirov xwe heta dawiyê bibîne, mirovên serdikevin çêdibin. Ji tevan re jiyan hebû, ji minre tune bû, ji her tiştî re bawerî hebû, ji vê gavê re tune bû, niha ji tevan re jiyan nîn e, ji me re heye, ji tu gavan re meş tune, ji vê gavê re meş heye. Ez bawer im ku em çend salên din wiha bimeşin ne munkun e yek li pêşiya me bêje ez heme. Weke lehiyê wê herkes xwe tevlî bike. Çima? Heqîqeta miroviyetê di vê gavê dê ye, rastiya mezin tê de ye. Kî/ê wê li pêşiyê bisekine? Her tişt ji bo welat, her tişt ji bo gel, her tişt ji bo jiyaneke bi namûs e. Ku tu bi xwe neleyize, bê namûsiyê nekî her tişt wê bi ya te be û ya gelê te be.Ya gel be, dibe ya te, ya te be dibe ya gel. Niha jî ya îspat bûye ev e. Ango ku derfet hebe ji vê şûnde jî em karê xwe wiha bidomînin, ew tiştên maye jî, ew tiştên kêmasî, tê de jî wê tev rabe. Ew mirovê dibêje em tunebûne, ew mirovê dibêje ji me her tişt çûye, çênabe, niha dinêrin a mirov digihêne tiştan eve, ji mirov tiştên bi xêr çedibe, tiştên baş çêdibin. Mirov dikare xwe çêbike û ji nû ve ava bike. Mirov hîn li ser xwe bisekine dikare bêhtir xwe bike mirovê baş. Gelê Kurd gelê di cîhanê de windabûyî û tunebûyî dihate hesibandin, niha  her kes her roj dibêje Kurd û Kurd. Ku em şerê gel hîn bişîdînin, cîhan wê bêje ev gel çi gel e? Tu di welatê xwe de xwe biserxîne wê bêje ev gel ê herî mezin e. Bi destê xwe ye, bi destê gel bixwe ye. Tu şerê xwe xurt bike, xwe xurt bimeşînin hûnê wiha bikin. Heta niha tiştê îspat bûye û derfetên  têde hene, va tiştina wiha ye, wiha dibin, wiha bi serdikevin. Tecrûbeya di van salan de min dîtiye ev e, ya şerê 15'ê Tebaxê, ya bîryara berxwedana 14'ê Tîrmehê û derketina derve û di vê qadê de û heta îro ya îspat bûye ev tişt in û ne hindikin. Alîkariya em ji we re, ji hemû mirovên xwe re bikin ev xebat e. Ne mumkin e mirov bi pereyan, bi rihetiyê, bi destê xwe û va yek ji me re jî qet ne baş e.
A mirov rihet bike, têr bike ev kar e. Ya reva mezin bisekinîne, berê te bide welêt ev kar e.Ya te ji hemû xelkê re ji dijmin re '''bi peyake, bi leşkerke li pêşyê bisekine, te ji bo xwe peyake, bi leşkerke ev kar e. Ên welatê xelkê ji xwe re bihûşt dihesibandin, ji bo vê her tişt difirotin û direviyan, li hember bisekinin; welatê xwe bikin bihûşt, tiştê we bike xwedî rûmet dîsa ev kar e. Û yên weke we betal, bêkar xwe bikin xwedî kar,karekî  paqij û zêrîn bikin,ew jî ev kar e. Tev dibêjin em betal in, em bê kar in, karê zêrîn, karê mirov digihîne her tiştî ev  e. De xwe bi serbixînin, bi heter girî, bi heter xerabî ne ji bo mirovên binamûs e, mirovên xerab wiha dikin, mirovên ketî wiha dikin. Di serê van salan de mirov xwe ji van tiştên xerab dûrxe. Niha hûn jiyaneke, dîrokeke bi lanet dijîn, me derfet dît em xwe ji vê dûr bixin, dîrok û jiyana bi lanet bin erd bikin, ya bi şeref, bi rûmet bilind bikin. Bi vî karî wiha çêdibe. Ez bawer im ku di vê nîvê salê de hîn tiştên mezintir em ê bikin, heta niha ev panzdeh sal in û di van panzdeh salan de tiştên hezar salî me nikarîbû çêbikira bi şer ve em ê di vê salê de çêbikin. Karê me yê mezin niha çêdibe û  hemû gel tê de ye. Bi rastî min ji tunebûnê xwe gihand vir, ji bo gel cejna mezin ev e, ji bo yên wekê we xurt jî derfetên mezin ev e. Wekî din jiyan qut e. Hebe jî tu qîmeta xwe tune ye. Hûn hemû xwe tevlî bikin. Ji bo vê em dibejin, karê artêşa gel, karekî mezin e. Karê gerîla şerê gerîla dimeşîne, karekî mezin e. Hûn di artêşa gel de û artêşa gel jî  di şerê gel de jiyanê bi destê xwe û ji bo xwe bi daxwaza xwe çêdike. Tişta herî mezin mirov bide we ev e. Gelê me, dijmin çiqas wî bikuje, qirkirinê çêbike, bêjin ji me re cejn e, ew qas bêhtir xwe dikiyê û di vî şerî de wêrekiyê mezin dike. Va yeka ji bo me ye, jiyan di vir de ye, dijmin bêçare ye. Gelekî wiha rabûye, partiyeke wiha pêşengtiyê  dike, şervanên wiha şer dikin, dijmin li hember wan çibike wê nikaribe. Dîsa bixwaze wekê berê xwînxwarîyê bike, lê belê her roj li paş dikeve. Tu çiqas xwe bike yek, bişidîne bi ser de here tu ew qasî wî li paş dixî û di demeke kin de jî mirov ji vî welatî vî dijminî derxe. Wê çaxê tê bêje ev jîyana rast e, serxwebûn û azadî heqîqeta mirov e, mirovê bi şeref e. Ev ji bo we ye jî û me xwe gihandiyê, me xwe gihande jiyana xwe. Karê partiyê, karê serokatiyê heta niha ev bû. Dîsa em bi karê xwe bixwe digihînin, em xwe winda nekin, ne xwe giran bikin, ne jî pir acele bikin. Di cih de bi çi awahî divê, em gava wiha bavêjin, usûl çi ye em wiha bi serde diçin. Li ciyê ku mirin tê xwestin herkes ji bo mirine amade ye, di cih de lêxistin tê xwestin, lê dixin, çi tê xwestin, wî dikin, biserdixin. Va ye usûla PKK'ê, jiyana PKK'ê ye.
Emê salê wiha tam bi ya xwekin, ne tenê salê, jiyana ji vê şûnde dimeşe emê bi ya xwe kin. Û emê bi karê xwe bi ya xwe kin, hûnê ji bo jiyaneke wiha xwe rakin xwe tevlê bikin û xwe avabikin. Ku we çi qasî xwe çêkir hûn partiyê çêdikin, we çi qas partî çêkir arteşa gel xwe çêdike, artêşa gel, şerê gel çiqas çêdibe gel bixwe çêdibe, gel wiha çêdibe, ev yek jî serxwebûn û azadiyê çêdike û welat çêdike. Armanca me, karê me ev e û serkeftin ji bo vî karî, serkeftin ji bo we hemûyan e.
Li ser vê dîsa vê dewreya we ya Şehîdên Tolhildanê em pîrozdikin. Bi rastî şehîdên Tolhildanê şehîdên mezin in, mirov bi navê van şehîdan jî vê dewreyê xurt bike, di demeke bêhtir di aliyê şer de nûbûyînê çêbike, kêmasiyên insanên me rake, ew mirovên di hemû zor û zehmetiyê de li ber xwe didin, va mirova çêdike. Bi kevinperestiyê, bi leystikên dijmin ê mirov hiltînin, mirov li ser wan bisekine, wana rake û nekeve leystika, li derveyî partî, hundurê partiyê de nekeve leystika, li ser bîranînên şehîdên wiha çêbuyî mirov wana temsil bike, xwe wiha bi hêzbike ji bo partiyê, ji bo şer, sozên me daye şehîdan mirov pêkbîne.
Li ser van rastiyan em ji bo we serkeftinê dixwazin, dîsa em ji bo hemû gelê xwe jî di vî şerî de û di nîvê vê salê şûnde serkeftinên mezin dixwazin. Ger em wiha rast kar bikin, wiha xwe rast bidin ser şerê xwe, dunya bi yekbe jî, nikare me ji serkeftinê dûrxe. Dîsa em her car pir dibêjin, em ji derveyî serkeftinê tiştekî qebûl nakin û ji bo me jî mecbûriyet e, dîsa ev dewreya we bi serkeve û ji bo we tevan pîrozbe.
hevalên bi tecrube hene. Hevalên zîndanê hene, ji çiyê hatine hene, yên 15, yên 20 salî jî hene, dersan didine we, guhê xwe hebeki vekin, mejiyê xwe vekin û jê bigrin. Ji xwe hûn genî bûne, hûn kufikî bûne, hatine qirkirin, ji hevalan bigirin û paşê berbi Welat ve biçin û biçînin û şînbibin. Ji bo we firsendeke mezin e, sûd jê werbigirin. Hevalên me zû dikevin, zû winda dibin. Xwe wiha çêbikin ku hûn çûn cihê xwe mirov bi we bawer bike. Mirov bêje, van hevalan zû nakevin, nav hevalan tişt ji dest tên der, di virde mirov îkna bikin, dema mirov we rêdike welat, mirov bêje vana di şer de di çiyê de dikarin jiyanê bimeşînin, dikarin berpirsyartiyê bigrin, bi dijmin dikarin, ji usûla şer re çi tê xwestin, dikarin pêre bimeşin û dijminê xwe bixînin. Me wiha îkna bikin, rojekê pêşde mirov dikare we bişîne. Yên diçin welêt zû dikevin, heyf e, pir bi bîryarên şaş dikevin, pir li dijî usûlê şer dikevin. Ji bo vê heta dawiyê li vir fêrbibin. Ya şerm ne fêrbûyîn e. Ji alî şer de xwe çêbikin, çi ji we re lazim e, bixwînin pirtûk hene. Heval jî pir tiştan didin we, wexta hûn çûn welat, mirov bawer bike ku ji destên we hinek tişt tên der.
Bi salan li hember dijmin di welat de hûn dikarin şer bikin. Em vê ji we dixwazin. Sozên hûn didin em wiha qebul dikin. Bi rastî ango sozên we dane em wiha pêrene. Wekî din sozên hûn bidin, tu qîmeta xwe nîn e. Sozên mirov bide ku li hember dijmin xwe bisekine, li hember dijmin şerzaniyê bike, biser bikev e. Ji bo partiyê nebe pirsgirêk, berovajî pir tiştan hilgir e. Bibe mirovek baş, ji hevalên xwe re mirov başiyê temsîl bike. Ji bo vê ez dibêjim xwe çêbikin. Baş e, hûn alîkariya van hevalan jî digrin, bi rastî jî li ser xwe bisekinin. Evqas sal e ez her roj li ser xwe disekinim, her roj xwe çêdikim, her roj me ew qas bar rakiriye, rojekê min negotiye ez westiya me, nikarim bikim. Çi hate ber çavê me, em li ser sekinîn. Çi ji me hate xwestin, me jî li gor hêza xwe, xwe da ser. Hûn dibînin ku tiştên mezin çêdibin, hûn jî çêbikin. Ji we yên werin xwestin ev in. Heta ku hûn wiha çênekin, xwe efû nekin. Hûn zanibin ku partî jî we efû nake. Partî, mirovê bisernekeve, mirovê di her cihî de nemeşe, nikare pêre bimeşe. Mirov di nava partiyê de li ser hevalan xwe neke bar. Mirov xwe bihêle ji bo bar rake, xwe nexe bar. Barê gel sivik bikin, ne xwe li ser gel bikin bar. Bawer im hûn wiha partiyê fêhm dikin, wiha li ser disekinin. Em dîsa ji we tevan re serkeftinê dixwazin.
Rêber APO
15 Tîrmeh 1993